posting some individual trunks - part of the 68 bougainvillea collected on kauai:
the first is a raft style (kabudachi) that came home "by default". we were done after a looong day saturday, when this last tree turned up under one of the piles. we were pooped, but decided to keep the tree. it was too wide for any pot we had, so rather than fuss, I threw it in the back of my truck and brought it home. sunday was the first time I bothered to take a close look. raft style bougainvillea are fairly uncommon. old raft style bougainvillea with nice bark are rare. so the "default" became my first keeper. the pot measures 24 inches inside . the bark is fissured and rugged looking. looks a lot like a english hawthorne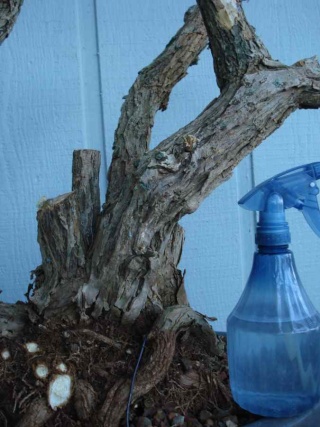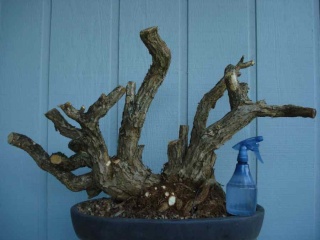 the next tree was my first actual selection. there are so many nice ones, but this big boy caught my eye. coming home from ted's
sizing things up. the conformation of the trunk suggests han kengai - almost a no brainer. the folded saw is about 10 inches long. I had no pot wide or deep enough to handle the tree even after pruning away most of the large root under the saw so I modified a plastic crate and planted the tree. the trunk was so heavy in the semi cascade attitude, I put a heavy rock in the bottom of the crate to keep the tree upright. here planted with no room to spare. photo op before watering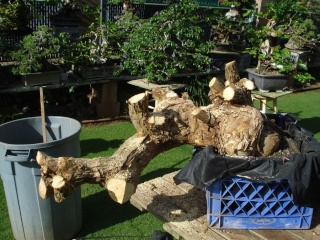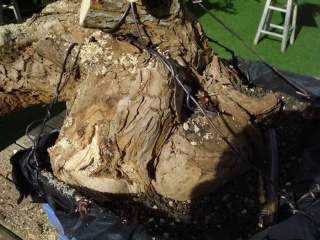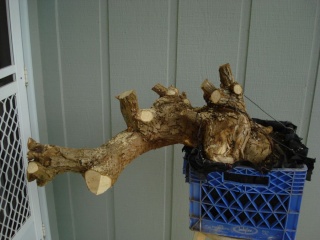 once the branches and foliage develop , this would become a spectacular flowering semi cascade bonsai - but something I saw earlier was missing. after sleeping on it (after a second thought) I unpotted the tree this morning and replanted it as a moyogi. the missing look was revealed in the new position. the nice twist at the very bottom of the trunk can now be seen. as a han kengai the trunk line was boring - as a moyogi, the trunk has attained much more movement. the future is bright. see what I mean ?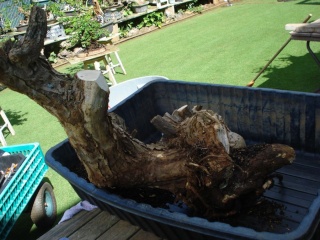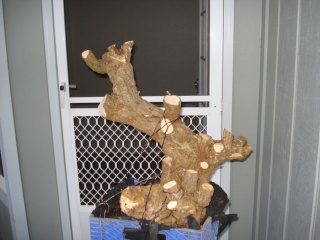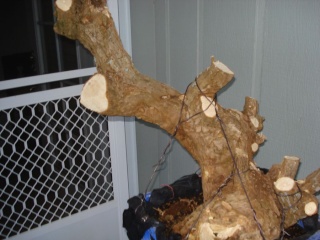 tomorrow another tree comes home. more pictures later.
Last edited by kauaibonsai on Thu Jan 27, 2011 3:57 pm; edited 1 time in total
I bet you're having a wonderful time with your new additions! Have Fun!
Best, Todd

Todd Ellis

Member





you betcha

best wishes, sam
We hardly ever get them that big in California. I'd love to have one but the shipping would be cost-prohibitive, and it's anybody's guess whether it would clear quarantine.

I have a bougainvillea bonsai that I fattened up in the ground, but it is puny compared to those.
Charles M

Charles M

Member





today's bougainvillea stump project # 3
brought this bad boy home from ted's today . at this point the stump has been field trimmed only. tomorrow branch stubs will be shortened, eliminated, saved for jin or carving, etc. the tree will be set up for han kengai. important elements for good bonsai are present in all these stumps -provided by thirty years growing in the ground. character, size, and age are only acquired over many years . our job is easy - grow, shape and refine. tomorrow a smaller but more elegant stump.
best wishes, sam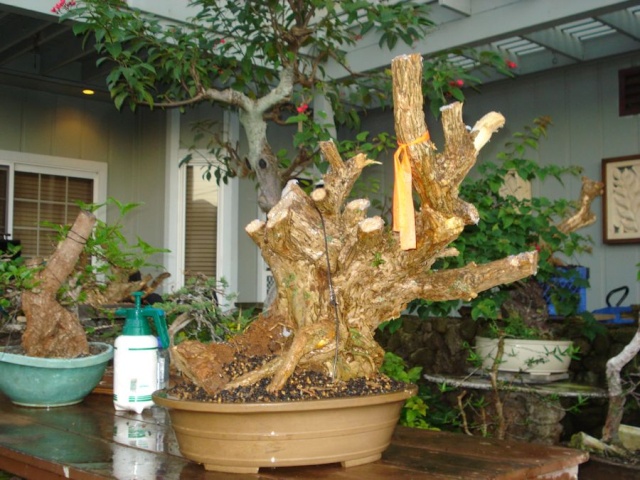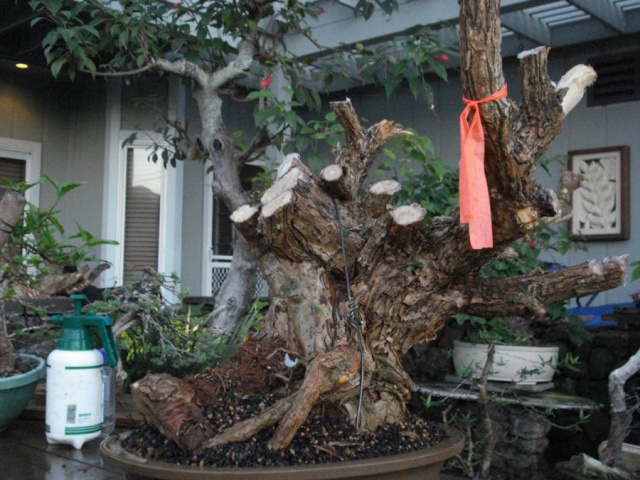 Last edited by kauaibonsai on Sun Jan 30, 2011 7:26 pm; edited 2 times in total
did some work on the trunk of bougie stump #3 before the tree begins to push new roots and buds. once that starts, we don't want the tree to be moving around. the apex of the future semi cascade needed to be defined from a bunch of cut branch stubs, a lump at the bottom left of the trunk was removed and branches to the right were shortened.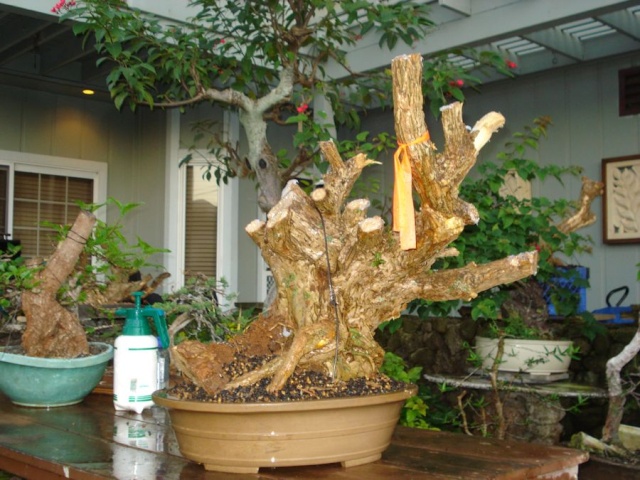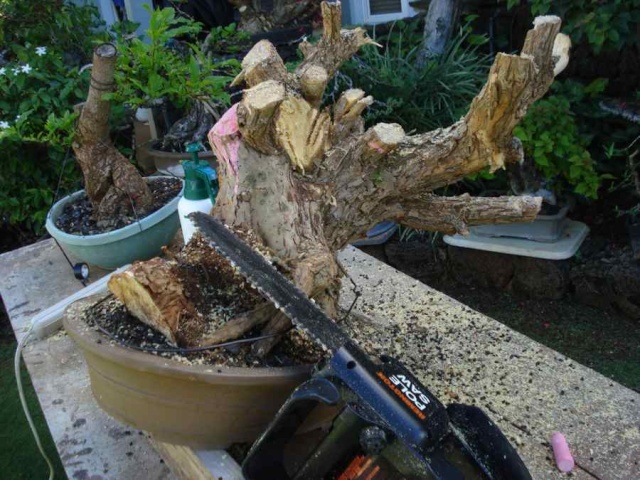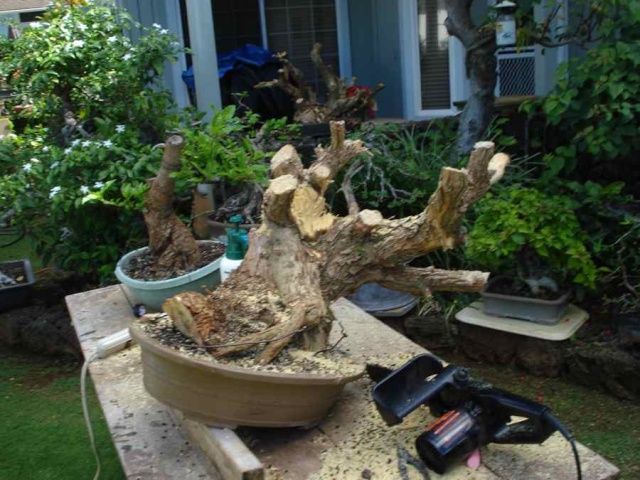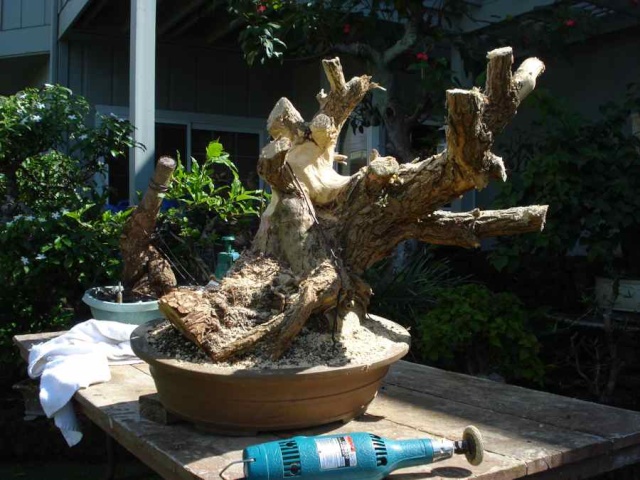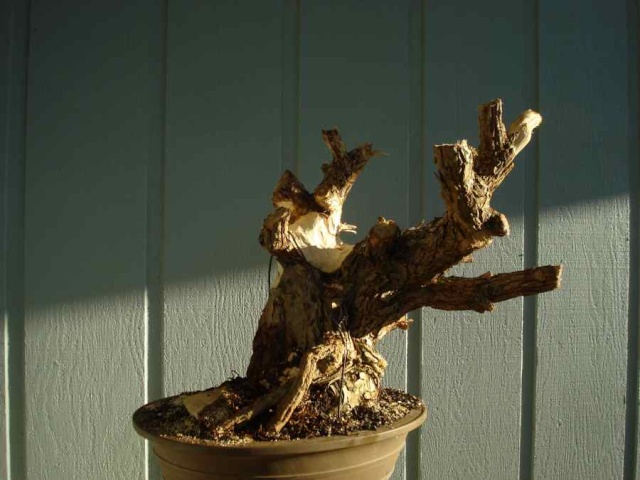 hey Sam

I know this is a topic suppose to be reviewed under "questions" but I have a question related too yamadori and somewhat specificaly to you, because we live in same zone and I too am looking to dig some bougainvillas. So... (anybody is welcome to answer) when you cut the big roots off those old trees and are left with some underground stumps, do you treat them? and with what? I just dug up a tree, it had good radial roots but I hacked the tap root not sure if i need to protect it in any way?

Arno

Arno

Member





hi arno

no need to treat bougie roots with anything. just plant and they'll grow.
Wow!!! Looks like you got your self a nice one there!





HIONBONSAI

Member





Wow sam! that last one tree has a very bright future. rare shape for the specie, short and powerful trunk.
regards,
jun

thanks Hi and jun,

we were fortunate to be able to collect so many old nice stumps.

best wishes, sam

---
Permissions in this forum:
You
cannot
reply to topics in this forum