Hi IBC Forum ,
Salute You ,
I would love to play Stone Style SUISEKI .
I learned From IBC Forum and you : ... a part of the playing Stone in this Style .
Sending you 2 Landscape - SUISEKI - Stone of me following :
_ 1.
_ 2.
Please Watch and Share .
Thank You .
Sincerely
Hung - Tran .
Hi Hung Tran... If you want stones to be received in '(Japanese) suiseki'-style (which might differ from Vietnamese seating), you can subtly improve each of these by following modern
daiza
-style to include:
(note: The following is not a quote, but the only way I am aware to indent a block of text on the forum.)
1. not extending the daiza far beyond the stone's footprint & grasping the foot closely even if the stone has an overhang (the first stone's seat can be improved in this regard).
2. suggesting the stone's natural bottom continues under the seat (the second stone seat's profile really does this very well!), but some stones will suggest a vertical or expanding foot which requires a more vertical or even modestly convex profile usually supplemented by a closely-grasping, inner wall of equal height & width (think of a squared 'bead' between the stone & daiza lip).
3. Feet of-equal-width placed where the apparent end of a landscape edge reaches the lip of the daiza-- often at the most most extreme edges of the stone where support clarifies stability. Your two middle feet are nicely chosen on your second stone.
4. Assure unequal spacing of feet on the front of the stone unless it is so narrow that partially exposed feet pointing outward on the extreme right & left end of the daiza are sufficient for support.
5. Feet at each end of the daiza should be partially visible on the front of the composition (suiseki & daiza) and partially hidden from the front as they it face outward. This is the only reservation I'd find on your second seat-- it looks very good, otherwise.
I offer these as a student (not as a seasoned carver or scholar) & realize there are many Japanese daiza with other considerations & some very effective variations for particular stones. For example,
Mas Nakajima's daiza variations
are exquisite, while honoring/extending suiseki
daiza
origin.
Jesus Quintas noted the daiza-style traditionally chosen for
Furuya-ishi
stones in his recently released
Q-seki
book. These daiza follows the style of older (Ming dynasty?) fitted Chinese platforms with cloud feet. He opens my eyes to better expression for landscape stones that are appreciated for Chinese style-- even when collected in Japan!

Chris Cochrane

Member





2.-beautiful Doha ischi,side legs winder doing,because when viewed from the side to lose the perspective of the obserrver,calls the daker color dai,great progres towards japan style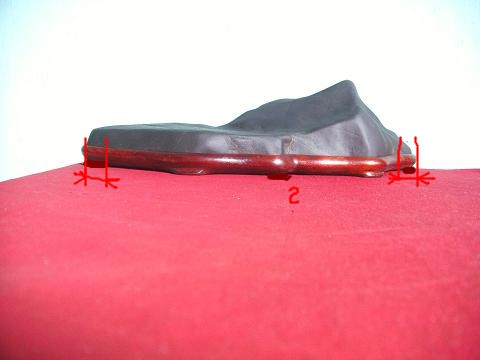 peterbrod

Member





Hi IBC Forum ,
Dear Mr. CHRIS COCHRANE ,
Dear Mr. PETERBROD ,
I learned a lot from these posts ... are very accurate and full of you :
_ The practices do DAIZA .
_ The practices playing rock in Style and Spirit SUISEKI - Japan .
I enjoyed and appreciated SUISEKI - Japanese Art . I will try harder on the implementation DAIZA for my stone ...
Best Regards and warmest thanks to you .
Hung - Tran .

---
Permissions in this forum:
You
cannot
reply to topics in this forum