On the Chinatour with BCI we saw theese interesting ficus on walls. I find them very inspirering. And maybe other species can be used in europe.
Very kind regards Yvonne
[img]
http://i67.servimg.com/u/f67/15[url=http://www.servimg.com/image_preview.php?i=51&u=15676504]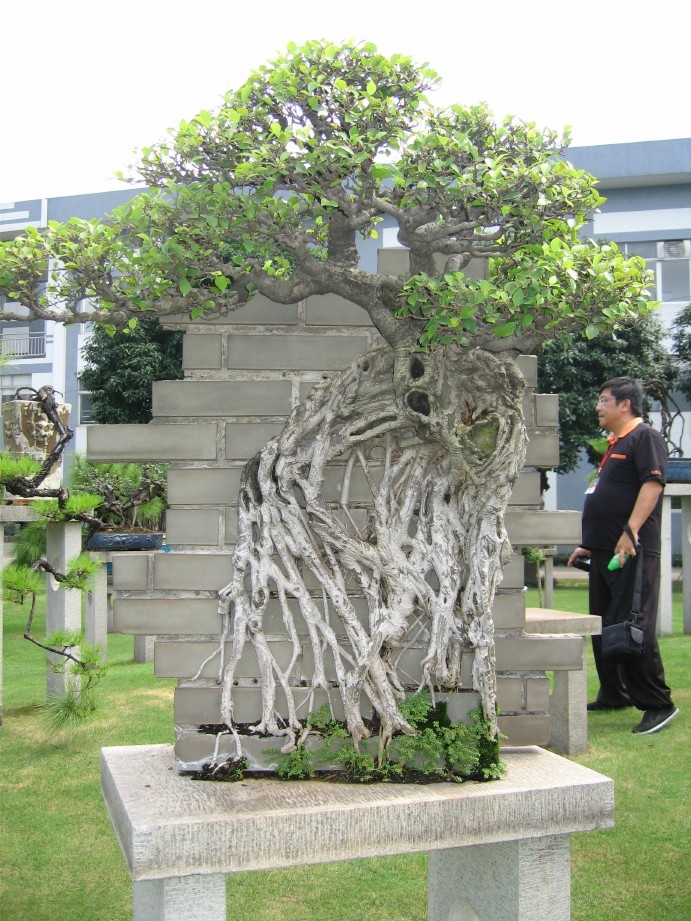 /67/65/04/mur_1_10.jpg[/img][/url]
Hi Yvonne... These bonsai are very appealing. In his
World of Bonsai: Series 2, Episode 6 [linked HERE]
, Lindsay Farr speaks with an artist of this style. In the video, Han Xue Nian credits a painting with inspiration to depict the strength of life through the vigor of a ficus seed taking root upon a wall. To tell a didactic story through bonsai is a very classical expression.
Is his "built environment"' (Lindsay's characterization of the 'wall' in the video) within the notion of tradition or defiance? Does it share or compete with allusions of walls overgrown by plants in nature... or in planned garden follies?
Last edited by Chris Cochrane on Sun Dec 26, 2010 9:44 pm; edited 1 time in total

Chris Cochrane

Member





Lindsay Farr did a video of his visit to Mr. Han's garden. The BCI tour in October visited the same garden and were given a book showing Mr. Han's trees. The second wall photo that Yvonne posted was part of an exhibit also in Guangzhou. Since I don't read Chinese (or speak it either) I don't know if the second tree is also from Mr, Han's collection. (BTW, Mr. Han also bought us a very nice lunch, although some members of our group didn't really enjoy the sea cucumber.)
I think the root over wall plantings remind me of the photos from old temples in SE Asia where the tree have taken over the ruins.
The "walls" are really large pots with space for soil in the back. Holes were also drilled through the walls so that roots could get to the soil.


Billy M. Rhodes

Member





Fly in the ointment am I.

Gimmics perhaps, more power of suggestion needed.

Looks like folk bored doing Penjing.
Khaimraj

Khaimraj Seepersad

Member





I like the idea but the modern brickwork and size of the bricks don't do it for me at all.
Dear Chris Cochrane, thanks for imformation....please keep sharing.
Dear Billy M Rhodes, My cucomber was a ten-bite cucomber...horrible.
To Khaimraj Seepersad and Will Baddeley....
I really liked the trees when I saw them in China. But after thinking more...I Denmark , if it should be like "natural" I would have to make a very low red brickstone ruin, almost barried in the grown, and maybe then a crategus growing on it, would have been nice....After thinking more, It would very soon just look, at if it was a figure from an aqarium, it would look rally bad and cheap....I have no plans of trying to carry ot this experiment after all.


Very kind regards Yvonne
Khaimraj Seepersad wrote:Gimmics perhaps, more power of suggestion needed.
Mr. Han had two on display in his large collection. Mixed in with all the other trees I really enjoyed these.

Billy M. Rhodes

Member






---
Permissions in this forum:
You
cannot
reply to topics in this forum