Hi everyone
I recieved this tree from a nursery the other day. Its healthy, but has a very thin trunk.
My first thought would be to plant it in the ground for a few years to thicken it up.
When is the best time of year to transplant? We in the middle of summer here in South Africa now.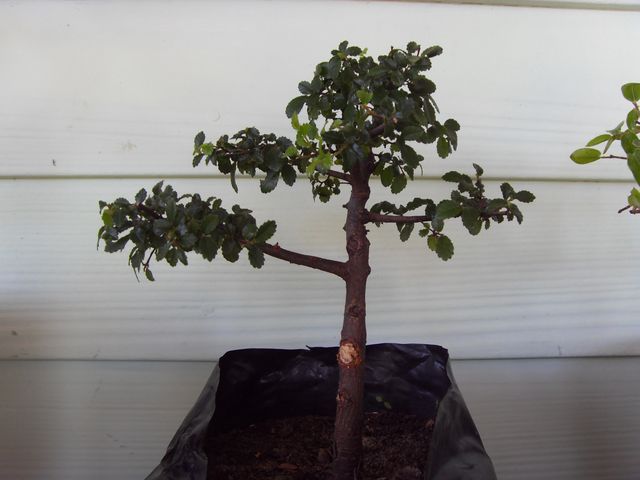 The front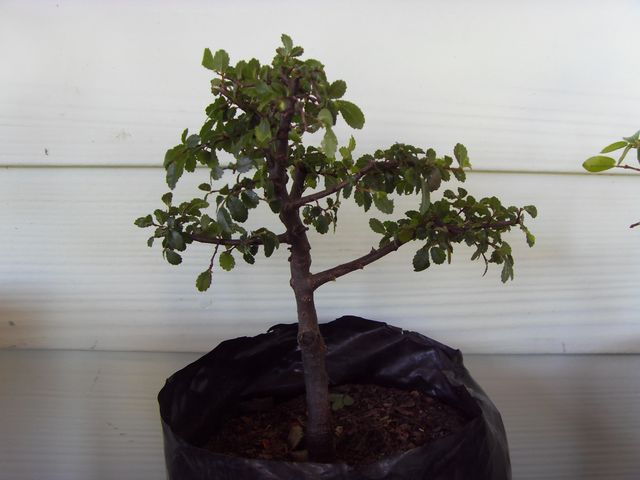 The rear
I look forward to your advice.

Wesleybeks

Member





Wes...I guess these days are the best season for you to do something with your elm. We got almost the same humidity and we do most of our works on trees every summer, where the growth of our trees are less. Except me, I do my tree chores all year round specially with elms, since they are not tropical.
regards,
jun

Your tree is the kind i get to work with mostly...it is a start ,,i am a elm fan...if you don,t put it in the ground try wireing some movement in the branches befor they get too big..maybe the trunk also unless you want it stright...this is my opion..your tree will be nice..take care john
I agree with John. Wire a little more grace into your trunk and thin out that congested top. Then just slide the root ball out of the pot and put it in a growing bed. Keep an eye on it, as the trunk will probably thicken fast & you will have to remove the wire.
Iris

bonsaisr

Member





Thank you for all the replies.

Some really interesting ideas you have put forward.

John you mentioned wiring some movement into the braches. Mm not too sure what you mean by that. could you explain?

What is the best position for elms in the ground? Full sun. morning sun, semi shade?


Wesleybeks

Member





_________________
Jim Lewis - lewisjk@windstream.net - Western NC - People, when Columbus discovered this country, it was plumb full of nuts and berries. And I'm right here to tell you the berries are just about all gone. Uncle Dave Macon, old-time country musician

JimLewis

Member





I AM SORRY I WAS NOT CLEAR...JIM has posted a good web site for you to read...You will want some movement in your branches they are too stright..read the site ,then put your wire on,,bend the branches the way you like then to look....watch the wire closely so you do not get wire marks in the branches.....i hope this helps ,,,if you want more help everyone here will give instructions i am sure...take care keep posting john

---
Permissions in this forum:
You
cannot
reply to topics in this forum