Hi IBC. I would like to share my black plum-Sysgium cumini
I'm still studying the best position for this literati...your recommendation would be much appreciated.
this is a lovely spicie of fruiting tree with super black berry.
the upright position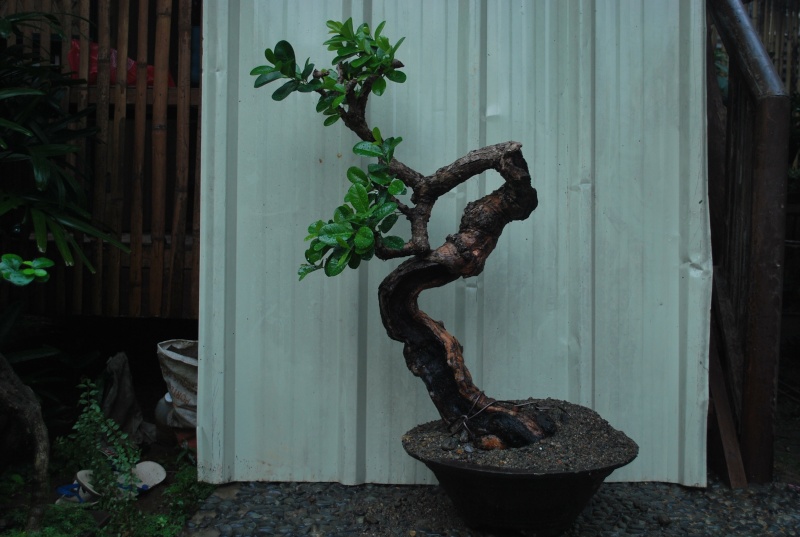 the tilted position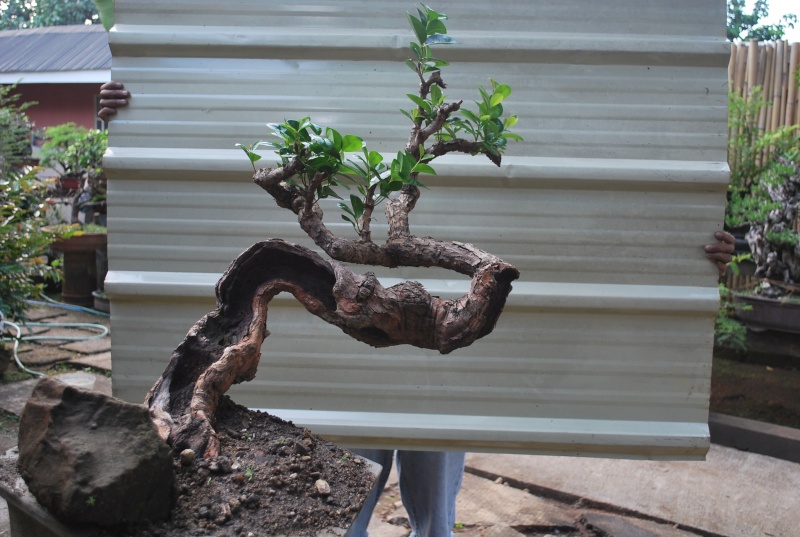 for scale my assistant at the back
the lovely trunk and bark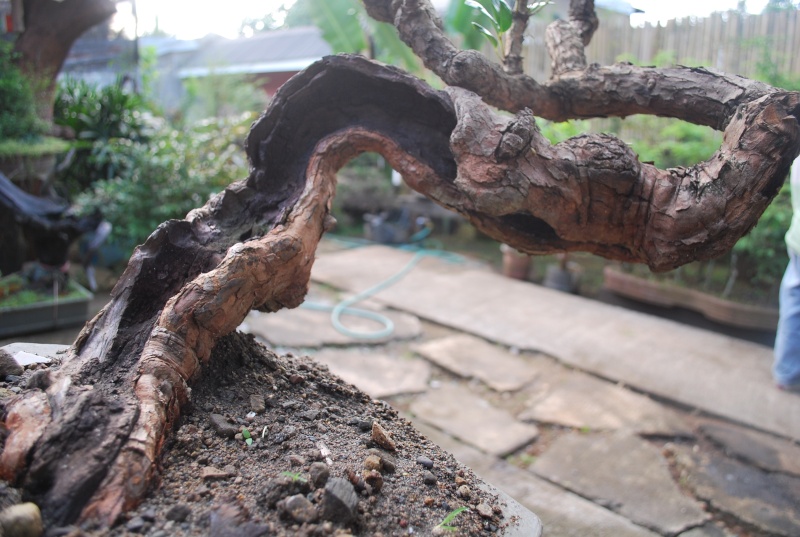 the foliage, the leaves will reduced to about half an inch in diameter.
regards,
jun

Beautiful tree, Jun - thanks for sharing

I like your second photo, best - it looks more like a natural, old deciduous tree to me that way. Will it be possible to bend those upper branches?

jersanct

Member





thanks.

those upper branches are too old and stiff to bend.
what I will probably do when the tree gets stronger is to split the upper branches into separate branches then it would much easier to bend later.

regards,
jun
Hi Jun

I like the trunk, and look forward to see photos of the splitted bended branches.

Kind regards Yvonne
thanks Yvonne.
I'll let the tree recover first. I'll post it again.
regards,
jun

Hi Jun,
I like your tree. The bark and hollow are lovely and convey great age. Is there any way to wedge the low branch, to create space between it and the trunk? Would the black gum heal in place if you were to put a wedge there? Splitting the branches seems like a good way to enhance branch placement. Would you use a branch splitter and then wrap with rafia or other binding, then wire or tie to separate? Does black gum bud back on old wood?
Salut, Todd
Last edited by Todd Ellis on Sun Dec 19, 2010 3:36 pm; edited 1 time in total (Reason for editing : added thought)

Todd Ellis

Member





JUN,,This one looks really good also!! My opion i like the first picture..when you do the branches like every one i want to see the result..keep working take care john
JUN,,I am still looking at this tree!! Like todd asked,is it possible to put a small wedge in between the trunk to seperate it some?? would it even hold?? Even if that will not work when will the branch work start?? not that it needs that i like the conpact look just as well..the trunk is what,s so interesting...nice tree..take care john
Todd and John,
I already wedged the branch and trunk right after I took the photo, I used a broken brick for it, after the branch settled in place (hopefully), I'll just break the brick by pliers without forcing it out of place, avoiding much damage to the precious bark...another crude method of mine.
I use chisel and sharp knife for splitting the branch, I can easily follow the line of wood grain with the sharp knife. I also use local abaca or banana rope, no rafia here.
regards,
jun


---
Permissions in this forum:
You
cannot
reply to topics in this forum