Here's a camellia (C. hiemalis) I've been working on for a few years now. I bought it as a 3 gallon nursery plant in 1983. In Japan I learned its name as "beni kan tsubaki", but you'll usually see it as 'shishi gashira'. Sometimes it is sold as a sasanqua. After it finishes blooming it really needs a good trimming and wiring, it's been a while!
I talked Jim Barrett into making this pot for me in 1986. It was (is?) the largest porcelain pot he'd ever made, and has a pale blue-green crackle glaze.
Sorry the picture's so bad.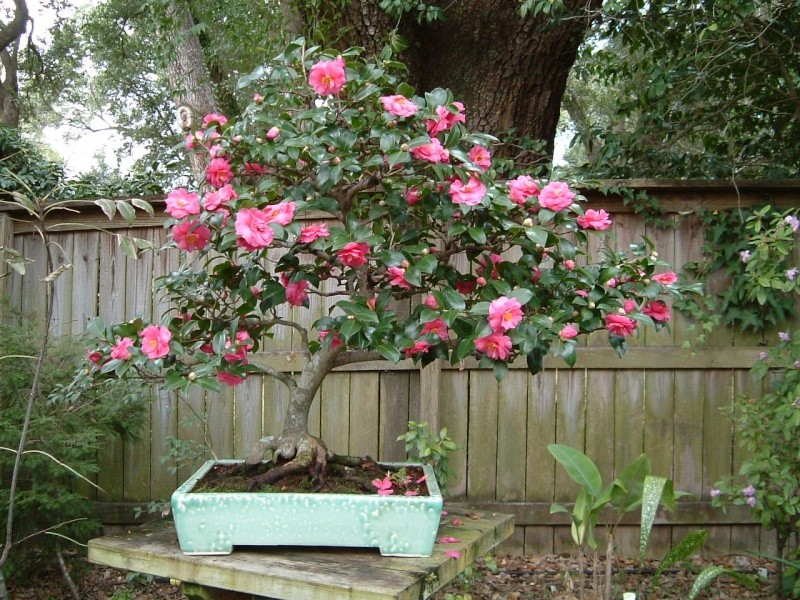 flowers -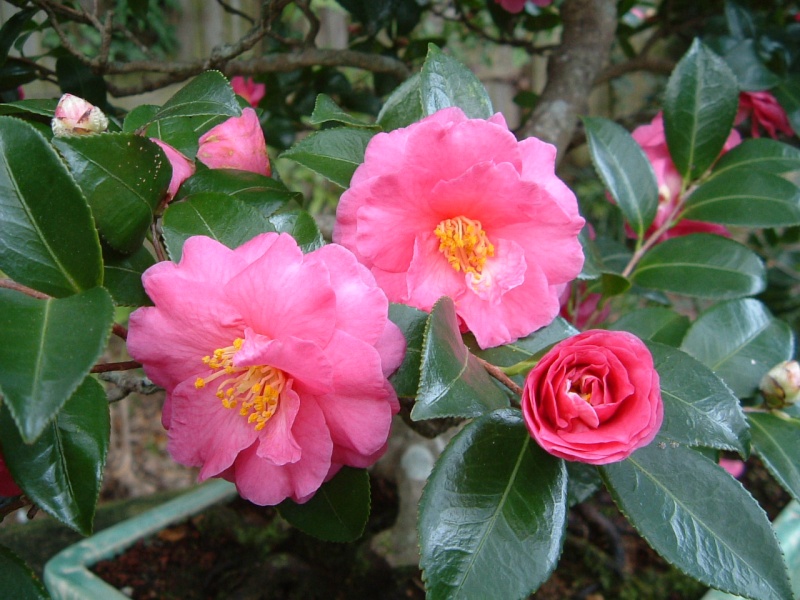 Russell
Last edited by Russell Coker on Sat Dec 04, 2010 9:15 pm; edited 1 time in total

Russell Coker

Member





Hi Russell, very nice tree.

The photo is today?
Pavel

Pavel Slovák

Member





Thanks Pavel, that's especially nice coming from you!

Yes, the pictures were taken today. It's 70 degrees outside, back in my short pants and t-shirt. We've had a couple of light frosts, but that's about it - until next week! My maples are still green, only my ginkgo has ugly color this autumn so far.

R

Russell Coker

Member





Hi Russell
That's amazing.

Right now I have a window 40 cm of snow and -21 ° C .


Pavel

Pavel Slovák

Member





I live in Buffalo and we had 38 inches of snow wednesday night there was 20 miles of cars stuck on the highway for 17 hours but it hasnt been to cold yet, around the 30 F. Winter is here!!!




I don't mind the snow, i love the seasons. My favorite is spring, and fall.

Neil Jaeger

Member





Very nice tree. Can you tell us how tall it is?

I am a bonsai novice and have a camellia 'yuletide' (sasanqua, I believe) that just went into a bonsai pot this fall...acquired in a beginning class at the International Bonsai Arboretum in Rochester. Any tips on working with these trees?

coh

Member





Coh,
It's about 30 inches tall and 36 inches wide. The pot is 18x13x4.
Here's a better picture -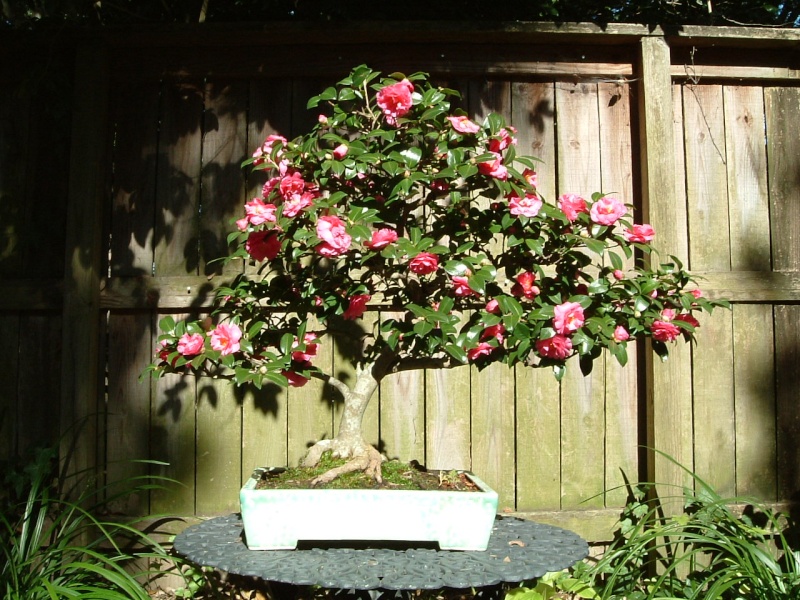 'Yuletide' is a sasanqua, it grows tall and dense. These are in front of my house -
I've not ever tried to work with 'yuletide', but they should be easy enough. The bark is thin so be careful with wire. They swell quickly is the spring so don't let that catch you. Have you seen the flower? It's pretty big, as compared to the leaves.
R

Russell Coker

Member





Thanks Russell. The plant I have was worked from nursery stock this fall as part of the beginners class, so it took a lot of abuse in the wrong season (major root pruning to get it in a bonsai pot). But it's still alive and in fact just finished blooming (we left 3 buds on to see what the flowers look like - over 3 inches in diameter). The plant is only about 15 inches tall and I've been thinking that it needs to eventually be quite a bit larger to accomodate that flower size. Yours seems to have a good ratio between plant size and flower size, so I'm going to keep that in mind. Thanks for the tips on the bark as well.

I currently live in the frozen winter wonderland of western NY so I can't grow camellias outdoors, but we had them in Virginia when I lived there...beautiful plants.

Chris

coh

Member






shimsuki

Member





Thanks Andrew.

They are painfully slow, and have funky nebari. It's finished blooming now, so it's time for a wiring and repot.

Russell Coker

Member





Russell,

sorry I missed this earlier. Really beautiful, takes me back to Naples,Italy and the Museum of History, beautiful, but tall, camellias.
Most excellent work.
Thanks for showing.
Khaimraj

Khaimraj Seepersad

Member






---
Permissions in this forum:
You
cannot
reply to topics in this forum