Hi all.

I have many deciduous trees and most changed colour and dropped their leaves as normal. But I have a small trident maple I acquired this summer and it's acting very strange. Non of the leaves changed colour at all and kept putting on new growth right to about a month ago. Now we've had some hard frosts and the leaves are showing frost damage. Looks like they're dying, and will eventually fall off after wilting and turning brown due to the frost. What could be the cause of this?
I also have a chinese elm that hasnt dropped its leaves yet either. I suspected that maybe this was due to the fact that untill now it has been treated as an indoor tree and is experiencing its first fall. My grey bark elm changed a beautiful yellow and dropped its leaves as usual, but its always been grown outdoors.

Thanks, Mike

MikeG

Member





Hello Mike. Trees that carry on growing in late Autumn, have usually recieved a pruning too late in the season. Some photos would be a good idea. My trees vary in colour from year to year and it seems to me that the better you feed during the Spring and Summer, the better the colour. Chinese Elms in an outdoor setting will often keep some of their leaves right through till Spring.
If you obtained the trident from someone far south of you, it's probably genetically conditioned to not drop its leaves until later in the fall when the days shorten enough to trigger leaf color and leaf drop. You might do better giving this tree some protection for this winter.

Elms, I wouldn't worry about.
_________________
Jim Lewis - lewisjk@windstream.net - Western NC - People, when Columbus discovered this country, it was plumb full of nuts and berries. And I'm right here to tell you the berries are just about all gone. Uncle Dave Macon, old-time country musician

JimLewis

Member





Hi Jim and Will.
Here are a couple pics of what I mean about frost damage. Much of the tissue is dead and becoming brittle around the edges of each leaf. Much like frost damage on my veggies and flowers.
The tree was purchased from New York which has a very similar climate then here. And the only work I've done to it was in spring. I removed it from its pot, barerooted it, spread the roots out over a tile and replanted it into a larger container. I didnt do any pruning and it grew very vigorously over the summer. I'm not worried about its health, but am just puzzled why it's acting so different from my other maples.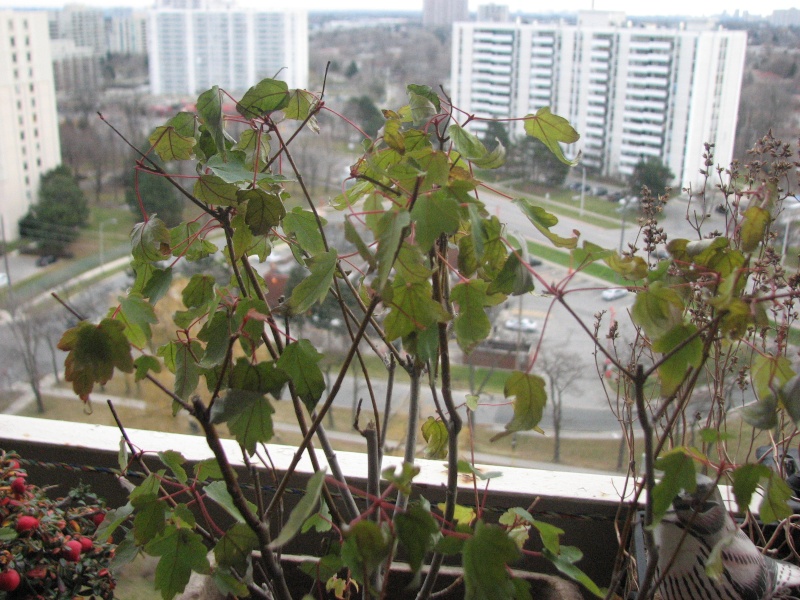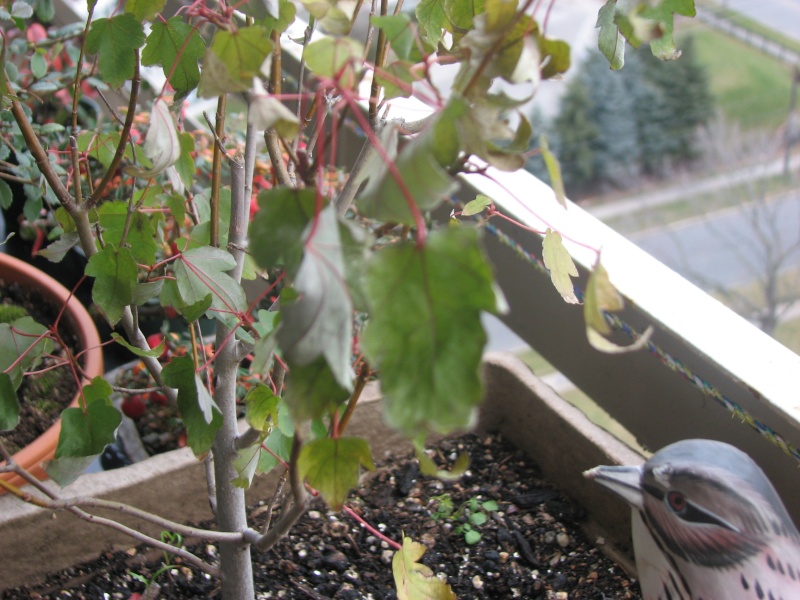 MikeG

Member





Not sure where you are located but its not unusual for maples to put on one last growth spurt in the fall. I have around 400 maples of several different varieties, and speaking for the majority of them, mine grow vigorously in spring then virtually stop growing in the hot summer and then usually put on a little fall growth even if there has been no pruning. But then again it was in the 70's last week here also, so perfect temps for trees to want to grow. Generally its the light reduction that causes dormancy, but maples do well in pretty dense shade so it's just my guess that this is the reason that they seem to be the last species of all my trees to go dormant. My red maples turned a month ago along with my acer palmatum "koto no ito" and my regular Japanese reds and greens started about 2 weeks ago. My Tridents have just started to turn colors this week though, and my 2 Acer palmatum "Shin deshojo" are still bright green.
Good advice and ideas above.

Plants are weird sometimes, .

I live in a very different climate a you but have a similar situation. Many Decid trees wont even drop their leaves, or I get a new set before the old ones decide to drop. So for me a new years tradition is to strip all old leaves, and do a cleanup and trim. I really enjoy this work!

rock

Member





Thanks for the reply guys.

Plants are just weird sometimes, very true. Since then the leaves just turned brown and I plucked the ones that wouldnt fall on their own. Now its stored away for the winter. Guess I'll see what happens in the spring. Like I said I'm not worried about their health, just guess they decided to act different then I expected just to keep me entertained.

MikeG

Member






---
Permissions in this forum:
You
cannot
reply to topics in this forum