Here is my "Little Ollie." In training 8 1/2 years. For those unfamiliar with this cultivar, it was developed as a dwarf, non-fruiting yard tree for California by Monrovia Nursery. Wonderful bonsai subject for under lights in the North.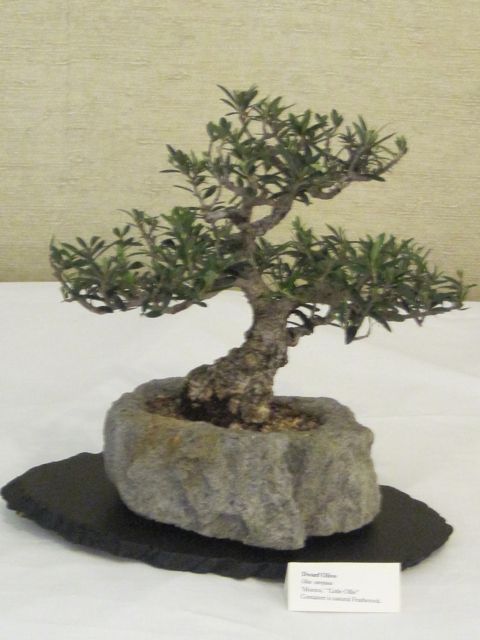 It is potted in a 7 inch (18 cm) container carved from Featherock, a type of pumice. I love the combination because it looks like olives cultivated on terraced hillsides in Israel.
Usually I exhibit it on a kiddie show stand made of a slab painted black. About time I upgraded to something better, but I'm not sure what. Last time I had it in a show other than our own club, I put it on a gravel filled suiban. Not a good combination.

One possible choice at an affordable price is a low oval stand by Jim's Woodworks.
http://www.whitehorsepottery.com/jim10/2421teaka.jpg
You can get it with a blackish stain.
I was also thinking of those sliced burl stands you see at the shows, but they are too shiny & the wrong color.
Any other suggestions?
Iris

bonsaisr

Member





Hi Iris,
i like what i see but maybe 50% longer? it might enhance more the tree,just a suggestion

Stay well,
Alex

ogie

Member





Go to Michael's. It is a chain that sells by-the-numbers "crafts." We went there to get a picture framed the other day. In their "woodworking" section, I found that they sell various slze (and shape) wooden slabs, with or without pre-bevelled edges. They also sell small blocks or rounds of wood that would do perfectly for short legs.
Some careful sanding, some staining or painting, a little glue for the legs and you will have a "hand-crafted" stand.
I often go to trophy and award stores and buy a few blank walnut-stained plaques. They're 11x13 inches (fine for my small trees) fasten on some legs and have an instant and quite nice low stand.
Here's one: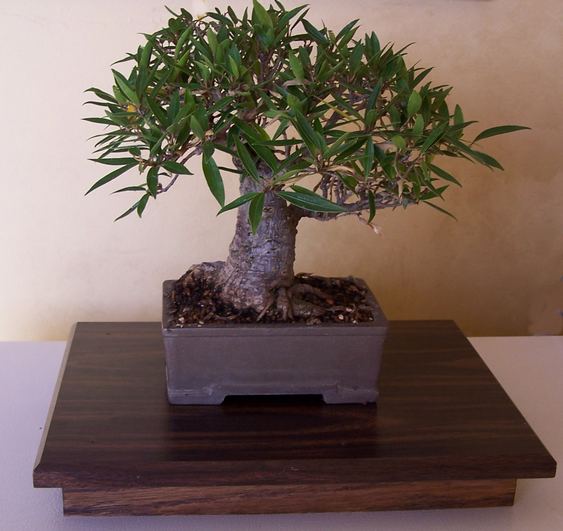 _________________
Jim Lewis - lewisjk@windstream.net - Western NC - People, when Columbus discovered this country, it was plumb full of nuts and berries. And I'm right here to tell you the berries are just about all gone. Uncle Dave Macon, old-time country musician

JimLewis

Member





That's a new one.

I expected a suggestion for something I couldn't afford, & they tell me go around the corner to Michael's. I agree with Alex that a rugged looking slab with the bark on might be appropriate. I'll see what they have.
Iris

bonsaisr

Member






---
Permissions in this forum:
You
cannot
reply to topics in this forum