mathias

Member





Very nice stone and a very nice daiza, Mathias.

I would have been wringing my hands thinking how to arrange and size feet under the two peninsulas extending at the far left end (double tail) of the stone.

Can you share your technique that leaves such a uniform & dark-color finish, which is ideal to allow the stone's presence to dominate?

Chris Cochrane

Member





Very nice stone.

I was surprised to see it was from "Ligurie" after reading the title of the message, so to be precise if the stone is in France now, and in good hands I'm sure, Liguria is a region of Italy at the border of France. It's a sort of crescent with the coastal line including Genoa in the middle and hills and mountains on its north side.

I have two small stones of the same kind of rock coming from the same region, but they are far less interesting than this one.

AlainK

Member





Hello Alain,

I'm french, and I live near Tours (not far from Orléans !).
I have bought this stone to Fabrizio Buccini (http://www.italiansuiseki.it/en/homepage) when I meet him in St Tulle (suiseki exhibition in june 2010). He is very sympathic and he had made a workgroup daiza.... All the stones that he bought in St Tulle came from Ligurie.
If you to have more information, you can send me a MP, in french of course !

I will make an answer to Chris.... Give me a moment to find right words in english to explain.....

mathias

Member





"
Can you share your technique that leaves such a uniform & dark-color finish, which is ideal to allow the stone's presence to dominate?"
So, with my english, I'll try to explain this.
1. The finition with dremel (rotary tool) and sanding bands (the more fine as possible) must be perfect : use the reflect of natural light, or finger sensation to appreciate it : no bump, no hole.
2. then, use hand sanding bands more and more fine; for the finish, use steel wool 000.
3. then we must apply "fond dur" in french ("hard underground" in english ?); after, sand a little bit. If there is some zones where the wood had drunk, apply a second coat. Then you can apply wood stain (try before on piece of the same wood), 2 or 3 coats.
For the stone, I have polish it with "microfine", piece of material use for household :

mathias

Member





Beatyfull stone and day, a very good job.

Kind regards Yvonne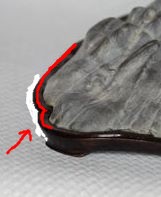 for perfection,I would put the wood closer to the stone,nice work and stone

peterbrod

Member





Thanks for the wonderful explanation, Mathias. I think the French term fond dur replaces "wood filler" in English. Wood filler can be either a distinct "wood filler" product or a functional equivalent such as Plaster-of-Paris, which I've used after staining it a little darker than the daiza to reasonably good effect (though not as good as yours!). For what wood have you used fond dur & do you recommend a particular brand or substitute? Is your stain oil-based?

Your description of very careful sanding/buffing to get a uniformily fine surface is what woodworkers claim to make a huge difference in fine vs. moderately good finishes. The almost invisible grain & uniform color are exceptional on your daiza-- similar to the best Japanese & Japanese-style daiza.

Chris Cochrane

Member





For what wood have you used fond dur & do you recommend a particular brand or substitute? Is your stain oil-based?

Hello,

The stain use is Aquaréthane (base : polyuréthane resin). No oil.
I use fond dur for woods with fillers; oak have a lot of fillers (it's the reason why I apply two coats; oak is not the best wood, very hard, with fillers...). However, plane tree has not fillers.... It's the reason why the choice of wood is very important to have a beautiful daiza.

Mathias

mathias

Member






---
Permissions in this forum:
You
cannot
reply to topics in this forum