alonsou

Member





General comments. Unless the pot is round trees are planted to one side of center, either right or left, depending upon the movement of the tree. (Rule of thirds)

Balance, upper branches should look weaker than lower branches. That is , the first branch from the soil should be the thickest and carry the most foliage., then the second, etc.

Line, One should start at the soil and follow the line of the trunk to the top. Your designs go in too many different directions.

Solution for these trees, Bunjin or Literati style. Or maybe cascades. These are the best styles for these trees and it takes advantage of the natural prostrate growing habit.

Billy M. Rhodes

Member





Both plants are very young. Bonsai is an art aimed at making trees look as if they were hoary ancients -- even if they are not. As long as these stay in bonsai pots, they will not achieve that goal.

Many of us "age" our plants by putting them in a large shallow pot or in the ground for several years and letting them grow. The trunks will thicken in the process.

That said, the second tree has much more potential than the first. As Billy said, the first (especially) is going off in every possible direction; there's no coherent design to it.
_________________
Jim Lewis - lewisjk@windstream.net - Western NC - People, when Columbus discovered this country, it was plumb full of nuts and berries. And I'm right here to tell you the berries are just about all gone. Uncle Dave Macon, old-time country musician

JimLewis

Member





The two trees are very young peg them in the ground so that u get upward growth and wait for them to fatten up nicely.

andre10

Member





Hey folks,
Since the last time I took the above pictures I have done some re-stylish to both junipers, specially the first one, I'm planning on leaving it on this nursery pot for a year and then straight to the ground for several years, but now I'm on the point where I don't know what to do with the left branches.
Can anyone help me out with a little quick virtual on what will be the most suitable direction for this branches to go. I'm more happy now the way it looks but I'm sure after someone comes out with a virtual it could improve a lot.
about one month ago...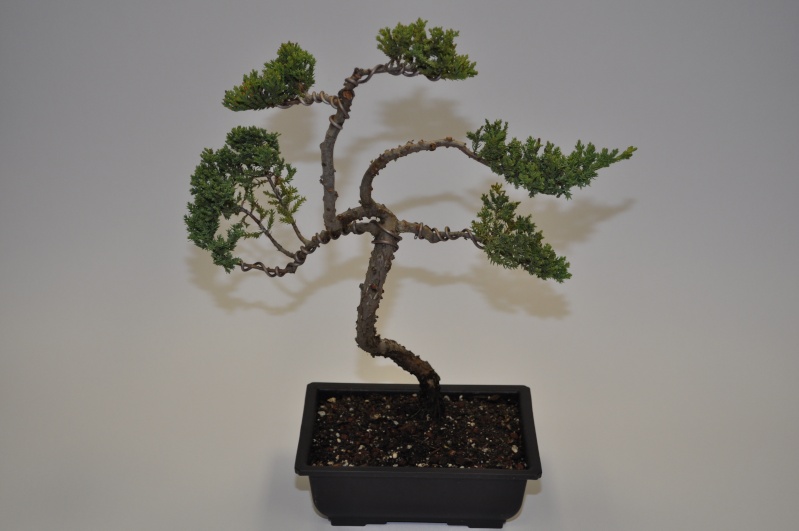 today...
thanks in advance.
Alonso

alonsou

Member





You don't say where in California you live, but if near the higher desert somewhere, drive out into the country and LOOK at some of the junipers you should find growing there. If that's not possible, then use Google Images to find "juniper bonsai" and look at the pictures that come up -- especially those that are in real ceramic bonsai pots and have some trunk size (i.e. are not mallsai in black plastic pots for sale at some two-bit shop somewhere).

I think you will see that none of them have long, thin, wavy stems with a tuft of foliage way out on the end. They look like old, battered, but lovely trees.

As I said in my first response, that first tree you showed (there and here) has very little potential to become a decent bonsai. The second tree is a bit better, but it still is little more than a seedling, and cannot be shaped into a true bonsai at its current size (thickness of trunk). It need to grow for several years, either in the ground or in a large pot.

I know this isn't what you were hoping for as a response.
_________________
Jim Lewis - lewisjk@windstream.net - Western NC - People, when Columbus discovered this country, it was plumb full of nuts and berries. And I'm right here to tell you the berries are just about all gone. Uncle Dave Macon, old-time country musician

JimLewis

Member





Thanks Jim,
It may not be the answer that I was looking for but still you provide me with a lot of valuable information, unfortunately I don't have access to that "old lovely material" that you are talking about and I totally understand everything that you saying. I take all this little $5 trees as my own personal training, want to be ready and know as much as possible for when the time comes to get a decent "worth" material.
As I mentioned above, is not that easy for me to have access to the "quality material" you are talking about, still I'm looking for a few friends that would like to go into a collecting trip and see what comes up, but for now I have to keep paying the lady at the local nursery for any material that I want to experiment with, regardless she has some 5 and 15 gallons Junipers that look pretty atractive and I'm sure I will learn a lot with them, but until I get one of those, I still have to play with what I have and learn whatever I can, still better to kill a $5 dollar tree than a $100+


alonsou

Member





Hi.
Jim is right. I'm sad to say that these trees need more time in the ground to become a bonsai material. for now, all you can learn from these trees are the very basic on how to keep the tree alive, watering properly, the growth pattern of the specie and basic wiring technique without killing the branches.... if you learn all of those with your 10$ investment is worth than the money value you spent.
As for the design of the tree you cannot do much about it for the moment. but if you want to be creative try to compress all the branches together (probably semi cascade), research foreshortening technique,,, might help you a little.
regards,
jun

Hi Alonsou,

Do bear with me as I echo what has been said before - especially by Jim. There is tremendous sense in what Jim is saying when he says that to design a Bonsai one needs a credible plan. One needs to take inspiration either from trees in Nature or from Bonsai that are jawdroppers.

Your trees (and please don't be offended when I say this because my intention is to help and not to put you down) lack a credible design and a tree with long branches with tufts of foliage at the end doesn't IMHO qualify as credible design. Having said that here is what you can do. Put both your trees in the ground if your environment permits it or put them into growth pots and leave them for a couple of years untouched. You might want to do this next spring. Once the trees have grown branches all over and the trunk has thickened, then you will have multiple design options with each one being a credible design. You can then pick one that suits your taste and style the tree accordingly.

I also do understand what you say when you say that you'd rather experiment with a $5 tree than a $100 tree. I'd say go for the 10-15 gallon Junipers in the nursery. Come spring design it the way you want it. If you are uncertain of the design or if you are scared you might kill the tree ask for advice in your local bonsai circles. That way you'd minimise the risks and end up with a tree that makes you proud and gives you a lot of satisfaction.

Even as I offer this I am painfully aware of the mistakes I have made in my early bonsai years (by this I mean 8 of the 10 years I am into bonsai). I have no qualms in admitting this. I say this so that you are not discouraged by people's comments but to encourage you in this wonderful and satisfying LIVING art.

All the very best and be at it...

Ravi

Ravi Kiran

Member





To everyone that have replied to this threat since last time I posted pictures:

You guys have no idea how much I appreciate your comments, I do not get offended when people show me my mistakes... I ask for help and I consider your comments as help as well. Thanks so much.



alonsou

Member






---
Permissions in this forum:
You
cannot
reply to topics in this forum