I am not 100% sure if it is a Salix caprea though,
I am verry new to bonsai but have recently wanted to try bonsai out so i found this salix outside our house and it is about 45 cm high.
Where should i cut this as its a little big? And if you have anny tips on Salix please tell me

I also want this to be a inside plant
Pictures: (links because of big images)
http://img100.imageshack.us/i/foto0465.jpg/
http://img577.imageshack.us/i/foto0466.jpg/
http://img826.imageshack.us/i/foto0467j.jpg/
Thanks in advance!
Please see my comments under Weeping Willow. I gather from Storm, our other contributor from Norway, that good bonsai material is hard to come by, but I think you can do better.
Iris

bonsaisr

Member





Ok thanks

This is the part that we really need to see. I've cropped it and digitally cleaned it up a bit.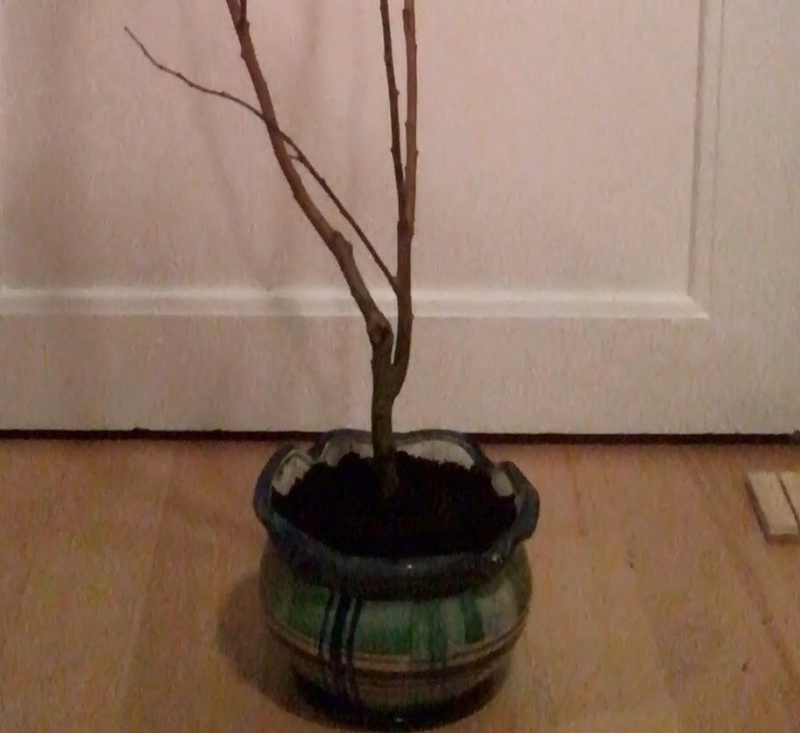 Can't tell from the photo what sort of Willow it is but it could be S caprea. You can go for a chop quite low down on any willow with no problem. I would cut it a lot shorter than I've shown here, probably half this height and shorten the thin branches to one or two buds. They always bud back well. That said, I would wait until Spring to do it.

_________________
"It is not the strongest of the species that survives, nor the most intelligent. It is the one that is the most adaptable to change." - Charles Darwin.

Kev Bailey

Admin





Copopit wrote:
I also want this to be an inside plant

Sorry, you can't grow a northern outdoor plant indoors. Try a Ficus.
For the winter, bury your willow in the ground to the top of the pot in a sheltered area.
Iris

bonsaisr

Member





So it have to grow outside at all times? Is it possible to use a much larger pot then and just trim it when its needed?
And i do acculy have a ficus benjamina with mulitply trunks wich i hope to fuse together

I missed that bit about wanting to grow it indoors. Iris is absolutely correct, it would die, probably quite quickly. A matter of months, if not weeks.

It really needs a much smaller pot (eventually) and regrowing from a short thick trunk to give the appearance of an aged tree.

_________________
"It is not the strongest of the species that survives, nor the most intelligent. It is the one that is the most adaptable to change." - Charles Darwin.

Kev Bailey

Admin





So just put the small pot in a bigger pot (just to hide its really a small pot) prevents it from getting to big to quickly and give it a verry low trim to give it a fat trunk?
Copopit,

if you really want to try a willow indoors, in a cool room, try Salix matsudana, the contorted willow. I grew a 3 inch [ 8 cm ] cutting in a small [1 inc 2.5 cm ] plastic cactus pot to about 7 inches [ 18 cm ] for three years. This plastic pot also came with a snap on dish, by the way. So when I went to Florence to study, I slipped the entire plant into the spent cardboard from a toilet roll, cutting the top of the plant off. It lived on my window sill and with winter it went dormant. Woke back up around April and got trimmed again, and back into the cardboard from a toilet roll when I flew back home to the Caribbean.

Did this for three years.
In my last year in Italy, I gave her / him to a Bonsai friend. Repotting was done at home in the Caribbean. The cutting came from London, by the way.

Today, we have Salix matsudana, being supplied by the local nurseries and I have another tree.

A good way to learn how to use mame' , wouldn't you say ?

Can also be done with Japanese black pines from seed. You can order seed packs and after 3 months in the vegetable crisper in a protective container in the refrigerator, plant the seeds in sterile soil, they germinate in 10 days and onwards. Very reliable germination. I do this every once in a while to keep myself in practice trees in the Caribbean. Or try Japanese white pines.
All year round for me, spring for you.
Have fun.
Khaimraj

Khaimraj Seepersad

Member





It wasent intentional to pick the willow at all though, just took one wich had a few branches and looked healthy, and I don't mind grwoing it outside. It was more of a "get another tree incase my other tree dies" kind of thing.
But I really appriciate your responses, thanks alot


---
Permissions in this forum:
You
cannot
reply to topics in this forum