I have a Ginko "stump" which is approx 26 inches tall (or 56 cm). I airlayered the top and have many shoots growing from it. I think I want to grow it into a vase shape with multiple branches growing upwards, looking like an "Ace of Spades". I have seen nice photos of very old bonsai with multiple branches growing up. I'm not sure how to train it this way. Does anyone have suggestions on how to grow this style. This "vase" shape reminds me of the "Ace of Spades" - shape. My thoughts are to wire branches up, with some modest curves.
Here is the only picture I have of my Gingko before cutting off the airlayer. It is in a five gallon nursery container. Thank you for your help. Todd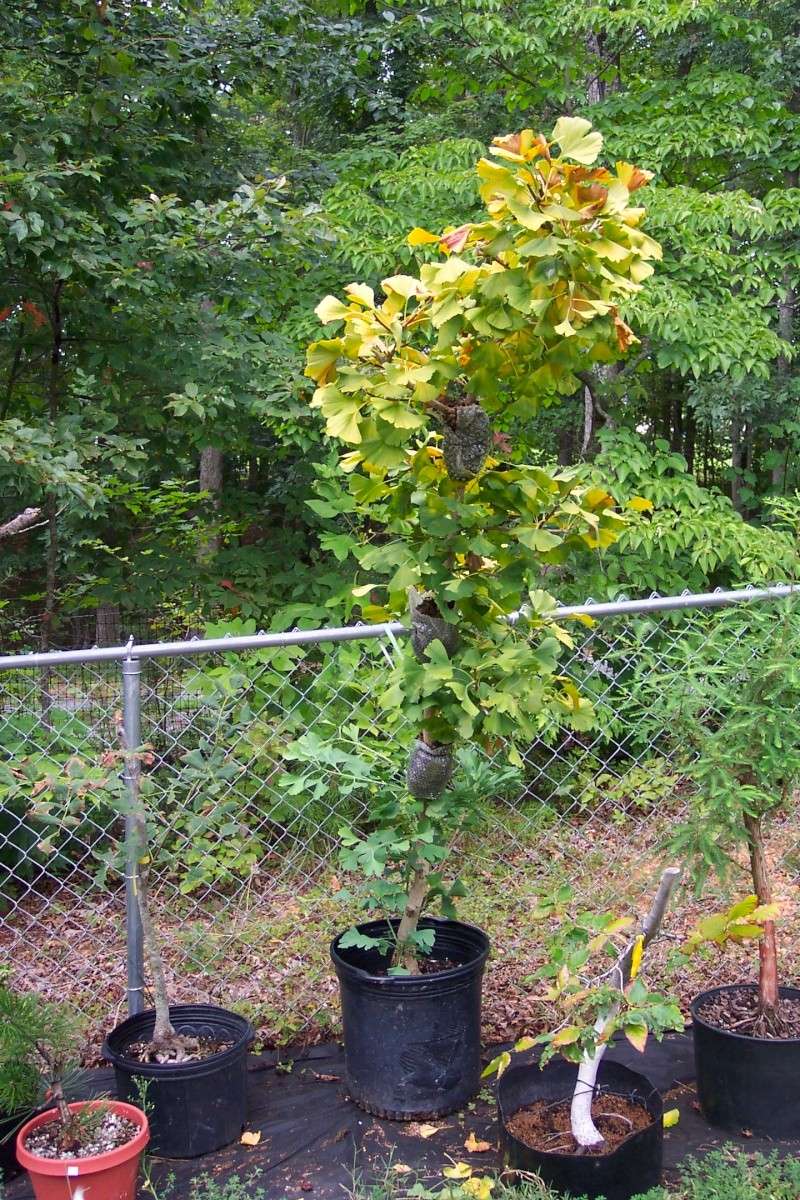 Todd Ellis

Member





Todd,
I just have a question about your airlayering. How well did the sections root being inline on the trunk? Were there variations in the strength of the section or did they seem uniform? Having tried doing multiple layers this way would you recommend it? I know this has nothing to do with your question, but I am just wondering. Thanks

Todd


DreadyKGB

Member





Hhi Todd,
No, I would not recommend it. I think I read somewhere that it could be done, so I tired it. Thenlater, others from IBC advised against it. They were right. I got a few roots here and there and cut them off. I then put them in the ground to treat as "cuttings". I will leave them until next late Spring to see if I get any leaves to pop out. I learned my lesson. From now on I will only try to airlayer ONE PIECE off the main trunk.
Best, Todd

Todd Ellis

Member





Todd,
Thanks for the info. I thought I had some where seen mention of this not being a great idea, but wanted some sincere feed back on it. I am planning my attack for some serious air layering next spring and trying to absorb as much info as possible.


DreadyKGB

Member






---
Permissions in this forum:
You
cannot
reply to topics in this forum