this is one of three supersize bougainvillea I collected 2 fridays ago. already the stump is budding. before the tree becomes flush with new growth, I needed to make some major cuts to set the trunk up for training as bonsai. the bougainvillea was part of an old yardscape. over the years, the gardener must've cut the trunk back many times. when I discovered the tree and pruned the wild growth away, I found beautiful fissured bark and a 12 inch trunk with nice movement. several large branches in the 2 - 6 inch diameter range growing out from the trunk had been pruned short - creating design obstacles for the future. some of these stubs needed to be removed or trimmed . the two largest cuts were made with a chain saw, then rough shaped with a die grinder. smaller cuts were made with the grinder. unfortunately the changes are not easy to see. the most noticeable is the trimming of the second branch stub just below the apex. after a chain saw cut and grinder work now there is separation between the upper trunk and the second branch.
the front before work. note the textured bark, movement in the trunk and the second branch from the top tightly tucked under the top of the tree.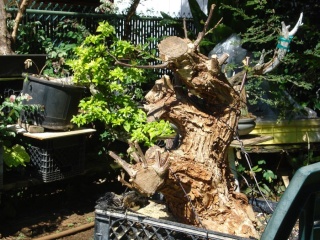 the first V shaped cut removed a 5 inch diameter stub between two flanking stubs low on the trunk. we now have separation between the remaining stubs. looking directly into the cut.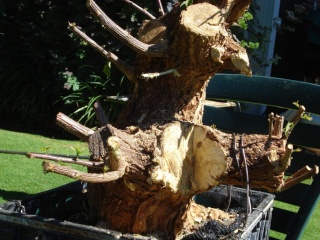 the next operation was to reduce the large stub growing tightly under the upper trunk. look carefully to see the chainsaw cut which effectively reduces the diameter of the branch by 2/3
after roughing the cut with the grinder. now we have separation
done for now. the tone has been set. lots more work to come.
looks promising to me sir
regards.
alex/ogie

ogie

Member





Sam,

Very nice old purple bougainvillea. Keep us posted.

Kind Regards,

Jose Luis

jrodriguez

Member





thats a huge one Sam, with very good trunk movement

regards,
jun
iteresting material, congratulation
greetings Milan

Milan Karpíšek

Member





thank you, milan

best wishes from hawaii.

sam
Sam,
With the clear picture the more in in love with it,soon you'll get a winner from it,keep us updated,

regards,
Alex/Ogie

ogie

Member





SHould look colorful in a few years.

How do you keep those cuts from rotting? No matter what I slather on my bougy cuts they eventually rot and change the look of the tree.

Rob Kempinski

Member





thanks for the words guys. rob. deadwood created from live wood is surprisingly durable. when the wet wood dries, go back over the cuts to shape and sand. before too many branches and foliage grow, apply fire to the cuts. then wire brush and light sanding. stain cut areas for color contrast. in other parts where the bleached look is desirable, apply an acrylic paint wash., more durable and water proof than LS. after coloring , apply saturation level wood hardener or teak oil with a eye dropper. re-treat periodically.

for old pulpy deadwood there's not a heck of a lot one can do. I dig it all out and hopefully have enough left to work on.

best wishes,

sam

---
Permissions in this forum:
You
cannot
reply to topics in this forum