peterbrod

Member





I like Peter's Japanese-style daiza design very much. He is VERY accomplished in both designing and carving these.
The stone, however, does not look like a Japanese-style suiseki. Though the form has contours which are fine for a "coastal rock" (alternatively seen as a "massive rock"-- especially when on a daiza), the
deep black, wet limestone with calcite inclusions
looks Chinese Lingbi-style in material composition. Many of Peter's personal stones look more Chinese (processed Lingbi stones) in-material rather than Japanese. A fine daiza thus gets a lot of attention while the stone of inadequate material (for suiseki) arguably is dismissed. This stone looks better than many examples in a
daiza
for its uncommon contour (coastal/massive rock rather than single-peak mountain view).
Rather than mount it on a daiza, I would consider mounting it vertically (preferably on a Chinese-style stand) with the the heaviest end pointing upward. There is probably a better side to display for mounting it vertically. I would prefer a more natural surface than the deep-black, wetted (perhaps acid-cleaned, highly-scrubbed, actually-wet or artificially-wetted surface) that looks processed, but the processed surface is often chosen in China to display similar stones.
As viewing stones, it is best to be open to any combination of seating and stone-- especially in regard to a scenic view or natural object. Peter beautifully mounts stones. He is less open to Chinese scholar rock expression, though he is also very good with modern-style stands. That is okay if you only mount stones that look like suiseki, but not so good for mounting stones that look a lot like Lingbi stones.
Lingbi stones that have quiet contours like suiseki are available for mounting. Mounting them must follow quiet suiseki mounting aesthetics, dynamic Chinese scholar rock aesthetics or modern-style that might not be associated with either tradition. All three options should be in your consideration.
Here is a stone from Virginia that could be processed to appear wet & black. I will likely leave the surface as it is and mount it vertically, though it has an interesting mountain shape that could be mounted more distinctively as "arches over water," which occur in both Japanese and Chinese landscape stones. The "arches over water" would be an easier seat to construct, and I'd choose Chinese styling rather than diaza styling because the stone looks more Chinese in material composition. Alternatively, I'd choose a modern style seating.
Front for Chinese-style vertically mounting (though it is on its back):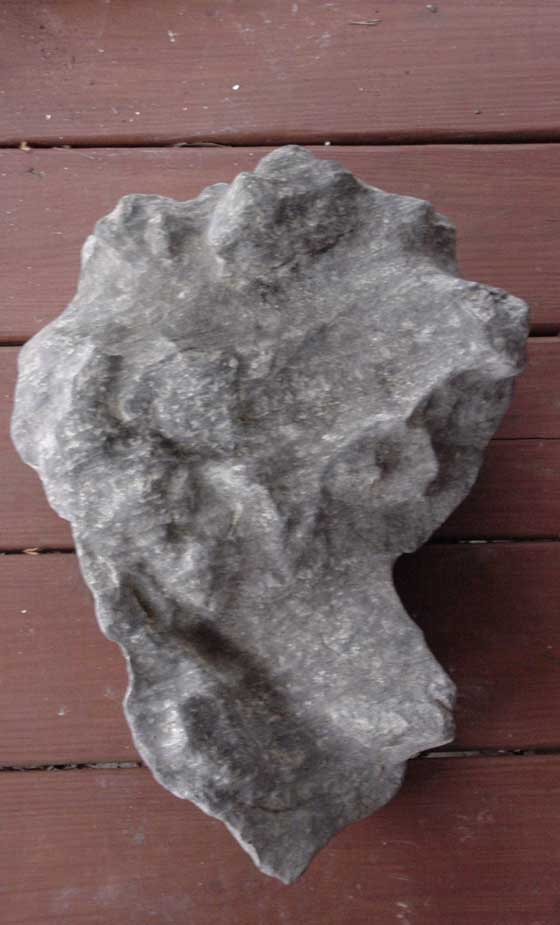 Front for horizontal ("arches in water" or "mountain") mounting: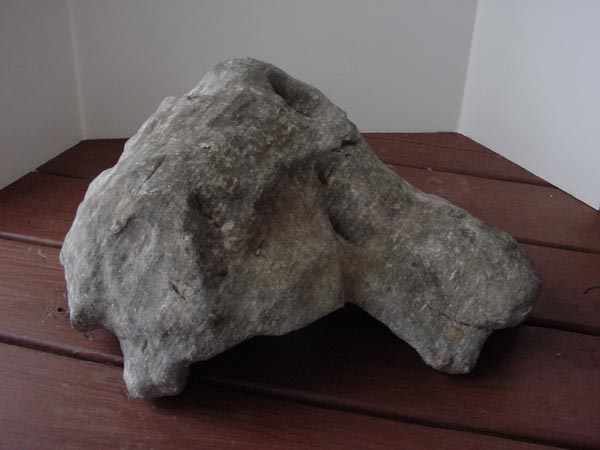 Chris Cochrane

Member





me,the stone appears to be of vulkanic origin,probablynot suitable for suiseki quality,with a natural glosswithout polisching and water,form near toyama ischi


peterbrod

Member





We agree that it is not suiseki, Peter, and I'd add that processing would take it further from suiseki appreciation, if that is possible.

Chris Cochrane

Member





Thank you guys.
I got to review your lessons for me for the day...its too much info for me.


but I will absorb it word for word in due time. i guess i got to read a ton of books from now on.
regards,
jun
Hi Jun... On October 11th, I shared recommendations on English-language books & websites that can help in understanding of
suiseki
. Check-out the IBC Stone Forum thread titled, "Re: My version of cave-like mountain...pls enjoy
[Link is HERE]
." There are many other books and websites but those listed are a good start for basic information.
California Aiseki Kai
very recently added its October newsletter, which should not be missed by serious international suiseki enthusiasts. Peter Aradi, who has been IBC's frequent contributor to stone discussion since the mid-1990s, is among authors in this month's edition.

Chris Cochrane

Member





Hi Jun
Welcome to the "stone world" I am sure you will enjoy it.

Ka Pabling

Member






---
Permissions in this forum:
You
cannot
reply to topics in this forum