Oriental culture believes that Suiseki is a kind of expression in philosophy system, which is a key way to the harmony between natural and human through appreciating Suiseki. In China, Suiseki culture is divided into the classical and modern. For the classical, as shown in Figure 1, the standard they recommended is "Shou"- gracility, "Tou" – diaphaneity, "Lou" – "Zhou" – crease; on the other hand, the modern recommended quality, color, peculiarity and grain. Both of them have cooperation and combat Figure 2. Where is your indentifies of Suiseki come from in your society? Pursuing the east culture or forward to the nature? Have you ever been to China? Here, you will learn much of Suiseki culture as an old Chinese saying that seeing is believing.
I am seeking the classical style; they are not only selections of Suiseki but also the Chinese painting and calligraphy and rosewood goods. They combined well following the order of appreciation, expressiong and exhibition. (Please see Figure 3, Figure 4and Figure5 ). How do you think these pictures?
1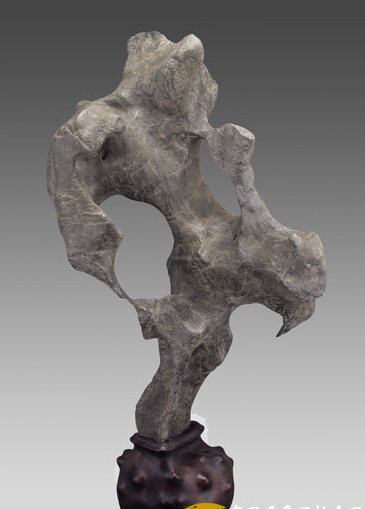 2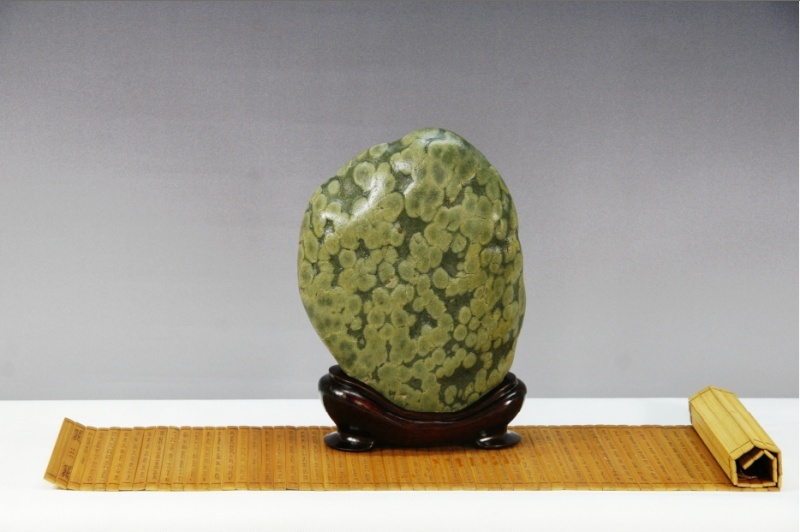 3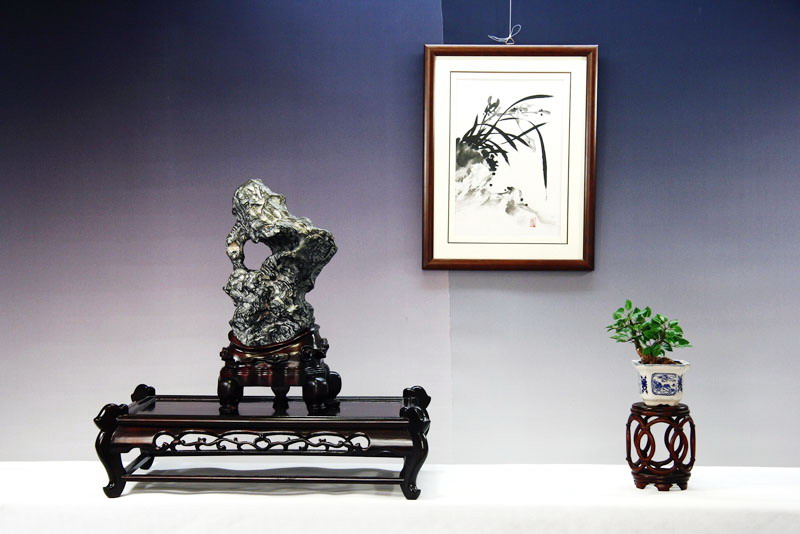 4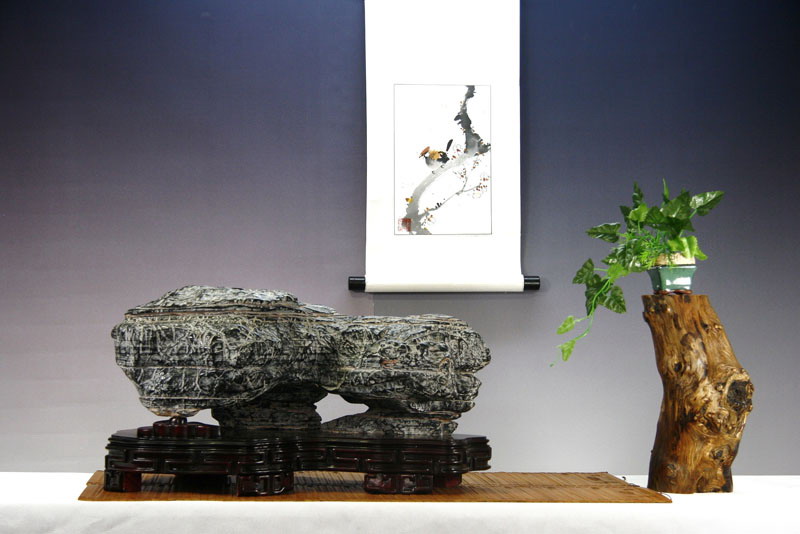 5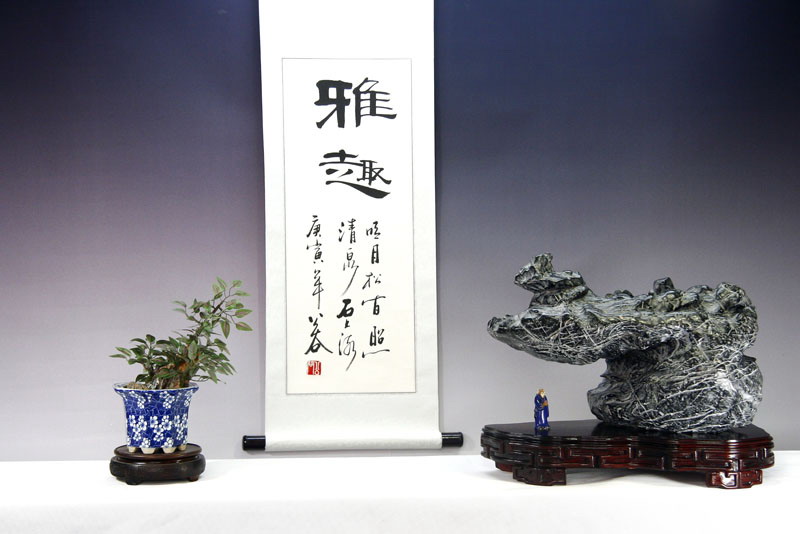 bhswjww

Member





Thanks for posting, Wang Jun. I have just put img tags to make the pictures show up.

Is the first stone from Lake Taihu?

_________________
"It is not the strongest of the species that survives, nor the most intelligent. It is the one that is the most adaptable to change." - Charles Darwin.

Kev Bailey

Admin





Hi Wang Jun,
- Photo 1 . I like it , because stone is main object of display . Accessories are China orchid painting , pot plant.
- Photo 2 . I don't see different between objects of display.
- Photo 3 . Calligraphy painting is main object of display.
Hi Wang Jun... Your taste in stones is very nice. Your objects are stunningly good. I do not understand your arrangements, however, and would change them. I will focus on Display #3 and hope you will understand that my view is limited and shamefully arrogant because of lack of exposure to alternatives. I do not think you need to see as I do, but I hope you'll consider my thoughts as you choose display alternatives. I would like to be your student and hope this is possible over time.

Display #1: This stone looks extraordinarily good by-itself. Whether appreciated for its artistic abstraction, as a steep cliff of unattainable climbing height or as an entrance (through piercing holes) to a land of immortals, this stone states it all. As with many Lingbi & Ying stones, it might have one face; I like the position which you have chosen to face it that partially obscures one piercing hole and more fully reveals another. It would be nice to see the entire stand to fully appreciate the display. I hope the wood seat/shizuo sits directly on the table or floor rather than accompanied by a mat or low, footed table.

Display #2: This stone reminds me most of the colorful flower pattern stones of Korea. I do not know much of their display so can only share an impression rather than knowledge. In every case that I express understanding, consider me a rather new student who doesn't read a single Asian language & simply looks for common or unusual expression. I love this stone & its seating. The seat is heavier than most Japanese style daiza but its mass arguably elevates the importance of the stone as being on a finely crafted pedestal/platform. It is a proud seat rather than a quiet one. Platforms are very important for suggesting sacred places. In feeling, I imagine this stone as a flower dedication in an elevated formal place. To me, the reed matting, which is partially unfurled beneath it, is too informal. However, if you have a formally presented stone, it might be necessary to tone it down in an exhibition that is more informal & expressing the natural world. That is Japanese style, however, so I am really reaching (and apologize) to apply formality to a Chinese/Korean presentation.

Display #3: I prefer Japanese & Chinese expression to be recognized separately and for each to be respected. In display arrangement, however, this looks more Japanese than Chinese. The Chinese stones are exceptional. The painting is exceptional. You note, "the main object is the painting." In Japanese alcove expression, the painting would ensure that the space where it hangs is the most important space in the room (main or 'genuine/hon (J.)' alcove-- hondoko) but a stone (or bonsai or grass/wildflower planting) on the floor of that space would consistently be the more important object. The most important object is horizontally closer to the scroll than the next important (secondary object). The most important object is ideally larger (more visually massive) than the secondary object. The most important object is ideally on a higher footed table, slab or mat than the next important object. Ideally, the painting and main object each have a visual flow that reaches toward each other (though their are exceptions in tradition including a cascade bonsai matched with a tall waterfall painting). The scroll and main object do not face each other in this example according to my reading. It is not always best (or possible) to follow tradition, but it is usually best to recognize it and choose alternatives with clarity of purpose.

Display #3 continued: The concepts of alcove display largely apply to exhibit display of sensitivity, though exhibit display adds shohin objects as pricipal objects for exhibit display which would not be shown as principal objects in alcove display. I hope this isn't confusing. Morten Albek writes extensively of shohin, J. (small object) display. My experience of either is limited, so test my thoughts with your own experience, reading & especially with your feeling. Feeling is ALWAYS more important than technique in the success of a display!

Display #3 continued: The taller, more massive stone on the taller stand is the most important object in the display if seen in suiseki practice. Arguably, its visual flow is from Right-to-Left from the viewer's perspective, so it should be to the right of the orchid painting. That is an ideal placement because the orchid painting flows from Left-to-Right and they would be facing each other rather than showing their backs to each other. The secondary object (small bonsai) is a good size to display with the stone but you don't require another object in the display to show the season, so in Japanese display it might be omitted-- I would omit it. If the secondary bonsai was placed in the display, it would relate always to the principal object & not directly to the scroll, as in the existing display.

Display #3 continued: First, look at the principal display object and move downward to the objects which support it (seat & footed table). Second look at the scroll followed by noting a scenic relationship between the two. Can you imagine a scene without boundary which express an atmosphere beyond the objects-themselves? Can you feel the season and perhaps even the time-of-day? If so, you do not need anything more and can appreciate the completeness of Japanese alcove-style expression. This scene would be honored in suiseki practice. As far as I know, there is no comparable display practice in China. Putting objects in an arrangement without discipline pulls the feeling of the individual objects down and is distressing.

Display #4 & #5: See comments on display #3.

If displays #3, #4 & #5 have a discipline helps in appreciating them, I'd be very appreciative to learn it, here. Wang Jun is obviously not a novice and probably works with others in his community to express stones beautifully. I love Chinese stone expression, but not so much when in an arrangement that lacks the subtlety of disciplined viewing.

I apologize for the long post. Its lack of humility embarrasses me. It seemed that saying a little would not be very useful. I do hope to learn from you.
Last edited by Chris Cochrane on Fri Oct 08, 2010 7:51 pm; edited 3 times in total (Reason for editing : corrected keying mistakes & attempted to clarify Chinese/Japanese terms that are useful)

Chris Cochrane

Member






Thank you for your comment, and thanks other three friends all the same. My work learned from the habits of Japan, South Korea, which only represent one aspect of the Chinese shuiseki .It combined with Chinese own cultural tradition. It is only a try. If you refer to the standards of Japanese shuiseki . There might be different. I am trying to find out the understanding of the shuiseki myself. I found that self-consciousness is the most important. Figure 1,3,4and 5 are Lingbi Stones. They are on behalf of the traditional style, Figure 2 is a chlorite, it is a representative of modern style. I found that the middle part of all the works are inharmonious, which affected the entirety's beauty of shuiseki. It need to be improved.
The current Chinese shuiseki is divided into two categories .One set up out of doors is regarded as a Display Stand or tablet inscription to commemorate some special events, which mostly carve the characters on the surface. The other is about 1M high which are regarded as ornaments to exaggerate atmosphere in the house, In recent years, smaller shuiseki take the fancy of more and more people. In China , shuiseki are called appreciation stone or Fancy Stone.
This forum is an international one, and I spent much time to find it, I am very lucky to make friend with so many foreign person. Including you. Of course. And I can expressing the opinions of Chinese people about the shuiseki cultural ,longing of nature and desire for communication on this platform .There is a Chinese saying that: How happy we are, To meet friends from afar!. I believe that I would meet a lot of friends to discuss our common interests.

bhswjww

Member





西方赏石,它的诞生距今不过二百年时间,它是资本主义工业时代发展至鼎盛时期的产物,是基于工业革命时诞生的矿物学、岩
石学和古生物学等科学理论而产生的。所以它从一开始便有科学的理论作指导,倡导者也是以从事自然科学的工作者和博物馆为主。所以是一种理性化的收藏活动,它更注重观赏石本身的科学内涵,强调美感与科学的统一,注重观赏石形成机理的探究,如物质组成、化学成份、结构构造、产出特征等,重视其学术科研价值,按科学眼光和思维评价其观赏性与艺术品位,这与东方赏石强调的艺术化欣赏是有着本质的区别的。如果说东方赏石只是知其然,浅尝辄止的话(东方传统赏石很少去探究其地质作用和成因),那么西方赏石便是知其所以然。西方赏石强调直观视觉,并无深厚的文化积淀,富于含蓄、想象的题名是绝无仅有的,比如中国的雨花石玛瑙,在绝大多数欧美朋友眼中便是普通的玛瑙质卵石而已,富于诗情画意的想象和题名难以引起的共鸣。

bhswjww

Member





Wang Jun,

Your essay in Chinese is very interesting, particularly when you relate development in stone aesthetics to capitalist development and how mineralogy, rock Petrology and paleontology and other scientific theories generated. Also, the distinction you make bewtween scientific theory and stone appreciation as a rational activity, in which natural aesthetics are the focus, is very important.

Kind regards,

Jose Luis

jrodriguez

Member





--- AUTOMATED TRANSLATION TO SIMPLIFIED CHINESE (Google Translate) ---
谢谢你的介绍及感觉王六月欢迎您的贡献,在这里分享。每个人都在学习,我们尊重沟通,扩大石爱好者之间的友谊努力。
你有不同的想法和表达 - 他们涉及的是中国地区,在特定的石头俱乐部或你理解别人的分开?
要共享一个英文翻译,当您在任何其他语言发布,因为国际生物伦理委员会是一个英语论坛。然而,这是好事,在语言,最能描述你的想法,因为有些浏览器将更好地了解份额。下面是一个自动翻译的上述消息。它并非十全十美,但足以通过了英语交流的测试:
[报价]西乐队,这对两百年前,但是,它是工业时代的资本主义发展到了工业革命的鼎盛时期诞生的产品在矿物学,岩石基础的出生时
岩石学和古生物学和其他科学的理论产生。它从一开始就以科学理论为指导,倡导科学的自然是从事工人和博物馆为主。因此,它是一种理性活动的集合,它更多的是对观赏石的科学内涵本身的重点,强调美感和科学的统一,探索了观赏石等成分,化学成分,质地和,形成机制为重点结构,输出特性,在其学术研究价值的重视,根据其设想进行科学评价和思维观赏性和艺术品味,强调艺术的欣赏东方石有着本质的不同。如果在东岩才知道这些,然后踢轮胎(在东方传统中发掘的地质过程和原因小石头),则是要知道为什么石西。西石强调直观的视觉,而不是一个文化底蕴深厚,充满了微妙的,想象的标题是独一无二的,如中国,玛瑙石的眼睛大多数欧洲和美国朋友,只是一个普通的玛瑙鹅卵石的质量,丰富的诗意标题很难想象,唤起同情。
--- ORIGINAL MESSAGE---
Thanks for your introduction & sharing of feeling Wang Jun. Your contributions are welcomed, here. Everyone is learning and we respect the effort of communicating to broaden friendship among stone enthusiasts.
You have distinct ideas & expression-- are they related to a region of China, to a particular stone club or to your understanding separate from others?
It is necessary to share an English translation when you post in any other language because IBC is an English-language forum. However, it is good to share in the language which best describes your thoughts because some browsers will understand better. Here is an automated translation of your message above. It isn't perfect but is good enough to pass the test of communicating in English:
West Stones, it's time for the birth of two hundred years ago, however, it is the capitalist development of the industrial era to the heyday of the product of the birth of the Industrial Revolution based on mineralogy, rock
Petrology and paleontology and other scientific theories generated. It from the outset the guidance of scientific theory, advocates of natural science is to engage workers and museum-based. Therefore, it is a collection of rational activity, it is more focus on the scientific content of ornamental stones themselves, emphasizing the unity of beauty and science, focusing on exploring the formation mechanism of ornamental stones, such as composition, chemical composition, texture and structure, output characteristics, emphasis on the value of its academic research, according to scientific evaluation of its vision and thinking ornamental and artistic taste, which emphasizes the art of Oriental Stones appreciation is essentially different. If the rocks in the East just know these, then kick the tires (little rocks in the Eastern tradition to explore the geological processes and causes), then the Stones is to know why the West. West Stones emphasized intuitive vision, not a rich cultural heritage, full of subtle, imagine the title is unique, such as China, agate stone, in most European and American friends in the eyes is just an ordinary agate pebbles quality, rich in poetic Title difficult to arouse the imagination and sympathy.

Chris Cochrane

Member






---
Permissions in this forum:
You
cannot
reply to topics in this forum