This is my longest running bonsai and it has had to go through a lot. It has been shipped to and lived in three different states and been subjected to all the woeful mistakes of someone learning bonsai. The first image was taken in 2003. For several years I focused primarily on developing aerial roots. Living in the Midwest and now the East Coast, there was insufficient humidity to naturally develop aerial roots so I used soil and now shagnum moss. I never wanted the hundreds of straggly roots many schefflera bonsai exhibit; I always loved the banyans that have a few large, thick roots that help create the image of a forest.
My question to the forum is NOW WHAT? How do I clean up the canopy and make it denser? Should I defoliate in spring? I feel the tree is a good size now, so do I pinch off all new growth? Also, style wise, any recommendations on changes that needs to be made? Pots/Rocks?
I always appreciate the wisdom of the members on this forum. Thank you.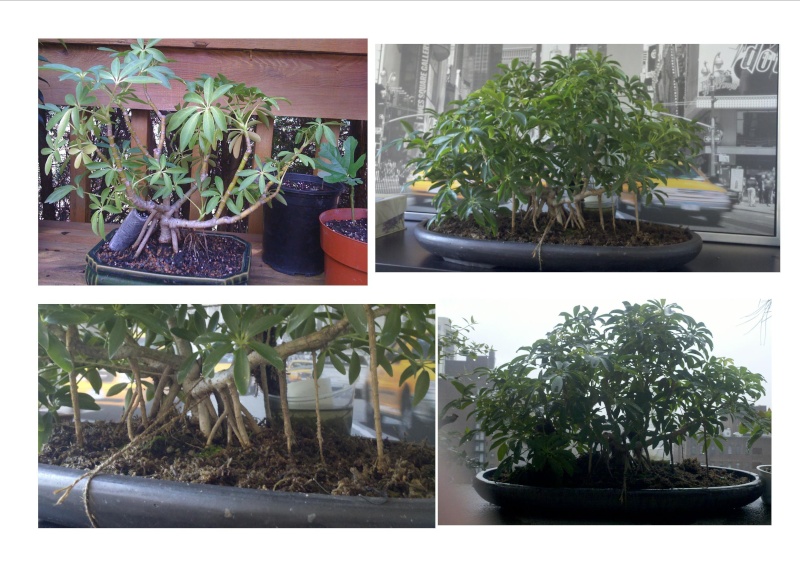 To get more density, branches and ramification you will need to defoliate, reduce and remove all terminal buds. This should produce a much denser canopy. You will need to do this when the tree is healthy and in active growth.
By the way very nice banyan style.
Jerry
www.bonsaihunk.us

Jerry Meislik

Member






---
Permissions in this forum:
You
cannot
reply to topics in this forum