Here's a little composition. An Elm split in two by lightning. Or two twin elms with carved trunks, as you want...
Witch stone do you prefer?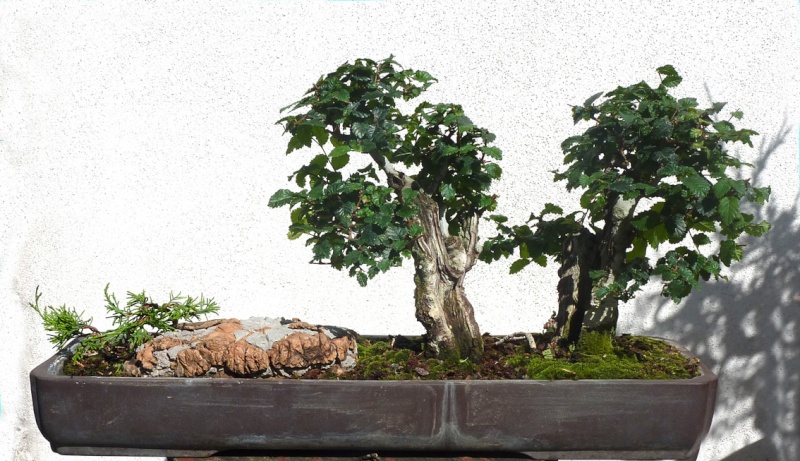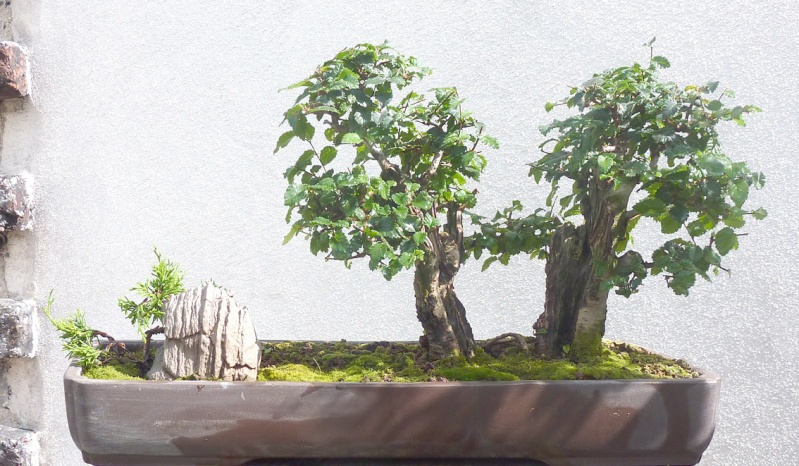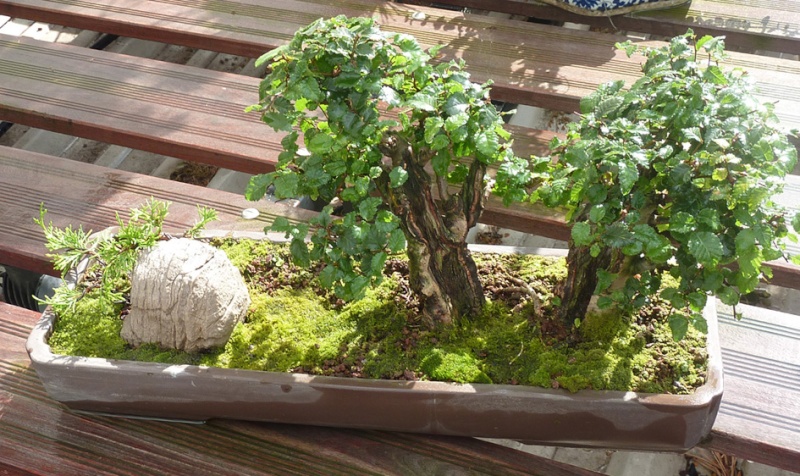 lovely work. first stone, but could live happily with either.

bobby little

Member





Nice work! I'd like to see a bit of a height difference in the trees, though.

I like the first stone better, but either is OK. BUT, please bury the stone in the soil a bit, rather than just setting it on top of the soil. That never looks natural.
_________________
Jim Lewis - lewisjk@windstream.net - Western NC - People, when Columbus discovered this country, it was plumb full of nuts and berries. And I'm right here to tell you the berries are just about all gone. Uncle Dave Macon, old-time country musician

JimLewis

Member





Thanks for your answers. I think i prefer the first stone too on the pictures, even if in real the second is really good too. (maybe the first one fits better with the junip)
To burry it more is a good idea.
On the future i think that the juniper should crawl on it.
Quatrefi,

Hi.
if it were my composition. i would go for the second rock. your first rock doesnt appear to be natural in texture and color, looks like a molded clay, the color also, is kinda distracting...rocks and other elements in this type of penjing should be used as accent and not the main feature, your trees are nice but the rock steals the show... but if i would choose the second rock il place it in a horizontal position... to be less dominant, unless you want the rock to be the main character of your composition. and add some smaller rock of same feature to be more natural. then if these were my trees il cut some portion of the apex of the tree near the rock to have some elevation difference. but before you do any drastic cutting try to cover the apex of the center tree with paper or cloth so that you can visualize well the other possibilities, then move the rock.
good luck!.

regards,
jun

jun wrote:Quatrefi,

Hi.
if it were my composition. i would go for.... ....

a shallower pot!

my nellie

Member





I think I would prefer it on a slab and try and get a little difference in the tree heights either by planting levels or pruning. I prefer the first stone. Here's a quick virtual. Not exactly what I was trying for, but you get the idea.

Ian Young

Member





Hello Ian, Thanks for your reply.
This is indeed a very good project.
Some friends had the same idea about the pot (having a shallower one)
But on the contrary the advantage of the actual pot is it's originals narrow proportions (the penjing looks like if a piece of land had been cut and put in this rectangle pot) so i'm hesitating.

Bonsai is all about personal taste and we must do what pleases us. Look at all options and then decide what is going to make or keep you happy and go with that. This is a nice image, in this pot or, on a slab. The choice is yours. All you need to ensure is that you have fun doing it


Ian Young

Member





A recent photo with fall colours, it has more "mochikomi"
---
Permissions in this forum:
You
cannot
reply to topics in this forum