Hello All
While the pinus mugo is waiting to be repotted I did obtain this Juniperus chinesis stricta. I want to make it a twin trunk altough perhaps it is to large to be called bonsai. The hight is about 1 m 40 from soil to top and the trunk is about 5 cm thick. The first picture is after clearing the lower part, the second picture is how it looks after three hours of getting the major branches down using guide wires. My question is how far the branches should be pruned back to get a well proportioned tree. I drew some lines I thought would be acceptable or would it be better to remove more of the lower branches? I did read that pruning still can be carried out in early spring: is this correct? Every advise is welcome.
Jonas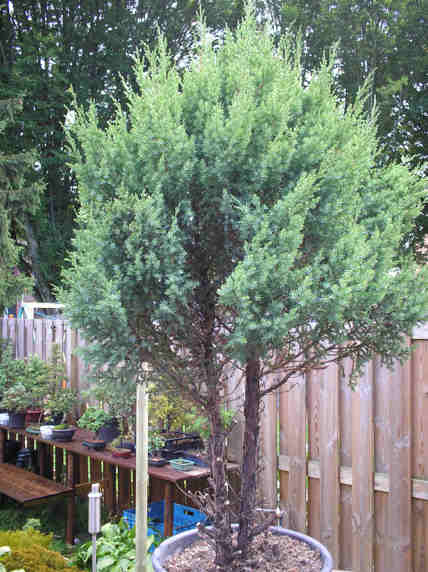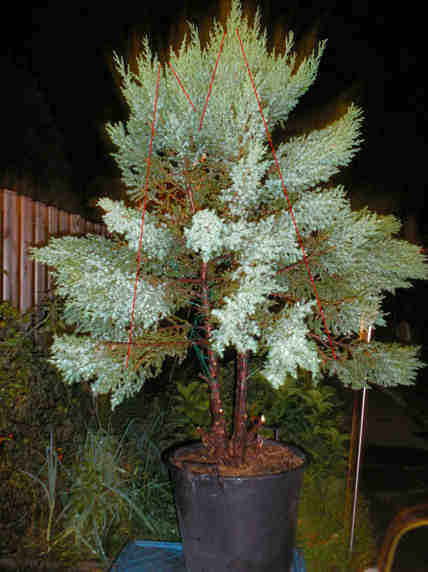 Jonas Freeman

Member





I think I would have left more foliage on the bottom and chopped some off the top. Those trunks are pretty thin for a tree that tall. Too late now, through.

Personally, I'd just cut a bit (and inch or two, maybe) off the ends of the branches, then wait for spring to do much more. It gets pretty cold in the netherlands, and I'd be afraid of styressing the tree any more than you already have.
_________________
Jim Lewis - lewisjk@windstream.net - Western NC - People, when Columbus discovered this country, it was plumb full of nuts and berries. And I'm right here to tell you the berries are just about all gone. Uncle Dave Macon, old-time country musician

JimLewis

Member






Jonas Freeman

Member





Hello Jonas. I would get in and thin the top out and prune it back. The bottom branches are considerably weaker than the top and as this is an apically dominant variety, the lower branches will get weaker and weaker.

---
Permissions in this forum:
You
cannot
reply to topics in this forum