This is the second $10 nursery stock juniper I've chronicled for direction and feedback. Experienced members have been so giving. Thanks to you who've put their two cents worth in - priceless.
The first Juniper progression is here:
http://ibonsaiclub.forumotion.com/bonsai-questions-f7/newbie-juniper-t4041.htm#41145
This second one took me by surprise because what I thought I saw in the uncut specimen turned out completely different from what I have now! The branches I wanted to style were cutting in front of the main branch and no amount of twisting or styling would of had them rest in a natural style! The entire 3 Gal. shrub came down to this.
Any input on current state? Should I lower that main branch and bring it closer to the trunk? I dunno....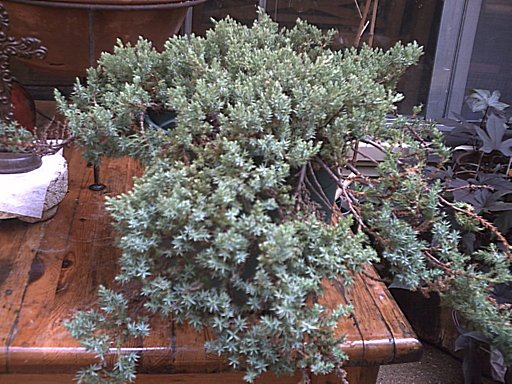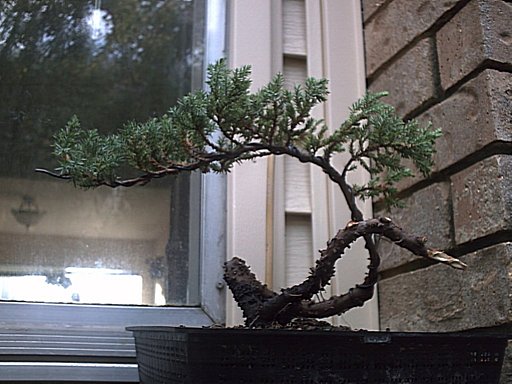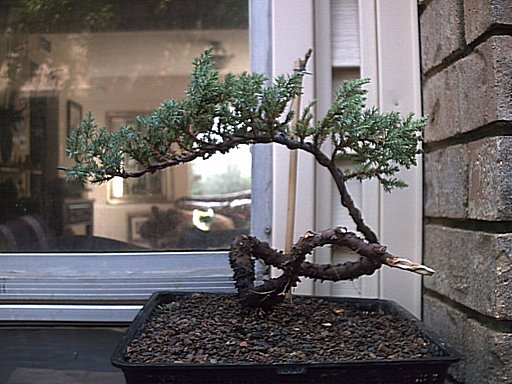 KimchiMonger

Member





Conflicted, eye is taken two directions.

Billy M. Rhodes

Member






KimchiMonger

Member





This looks better to me, but I am still confused by what looks like a loop. I realize the two dimensional photo misses something.

Billy M. Rhodes

Member





Sorry for the confusion on the picture angles. Not only is this my second only bonsai effort but my photo taking lacks experience too!

Hehehe...
I've decided to put this specimen back on it's garden pedestal to live and grow as shown in this recent photo 9/19/10. It's had, what I'd consider, a good workout and needs time to adjust to it's new shape. In other forums, some called it flat out ugly while others said it had some potential but only over time. I like the latter opinion for sure. I'll let it be for the next six months at least.
So, so far, $10 Home Depot Juniper procumbins, a little raffia and wiring, tugging and pulling, one small break, screaming to Jesus "what have I done! Oh please let that break heal - WHAT THE HELL HAVE I DONE! ...

", lots of good encouragement alongside naysayers saying it's a loss, and my dedicated persistence, we've come this far in our $10 Juniper Masterpiece Adventures. I'll follow up on this and the other one in a few months.
Thanks to those of you who've contributed your viewpoints! The entire mix of opinions is what learning is all about for us beginners ya know.

Why is there a santa smilie there?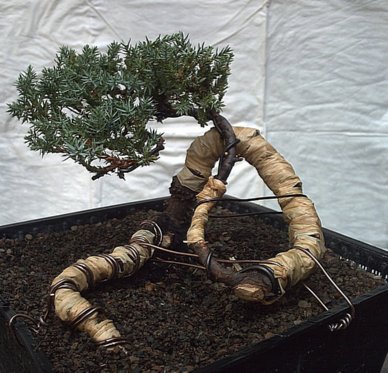 KimchiMonger

Member





If I may offer an opinion, I really don't think that extra trunk adds anything. I would lose the whole thing and stick to your single trunk with its literati foliage. Less is more.
Take the wire off & stick it in the ground. Let it grow for now.
Iris
Last edited by bonsaisr on Mon Sep 20, 2010 1:45 am; edited 1 time in total (Reason for editing : To add another suggestion)

bonsaisr

Member






---
Permissions in this forum:
You
cannot
reply to topics in this forum