hi,
selecting a good raw material is considered one of the most important things in bonsai...
when we are trying to determine if a tree is suitable for bonsai we are examining many parameters : nebary, trunk movement, ...
one of this parameters are the leaf size - which will help us convey a good proportion for the tree.
and so we rule out many trees because they have a relatively big leafs.
this can be changed if the more experienced people here can contribute from their experience of reducing leaf size - best will be with images of before & after.
and so everybody will have a bigger variety to choose from because we will know that in a few years we will be able to reduce leaf size.
for example : Robert Steven is saying that "Premna's leaves can be extremely reduced from size of 10 cm to less than 0.5 cm"
Robert Steven
please reply to this post with the specie that have medium-large leaves and you were able to reduce them
your help is greatly appreciated !

theBalance

Member





Ficus of all kinds respond to timely pruning to reduce leaf size. I have a F. natalinsis (sp.) that has reduced 1/2 to 1/3 the original size, and I think I can do better.

Billy M. Rhodes

Member





Most varieties of Chinese elm reduce well. Maples, even the same species, vary quite a bit. I can tell you crabapple leaves do not reduce. You can pinch till the cows come home, & the leaves come out as big as ever. It's always a good idea to start with a variety that has small leaves to begin with.
I concur with Billy. Even in the North, Ficus leaves reduce well with bonsai techniques. See my comment on F. 'TooLittle.'
Iris

bonsaisr

Member





Hi,
im not Rebert S... i guess he is busy, as always.
but we live in the same region, most species here can be reduced dramatically. here is one.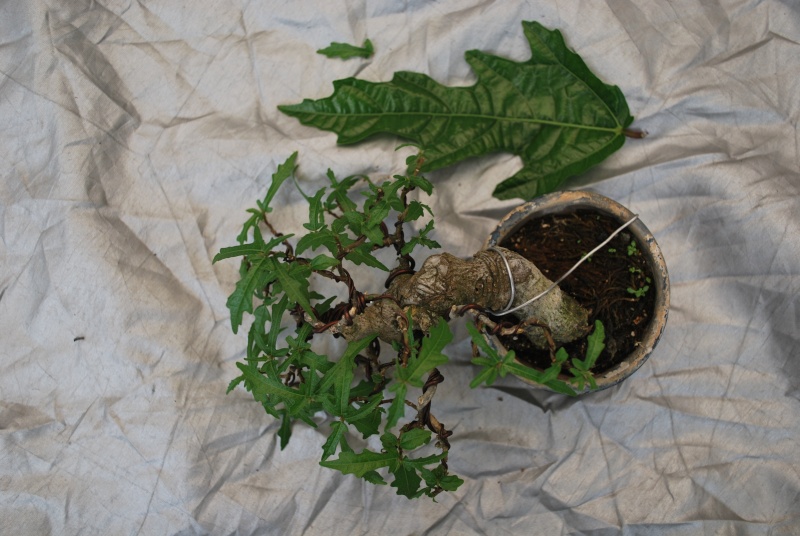 from 15cm to barely 1cm. tree- local fig. but i think, its better to discover more varieties of plant and experiment with it in reducing size of leaves for bonsai purposes rather than relying on what is readily available. that way you can contribute more on the bonsai list of plants. and more people can share that experience too on the new plant.
regards,
jun
_________________
Jim Lewis - lewisjk@windstream.net - Western NC - People, when Columbus discovered this country, it was plumb full of nuts and berries. And I'm right here to tell you the berries are just about all gone. Uncle Dave Macon, old-time country musician

JimLewis

Member






---
Permissions in this forum:
You
cannot
reply to topics in this forum