Over the past few months I have noticed an increase in the green algae like growth on the base of the tree and the rust appearance. The bark is too delicate to brush it off (the base has looked this narrow for as long as I've had it, perhaps from natural force or mishandling). I am reluctant to water less because the tree as a whole is doing great. Would some type of tree cleaner do the trick? Any ones in particular (I'm in the U.S.)?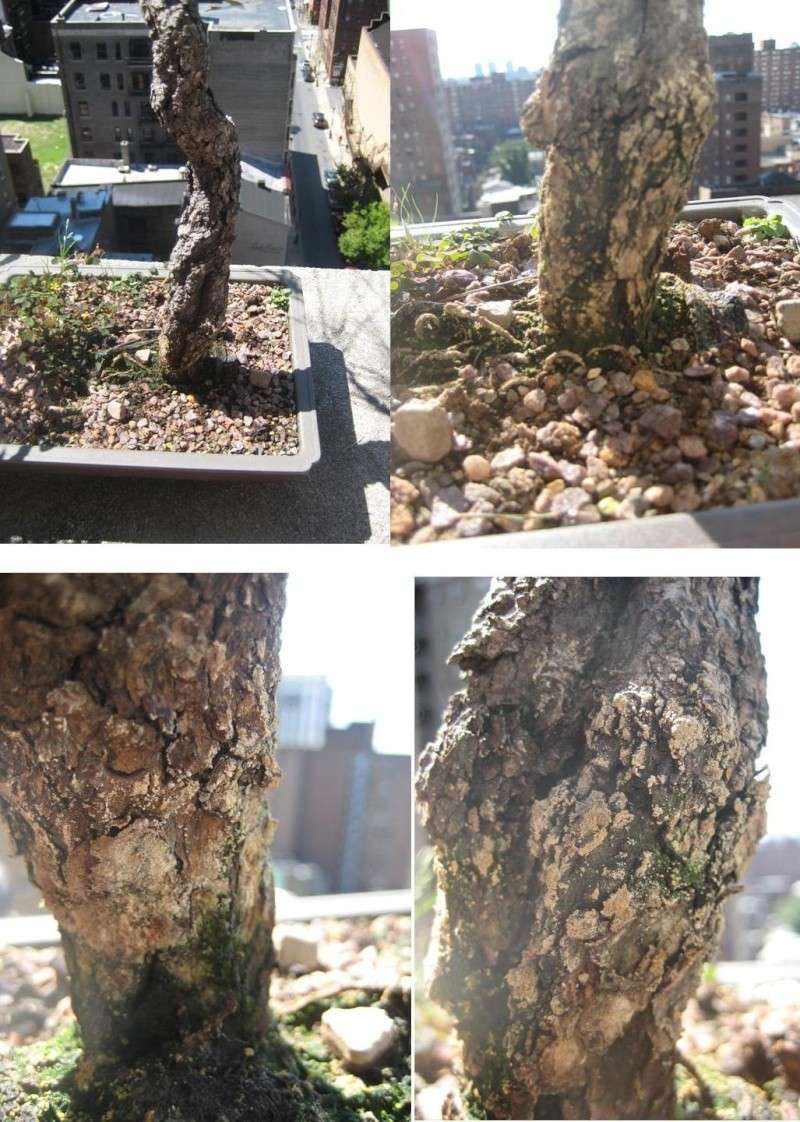 It's hard to tell whether or not it's algae or lichens. As far as I understand, lichens are a combination of algae and fungus and it doesn't seem as if either are harmful; it just looks ugly. You could try a gentle brushing with a toothbrush and a weak mix of soap solution and that should remove it; just don't brush hard.

Orion

Member





Are you in a hard water area? The light stuff at the base looks like a build up of scale from tap water. Algae will only grow in wet conditions and Pines don't mind being on the dry side.
They say the water is "moderately hard." Would you recommend a dilute soap-water mix as well?
spraying it down with vinegar will kill off the green stuff. You may have to do it repeatedly.

To decrease the moisture level around the base of the tree you could scrape away your bonsai mix from around the trunk and fill back in inorganic stuff only.

- bob


cbobgo

Member





Thanks for the advice Bob. Do you dilute the vinegar?
I don't, I use it strait. I remember reading a study where they compared various concentrations, as well as combining it with some soap. If I remember correctly, the 100% vinegar worked the best.

- bob


cbobgo

Member






---
Permissions in this forum:
You
cannot
reply to topics in this forum