Hi !
Comments are welcome
Regards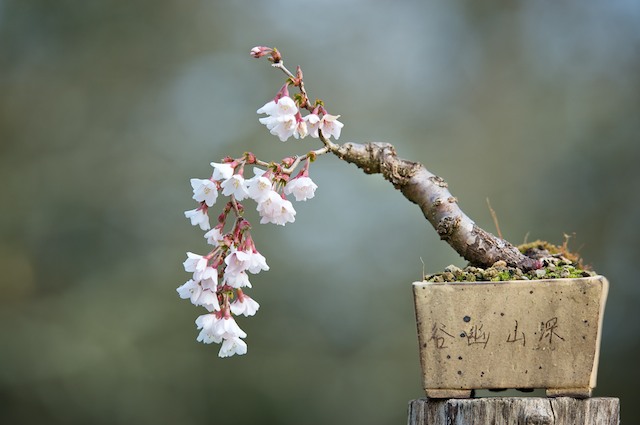 Penjing

Member





Thanks for sharing! This is a GREAT variety of cherry.

I have several of this variety, ungrafted and not pruned back as hard favoring a bushier appearance......just to get more flowers.

Some of the great atributes of this variety are its bark character, twiggy growth and flower bud density.

Thanks again for sharing.
Dear Penjing
The cherry is so lovely !
Bit later as at Your's , my , this specie , cherry is in bloom.
The thought of sharing this with You in this topic,
with Your permission , was strong.
Vous est Nicolas ??
Kind regards
Morea
[img]
[/img]

Morea

Member





Morea wrote:
Vous est Nicolas ??

Yes Morea ! Nice to see you here. Its reminds me the good time of "Japan Spirits".

Penjing

Member





Hallo Nicolas
What a wonderful photo!
A just visible natural wooden stand. An earthcoloured straightlined pot with these japanese letters....nice contrast to the flowers. And a "watery" background.
Everything to "center" the "feeling for these flowers"!
Kind regards
Martin

....my english isnt good so I hope you can understand what I like to describe.

Klaudia & Martin

Member





Martin, you were able to describe my feelings about the picture very well. Your use of English is very good, and for most of us 'english-speaking' people who can not speak any other language, you and the others have no reason to apologize.

Carolee

Member





---
Permissions in this forum:
You
cannot
reply to topics in this forum