I bought some promising F. burtt-davyi for our club to sell at our upcoming show, but I can't find an instruction sheet for this particular species. Can anyone point me to something that will help beginners?
Iris

bonsaisr

Member





Last edited by Jay Gaydosh on Wed Aug 25, 2010 10:47 pm; edited 1 time in total

Jay Gaydosh

Member





I will see Jim Smith this weekend and ask him for some specifics. I do know that they prefer a well drained soil and are less tolerant of overwatering than other Ficus. The ones I have, all pre (if ever) Bonsai also lean toward reverse taper.
IMO, this is one of those varieties that look like they would make good Bonsai, but I am not so sure of that

Billy M. Rhodes

Member





The information by Lennard is just what I need. How do I contact him to get permission?
Iris

bonsaisr

Member





http://www.bonsaisite.com/forums/index.php?
I found a link to Lennard at the BonsaSite Forums. I had forgotten that I was actually a member. I have sent him a PM requesting an e-mail address for you. As soon as I get a response I will pass it on.
Actually, Lennard is a member here, although he hasn't been in since August 9th.
nite,
Jay

Jay Gaydosh

Member





The one that I have had for 6 years now came with a reverse taper. I have found it to be really easy to care for and thrive even with the winters here in Louisville (zone 5). I just repotted mine but it has been in a quick draining soil and that is what it is in now. I repotted in the hopes that the trunk would develop some roots/arial roots and help with the reverse taper and sure enough with the shade from the dense foliage and a shade cloth it has put them out like crazy, even growing around the upper rim and out of the bottom of the pot into a rag that was sitting nearby. I don't have a lighting set up in my house for the over winter period but keep them in a moderately bright window, I lessen the water to about once every 6 days, it usually looses 95% of it's leaves, has a little die-back at the tips and looks ugly for a bit, but they come back and it has put off seeds every year so I like to think that means it's happy. In the winter, being indoors, it tends to get scale but have otherwise had no problems with other pests/diseases. Hope this helps a little.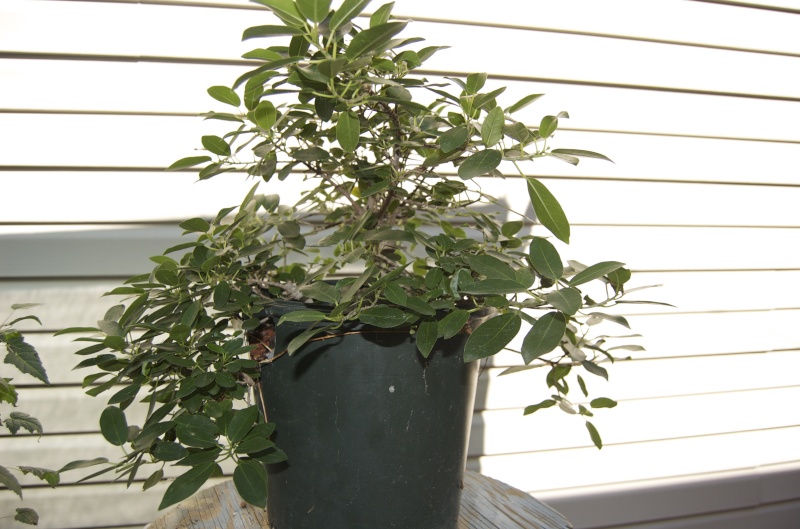 You can see what this one looked like before the repotting here:
http://ibonsaiclub.forumotion.com/bonsai-questions-f7/your-ugly-tree-t2621.htm

Jim Doiron

Member






---
Permissions in this forum:
You
cannot
reply to topics in this forum