I recently bought this Ficus benjamina from a vendor in Florida. It arrived this past Wednesday. I wire and repotted it Thursday. And pruned and shaped this morning. I didn't prune the roots aside from the roots which came off when taking off the old soil and repotting with new soil. I didn't have the right pot, but it fit in this one. It will do for now. The tree is twenty years old and was grown for bonsai culture since its "infancy".
It is approx 30 inches tall, foliage is approx 22 inches wide, nebari at the surface is approx ten inches. Suggestions?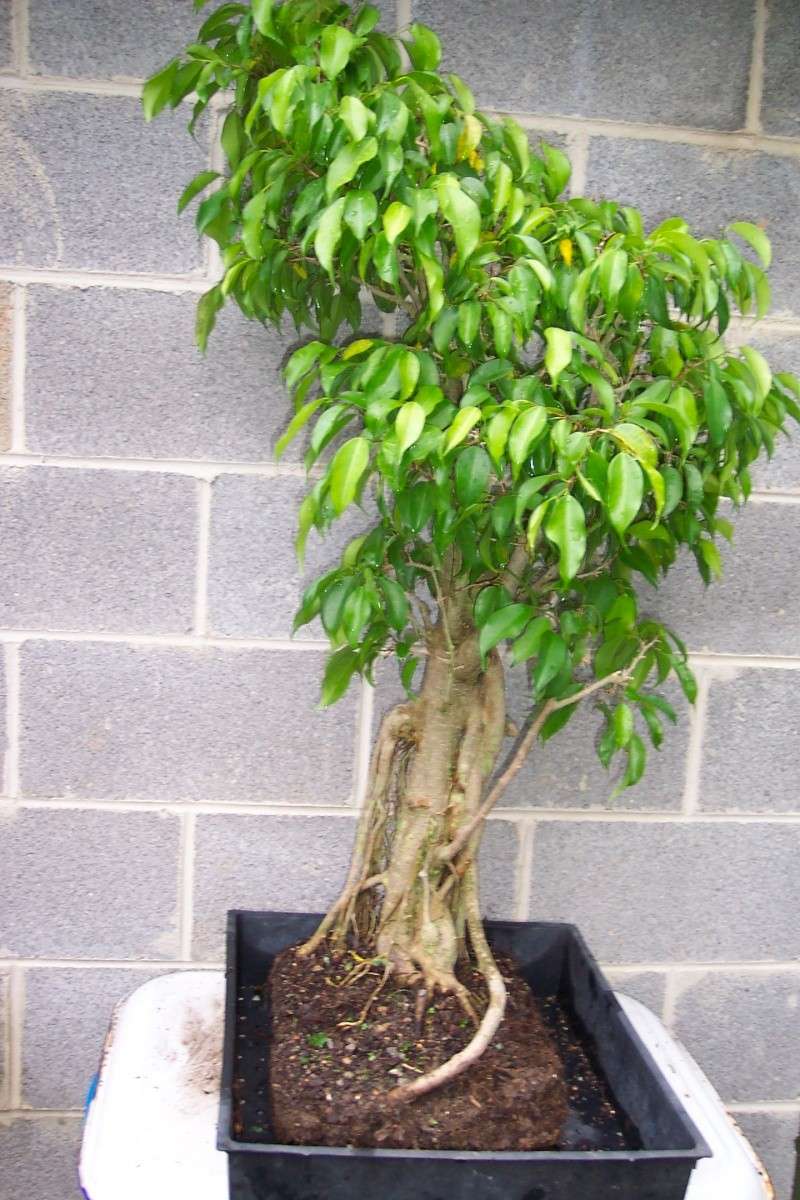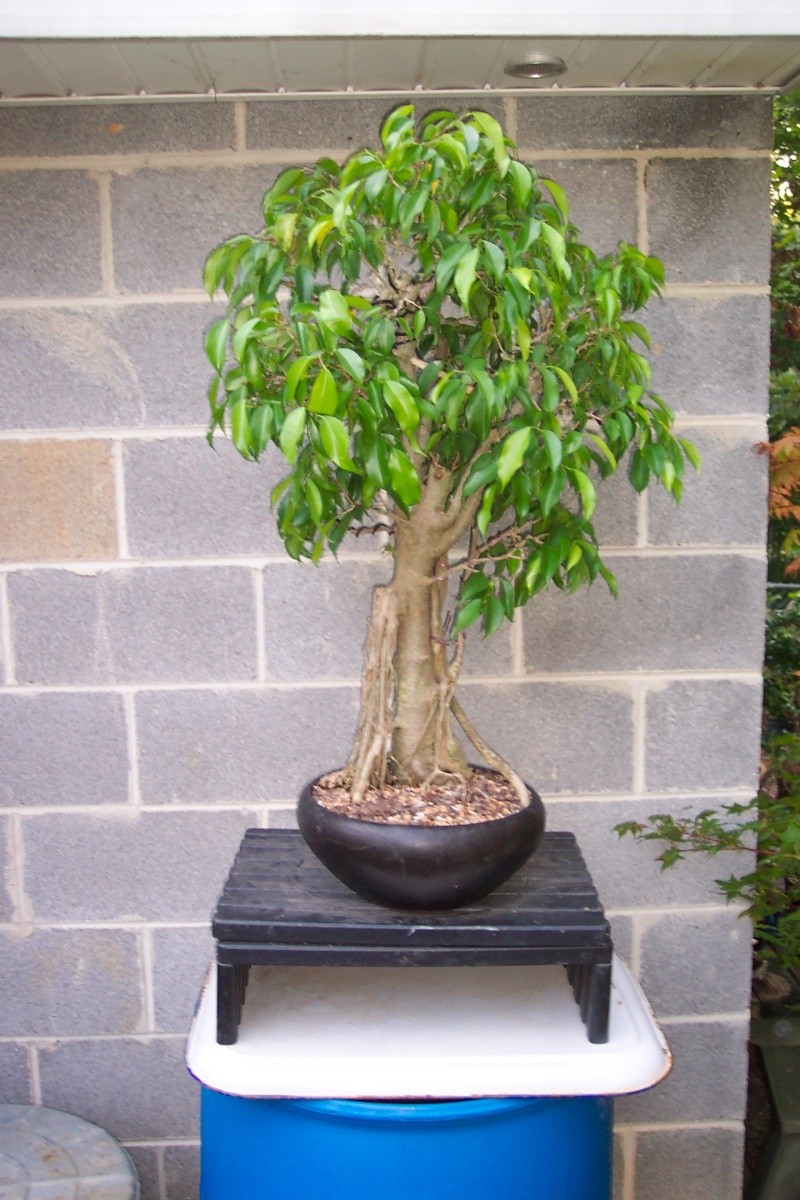 Todd Ellis

Member





Hi Todd. this is my ficus, its as big as your new ficus tree. do not do the branching like this one, its not natural in ficus appearance. lowering the branches more is much better. be careful with those roots as it has the tendency to overcome the trunk, unless you want to use the roots to create more drama on the trunk, but its good to be used to create a tapered trunk.
regards,
jun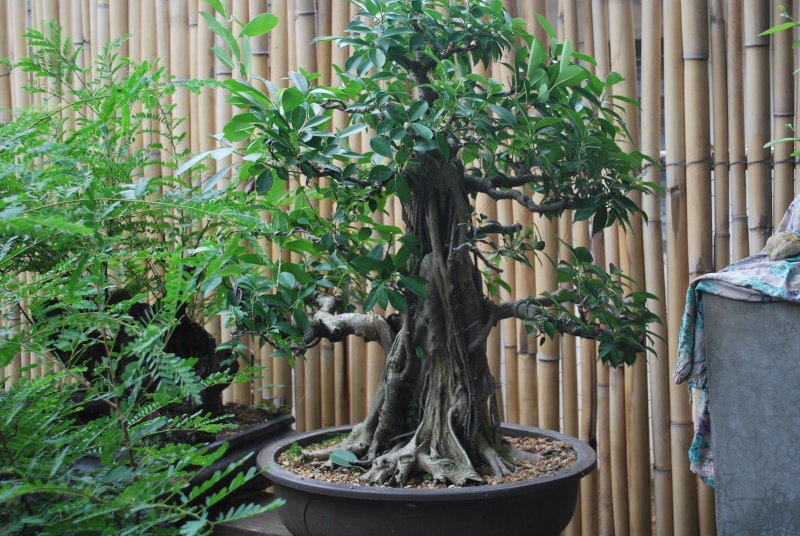 Aerial roots cause reverse taper. As the aerial roots feed the trunk area or branch, the trunk/branch below that point will quit expanding. You can try to pull some of the aerial roots tight to the trunk to give the appearance of taper and remove the rest. Also beware of large branches high up in the tree.
CAUTION: A general rule of F. ben. is if you remove all the leaves from a branch it will die. HOWEVER, some Florida growers claim that if you remove ALL the leaves from the tree it will come back. I have not had the courage to try that. You can reduce leaf size by selectively removing the larger leaves over a period of weeks. For example, this week remove 1/3 of the largest leaves. In two weeks remove 1/3 more and then in two weeks remove another 1/3. Keeping in mind he CAUTION above.
Now this is how I would do it on the Space Coast of Florida, in Commonwealth I might suggest more caution.

Billy M. Rhodes

Member





Jun, the trunk on your tree is very pretty. Are you able to work on bringing down the branches on this tree? If you can't and get tired of is, send it on over!!!


Todd Ellis

Member





Hi Billy,
I defoliated a large benjamina before with good results. The tree was very healthy; I did it in July and the leaves did reduce. I'm going to watch this tree for while to decide how tall I think it should be; then work from there. I will need a larger, more shallow pot eventually. I have read that leaving a leaf on the end of the branch will keep the branch from dying. I haven't tried that approach. Do you know anything about it? Thanks, Todd

Todd Ellis

Member





Todd,
i think i wont be able to pull this branches down any more...im planning to redo the branching of this tree, start again from the first branch up to the apex. any advice on how to do it?
if the case is hopeless and i get tired of it...i might send it over to you.



regards,
jun
Hi Jun,
I won't give any thoughts on what to prune on your tree unless I saw it in person.
I have pulled down large branches buy cutting approx halfway through the top of the branch, at the base of the branch. Then secure the branch with wire. I have never lost a branch this way on ficus.

I have looked at your ficus numerous times and wonder if you can develop air roots from the different branches. That might create a nice effect; having air roots coming down from the different levels of branches.
you indicate that it doesn't look natural,but it does look nice.
Salut, Todd

Todd Ellis

Member





Todd,
il do the pulling down of branch technique first .il post an updated photo of this ficus afterwards. i've been thinking of growing air roots too. probably i can do this now while im developing the apex.
thanks!


jun

---
Permissions in this forum:
You
cannot
reply to topics in this forum