Here are two trees I dug up from my back yard. The first is a 'old-fashioned' lilac (unknown variety) which I planted twenty-four years ago. Changes in land-scaping, building, etc., resulted in the lilac being in a sun-less area, but still reaching out for the sun. After cutting off the ten foot branches reaching for the sun, as well as scraping off the soft deadwood, this is what I have.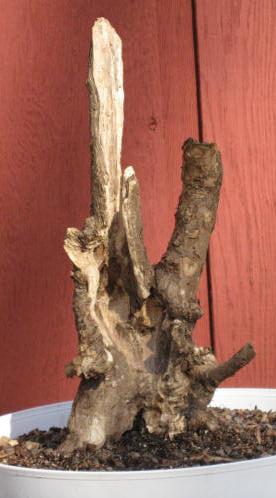 Carolee

Member





I've been unable to post the picture of the second tree. I know not why. However, I would appreciate any comments or suggestions regarding the one that I was able to post. Thanks.

Carolee

Member





The second pic probably hasn't uploaded to the server as the reference "C:\Documents and Settings\Carolee.PC209362088954\Desktop\lilac front.JPG" that was in your first post is for the file on your computer.

RE the Lilac. I've removed, divided and replanted three last year and they all came through with flying colours. They resprout like crazy. Just keep removing any suckers in unwanted areas. Walter Pall has a beautiful one he created from an old nursery specimen, so they are worth persevering with. Yours has good taper, if you remove the straight pointy white deadwood. It will soon rot anyway. See what you get on hte other stumps and start selecting what to keep later in the year.

_________________
"It is not the strongest of the species that survives, nor the most intelligent. It is the one that is the most adaptable to change." - Charles Darwin.

Kev Bailey

Admin






---
Permissions in this forum:
You
cannot
reply to topics in this forum