Hi, as a relative beginner I am looking for advice on glazes and glazing. I have made pots but in the main coloured them with oxides.
I have had a couple of attempts at coloured glazing without much success.
I know glaze recipes are hard won and not easily shared, so that is not really what I am asking for.
What I am looking for are method of application. I know you can dip, spray , paint etc.
What methods do you recommend.?
I dont want to make up large batches of glaze, as I dont make many pots.
At present I have a small electric kiln and I am refurbishing a larger gas kiln using Simon Leachs videos as a guide.
Below is one of my oxide pots and one of my attempts at a brush on glaze (the tree is a Maple that has just been defoliated.)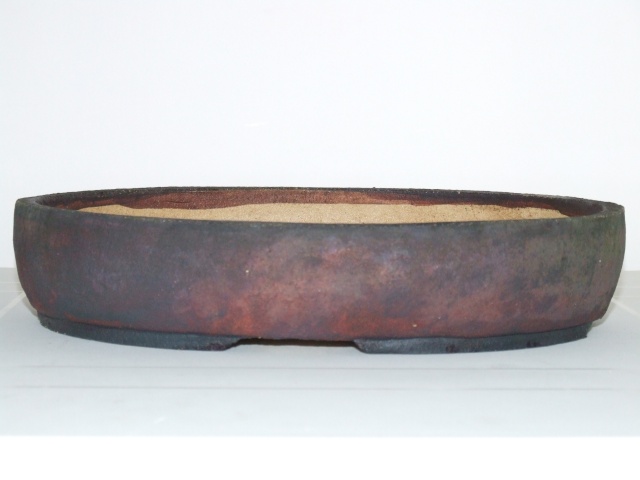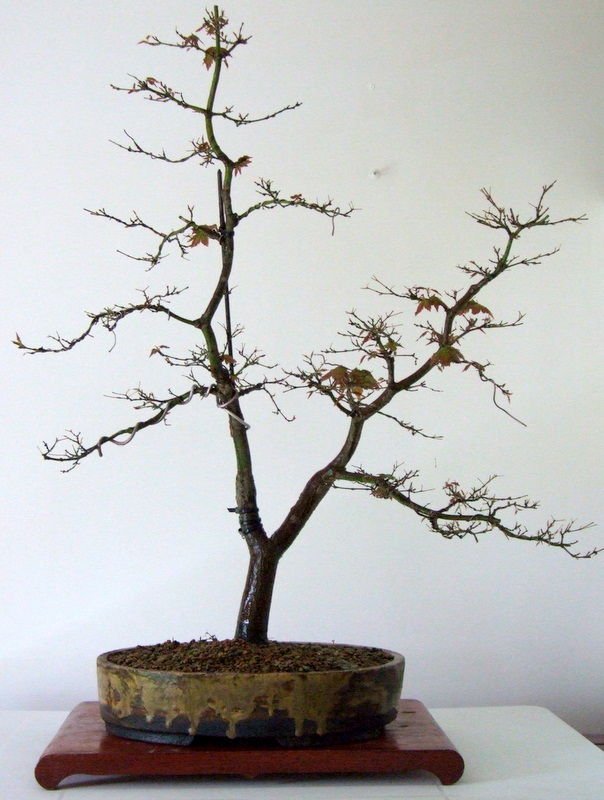 LANCE

Member





Phil
The key is experimentation. Applying glazes by different methods will yield slight changes even in the same glaze. Dipping yields a good even coating, spraying I have never done as it seems wasteful and I don't have a spray booth. Again using what you know and applying oxides in conjuction with glazes will give further results. Some or even all maybe / may not be useful for the Bonsai Pot Palette of colours. When ever I glaze fire my kiln I always have a few test tiles in there and try something different. There is a world on info and recipies on the internet or get a book from your clay supplier, there are so many books out there with recipies in. Remember though if your electric at the moment and go to gas for reduction firing you glaze results with be different due to the reduced atmosphere in the gas kiln. For example a copper based glaze will turn red in reduction rather than green in oxidisation

So make up small 100gr batches of glazes and test test test!
Good luck and look forward to seeing the results
Regards
Andy

Stone Monkey

Member





Phil-
You shouldn't hesitate to ask a potter about his/her glazes. If any potter thinks that they have developed a glaze or a technique that is one of a kind or new they are WRONG! Pottery is one of the oldest technologies. Everything has been done. The great thing about personal experimentation is that one can find a formula that works for them. Most reputable potters that I know will share anything they know. I think your glazed pot is excellent, though I catch a lot of flack from my friends for liking drippy glazes. One thing that might make the high fire more appealing is that cone 10 glazes usually cost less. A five gallon bucket of shino or temmoku costs me less than 10USD, while some cone 6 glazes can cost upwards of 50 dollars a bucket. Also I try to use materials that are environmentally friendly. My nuka is 1/3 wood ash, 1/3 rice hull ash, 1/3 feldspar. And my glazes usually only have 3 or 4 materials, so it makes the formulation simple. The other thing about glaze is that industry can do it better. A few years ago here in North Carolina, crystalline glazes were the rage. There were several potters that figured it out and made buckets of money. Now you can buy nearly identically glazed pots for 15USD at big box stores. Those potters relied on a glaze to sell the work and were overtaken by industry. Let me know if you want some recipes.

prestontolbert

Member





Julia Galloway, who did a demo at my local community college a few years back, has some
recipes and info on her website
. The fact that the page is titled ALCHEMY may be important!

I've only dabbled in it lightly, doing some line blend tests and such in a class. In general, there is a base mix that sets the properties - matte, glossy, thick, runny; and colorants -- mysterious oxides of batwing, etc. Of course, after all the mixing and applying, firing has an effect too. Some glazes look about the same in oxidation or reduction, others, it makes the difference between red and green! It looked to me as though glazes and glazing could be a lifetime's work in itself (but maybe that's because I'm pushing 70!)

The main thing is to measure accurately and keep good notes, I found using a spreadsheet made it easy to see percentages and scale up batches. My instructor at the time gave me some grief about that one night, then smiled and said "that's what I do."
I think some Google searches with a few choice keywords will turn up a surprising amount of info.
DaveT
Last edited by DWThomas on Sun Aug 15, 2010 4:34 am; edited 1 time in total

DWThomas

Member





Hello Phil
Andy, Preston and Dave said it all....!
What I like to say is....have fun....patience....and go your own way!
Personally I prefer sprayglazing. I like the smooth and even touch....but always wanted to minimize the amount so that one can see the clay shining trough. The experimenting is a great fun for Martin and me....and when opening the kiln .....you can be "over the moon".....or deeply disappointed....!
Kind regards
Klaudia
Sprayglazed macro before the firing.....
[img]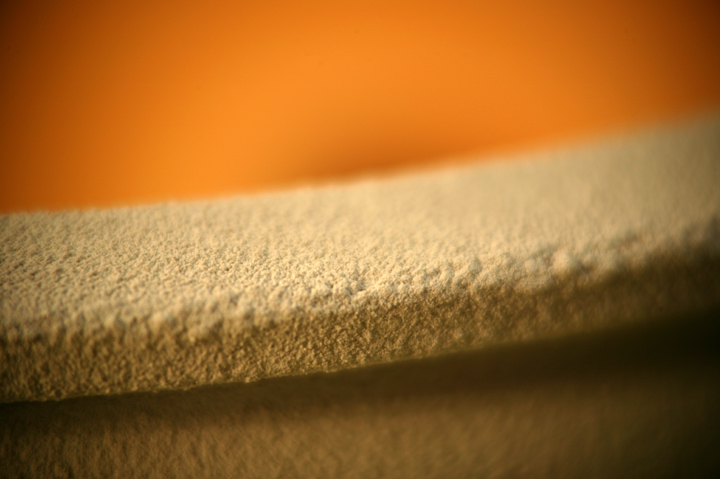 [/img]
[img]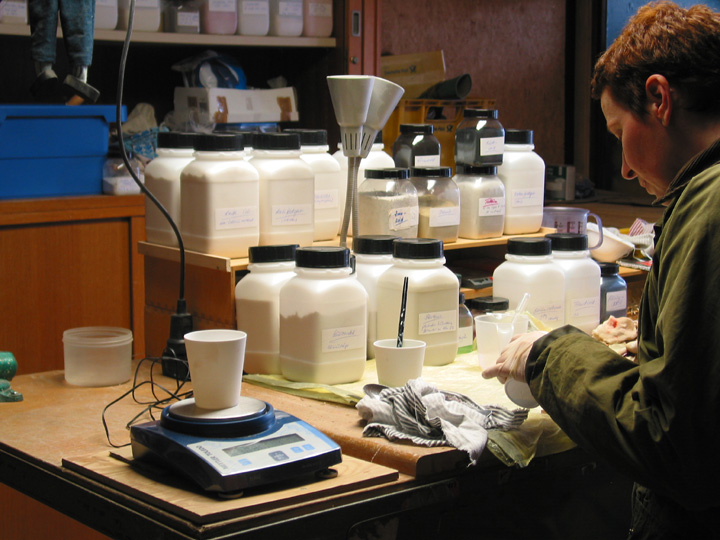 [/img]

Klaudia & Martin

Member





Klaudia,
EVERY time I see a picture of a Euro ceramics workspace I am amazed at how clean, neat and nicely lighted they are!!

Going back down to my damp basement now!


Dale Cochoy

Member





Klaudia, what a well organized glaze area! Do I see a set of legs hanging in the background?

prestontolbert

Member





This is our former garage (a wooden hood) but as our tools and tackle is worth more than our cars

....it was transformed into a proper workingarea.....for everything not just pottery.
..... and it is clean because we only glaze and fire a few times a year ...... it still remains a passion and hobbie.
@Preston
.....well spotted.....


....there's a marionette hanging from the roof......
Kind regards
Klaudia

Klaudia & Martin

Member






---
Permissions in this forum:
You
cannot
reply to topics in this forum