Hello Everyone, This juniper was one of the winners in the progressive styling contest at kob in 2007. Since then I have just let it recover and performed basic maintenance. I have been wanting to rewire this tree for at least a year and finally found the time this week. This video highlights that work and talks a little about the dilemma I have with this tree. I would be interested in your thoughts!!
Thanks,
John

Last edited by jgeanangel on Sun Aug 29, 2010 11:20 pm; edited 2 times in total
Last edited by jgeanangel on Sun Aug 29, 2010 11:21 pm; edited 1 time in total
What I see in this tree is keeping your current front and main apex and mabye slowly remove some of the rear apex down to the first split and create 2 points of intrest.1 greate a jin out of the old 2nd apex wich will give some dimention or mabye mistery is a better word to the tree although it will be mostly obstructed by the main apex's foliage. And 2 the lower branches of the back apex might be enough to keep the live veins in the front alive and also create depth for the rear of the tree.
Challenging tree here , John, but as you rightly say, lots of potential.
I have been pondering over your dilemmas since I saw the video last night. Here's a suggestion, but it comes with the usual caveat that the virtual is based on a two-dimensional image and what I have come up with may not in fact be achieveable. I based my thinking on something I was told - namely that if you don't want to remove something (and there is good reason in your case) then you have to try and hide it. I moved the front round a bit which might just hide the two apex issue. But it does rather mean that the tree then becomes viewable really only from that front and it has a "depth" which might look silly when seen in real life as opposed to in a 2-D virt. There is also a branch which could be a eye-poker at the front right. I may look at the video again and see if indeed that's what it is at this angle, and if so what could be done. Anyway, I'm babbling again and I don't have the excuse this time of it being 2.30am.
So, from the Fiona school of crud virts: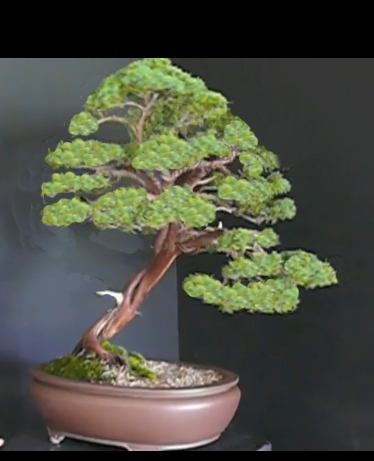 Do feel free to laugh out loud!
_________________
"Espouse elucidation"
_____________________________________
my website

fiona

Member





John, once again you bow me away with your work. I like what you have done so far. looking forward to what you decide.I am a newbie so, I wont give any advice. Thanks for this and your other videos. Joe

jjbacoomba

Member





good job john. fiona your virtual works for me.
I like what you have done with it, John, and I also like Fiona's virtual. I also like this potential front, and have brought the foliage in the upper left hand aspect even further towards the trunk...it may not be feasible given the tree itself though!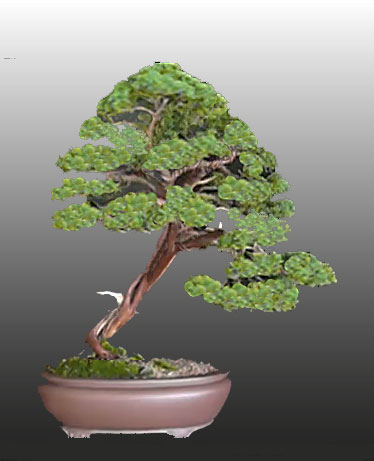 _________________
"Eschew obfuscation"

John Quinn

Member





but sometimes life gets in the way of what is really important:)
Fiona, I like your virtual and I think I understand the reasoning behind your suggestions. First, I am also a proponent of using whatever means necessary to hide flaws. (Out of sight, out of mind - or as the T-shirt I saw in Japan read...Blind Insanity...it took a while to figure that one out:)) One of the reasons for the current front was that the second apex was hidden...However, in the person the depth of this tree makes you want to view it from all sides. This tree, like so many, suffers from foliage to far from the trunk...your virtual, and JQ's, bring the foliage pads closer in. This will certainly always be something that I am working toward with this tree. I also think this a case where 2D and this tree just don't work well together.
Jun - Thank you for sharing your drawings. It means a lot to me that you took the time to do this. I very much like the look of shallow oval container. I already have a similar pot in mind for next spring.

Thanks to all for your comments and efforts:)
John

---
Permissions in this forum:
You
cannot
reply to topics in this forum