hello frnds..
i have also posted this ficus panda previously in a thread ....http://ibonsaiclub.forumotion.com/bonsai-questions-f7/what-should-be-the-shape-of-this-plant-friends-t3557.htm
now i saw one of its side which got dead start decaying.....i have no experience with deadwoods(how to preserve them...)...so pls help me.....
[img]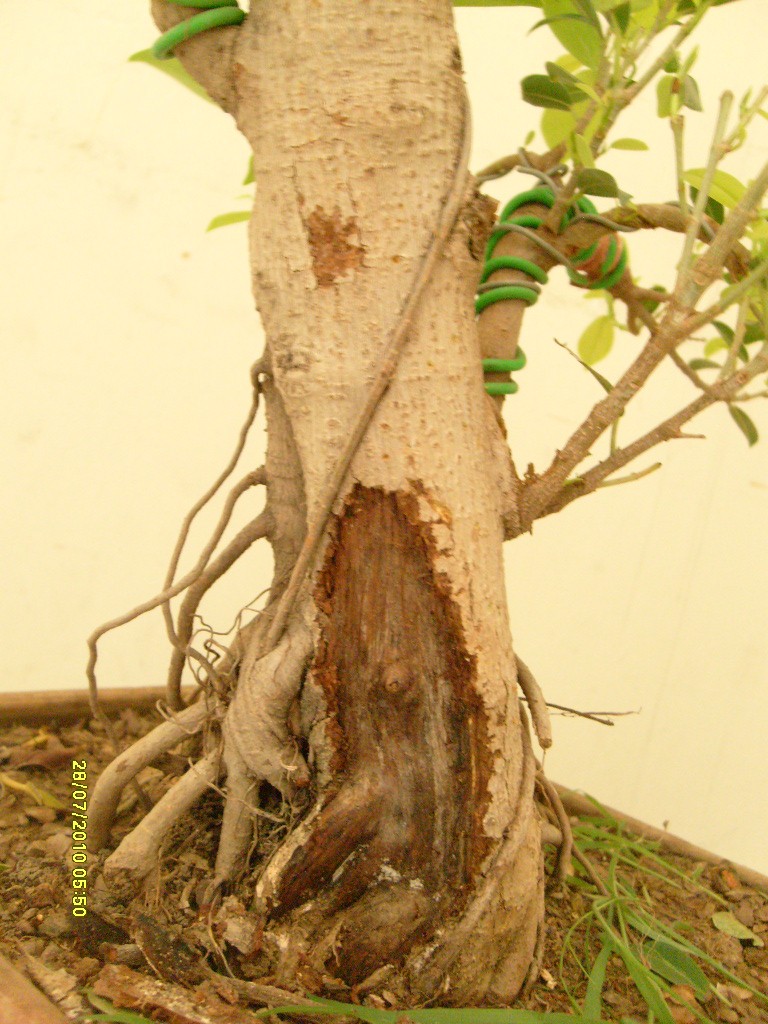 [/img]
I have used multiple coats of a product called Minwax Wood Hardener, it is designed to be used on rotted wood to harden it enough to paint. I have also used a two part epoxy product but I don't think the epoxy would look good in that location.

The Minwax will dry to a clear, shiny surface but can be roughed up with a wire brush. It also has to be touched up on a regular basis.

Billy M. Rhodes

Member





As an immediate solution you can remove all the rotted wood around the edges (back to sap wood) and the tree will help heal itself. The exposed heart wood is the problem, since on a Ficus the heart wood is very soft and rots quickly.

Billy M. Rhodes

Member





thanks Mr. Rhodes...can i also use antifungal based pesticides or varnish????...
Fungicides and regular varnish will not last very long. The rot causing organisms are everywhere and the tree will be infected again very quickly. The regular varnish will not penetrate the wood. BUT, removing as much rot as possible, treating with fungicide and painting with varnish will be better than nothing.

The fungicide will also help the living wood fight the rot.

But, cleaning away all the rotten wood until the tree bleeds sap is very important, that sap will protect the wound. The wood hardener or varnish in only needed on the dead wood in the center of the wound.

Billy M. Rhodes

Member






---
Permissions in this forum:
You
cannot
reply to topics in this forum