I am young person in the space of bonsais .and this is my little fig.... I found in the nature and I shaped thιs ....I hear opinions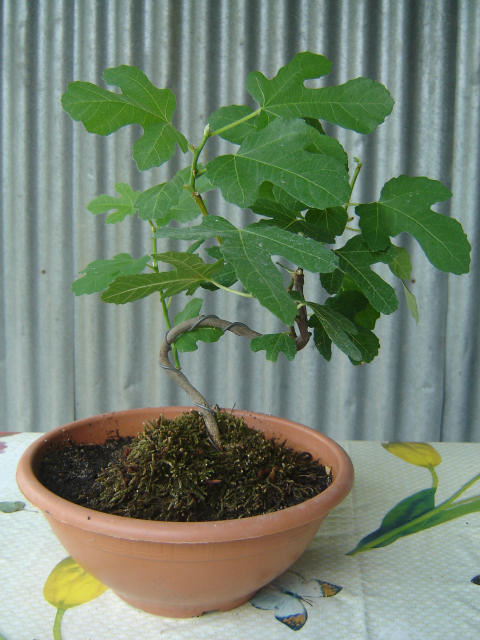 johnb

Member





Hi there, and welcome!
I think a good start would be to read up a bit on the species, and look at several pictures of bonsai's, to get inspiration.
Most trees that are sold as bonsai trees in gardencentres etc are shaped a bit like yours. Most bonsai artists shape trees like they often look in nature. How old trees would look. I would reduce the bend on the trunk. Make it a more subtle bending and not a too sudden turn.
What do you have it planted in btw, under the moss?
And how is the pot made? A crucial thing for bonsai tree are drainage. If waterlogging is happening, it could easilly rot the roots. So, there should be a hole under the pot.
Figs like a lot of sun, but are a tough species, so its a good idea to start with.
Are you sure its a fig btw? I dont know much about identifying plants and trees, but I havent seen that type before.
Good luck!
Last edited by Storm on Sun Aug 01, 2010 10:45 pm; edited 1 time in total

Storm

Member





Looks like a good start.
You can pinch out the terminal tip to force some back-budding to get some branches developing.
Jerry
www.bonsaihunk.us

Jerry Meislik

Member






---
Permissions in this forum:
You
cannot
reply to topics in this forum