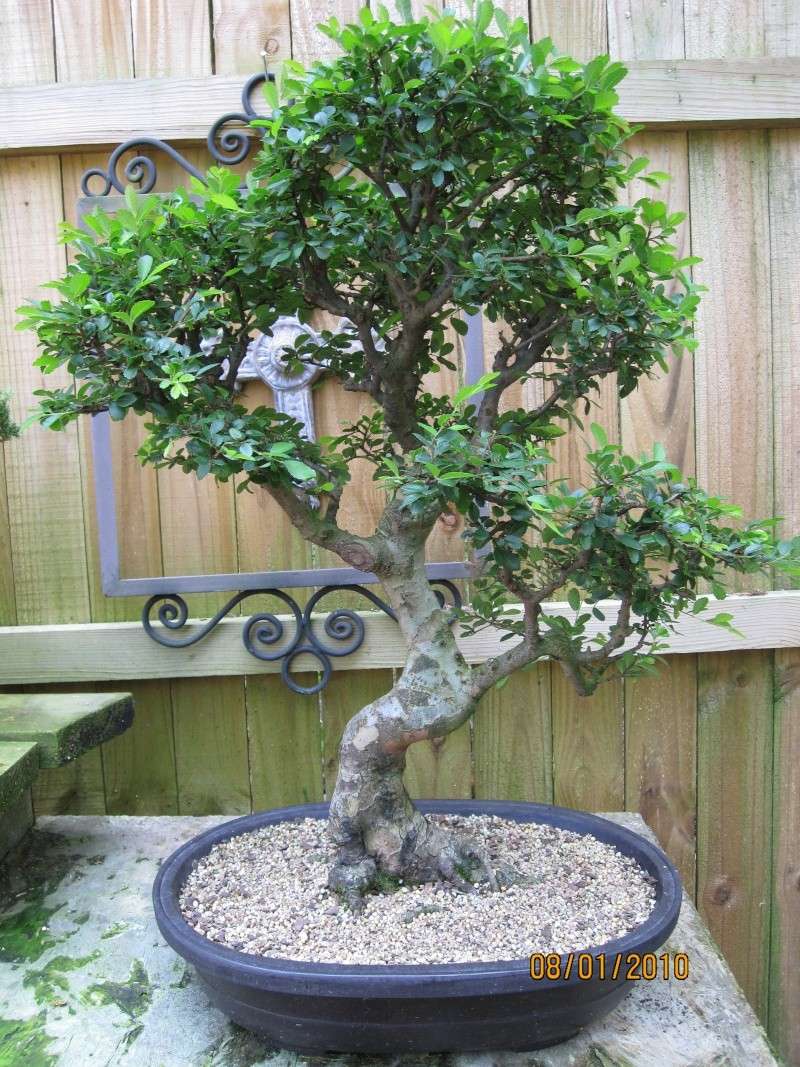 This is my chinese elm after some pruning and a branch on the left side bottom removed..several of the members told me that branch needed to go..it was that looped branch if you remember the last picture..what about it now ??this is really my best tree i would like for it to be right...thanks much john
I like the base, a lot. I like the tree too -- with a few "but"s. What is it planted in that is so white?
The arrow points to a part of the trunk that
seems
to be too thick. That may be just a trick of the angle we're seeing, though.
I'd like to see it brought down by a considerable amount. I think if you cut it back to the red line you would get lots of new growth. The tree would seem older, the trunk fatter, and it would have a nice canopy. The new growth also might disguise that thick part of the upper trunk, too -- if it really exists.
The other, short red line indicates a branch that doesn't seem to be necessary.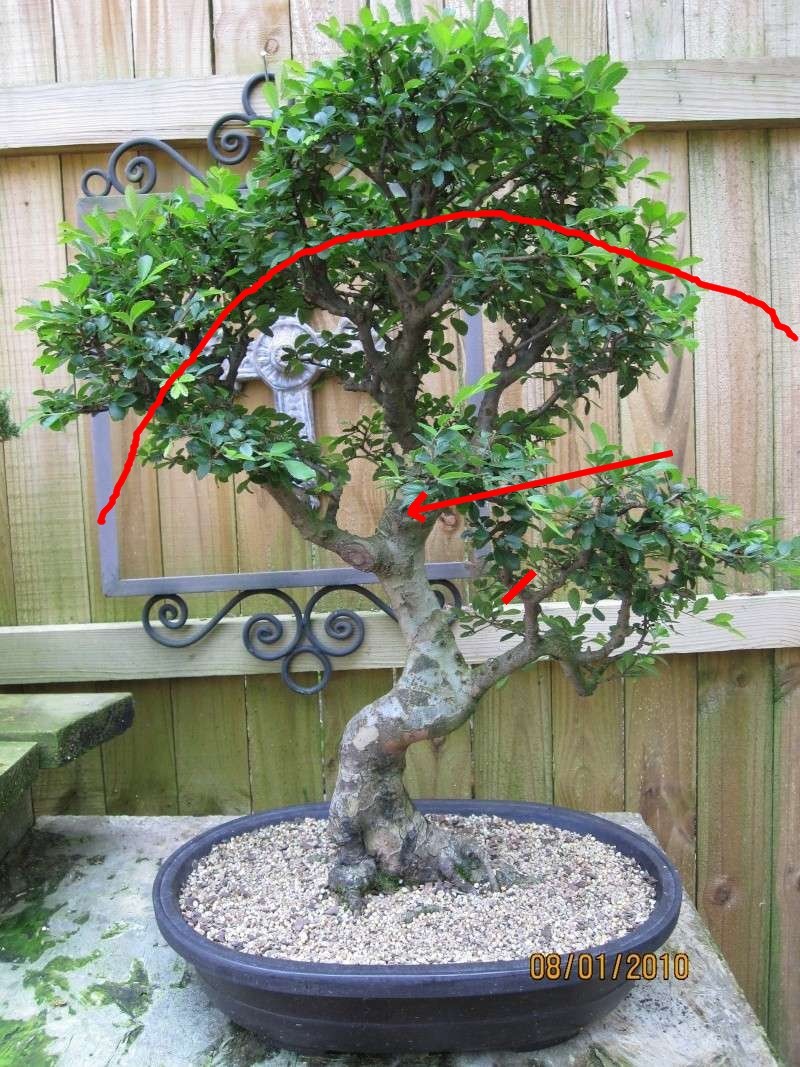 Keep at it.
_________________
Jim Lewis - lewisjk@windstream.net - Western NC - People, when Columbus discovered this country, it was plumb full of nuts and berries. And I'm right here to tell you the berries are just about all gone. Uncle Dave Macon, old-time country musician

JimLewis

Member





Looking good John. I agree with Jim here about reducing the overall height of the tree. I can see a lot of long straight branches up there in the top. If this tree is cut back as Jim suggests, it will back bud profusely and give you far more to work with. I would even be a little more drastic than Jim

Perhaps others will agree?
I found your previous post on this and have added the 'before branch chop' photo.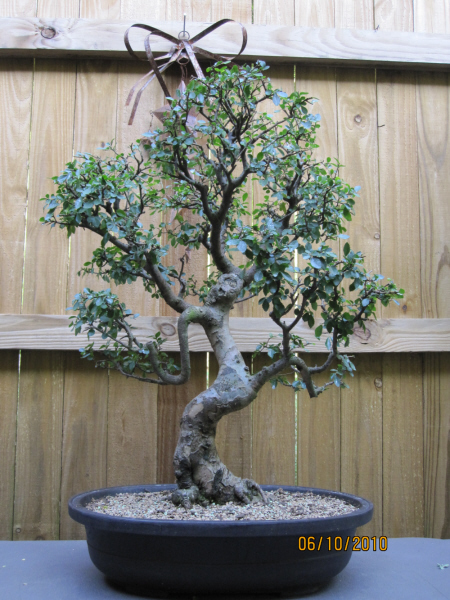 Keep us posted.

Ian Young

Member





JIM AND IAN THANKS for your replys.. the bulge you see is where a branch was removed a long time ago..cutting the tree back like you say would leave the limbs bare on the top..would you still do that and when???the marked branch goes tothe back for depth.. that white is turface which has not been watered today so my daughter could take the picture it was the middle of the day when it was taken..talk to me again please.. john
John, the cutting back may leave it bare, but a Chinese Elm will replace this in a few months. Better to remove the problems and replace them with new vigorous growth that you can control. As to when to do this, I'll leave that one to someone from your part of the world. Northern Ireland is slightly different

I would hazard a guess and say now would be fine. Chinese Elms are robust and forgiving trees. I would only say leave it for a while if it had been repotted this year. Yours looks vigorous and in good health. Far better without the looping branch by the way.

Ian Young

Member





John,
It is a nice tree and looks much better without that branch, although I agree that the canopy of this tree needs to be brought down. I think before going crazy and chopping off branches you should begin by lowering some of the branches to a more horizontal position with guy wires. This would be best for the second and third primary branches on the trunk. As Ian said there seems to be many straight branches in the upper area of the tree these should definitely be wired or removed. I have found it difficult when you have a tree that you are proud of and moderately happy with to grit your teeth and chop apart, but in the end the tree will be better for it. Although I am seeing it only in pictures a seriously drastic idea that occured to me was to airlayer it above the second branch and then cut the second branch down to the secondary brach near the trunk. This would take a few years to repair though and I probably would't be able to bring myself to do this. Anyway the tree looks healthy and happy and will be very nice with a lowered and fuller canopy. Cheers

Todd

DreadyKGB

Member





Thanks Todd I will check to see if those branches will move enougth thanks for posting john
JIM LEWIS,,,You are the closted member to me.when do you think some pruning should be done??? it is probaley too late this season but the tree is still putting on new growth....thanks john
I think I would prune now. If you get cold weather early this fall, you can always move it into protection, whether indoors or somewhere else.

Hard pruning will not hurt an otherwise healthy Chinese elm. But do less if this was a repotting year.
_________________
Jim Lewis - lewisjk@windstream.net - Western NC - People, when Columbus discovered this country, it was plumb full of nuts and berries. And I'm right here to tell you the berries are just about all gone. Uncle Dave Macon, old-time country musician

JimLewis

Member






---
Permissions in this forum:
You
cannot
reply to topics in this forum