Hey, just got a quick q here. Ive bought a new ficus. It looked healthy but a young small tree. It had a fair amount of leaves, but it was very leggy.
It was potted in some dirt, so I took it out, and repotted it into the cat litter im using. My other ficus loves it. I all my trees in partial shade, so it isnt a problem with drying out. Ive put those 2 out in the sun for the whole day, and im watering them quite a bit with a hose.
But, I with a moment of madness just had to defoliate it. Was that a very bad idea since Ive repotted a week ago?
I know the common advice to repot during spring, but ive read and found some quite reliable sources saying that its not a bad idea to repot during summer if its tropicals, atleast ficus.
Ive also repotted a azalea ive bought. I bought them at the same store, and planted in the same medium. But it was so hard in the roots, that I used a fork, but didnt stand a chance to be able to scrape off any of it. so I cut of a bit with a scissor, planted into a slightly bigger pot, which I simply love, and put cat sand around it, hoping that it wont take it too badly, and have fine coarse medium which hopefully promotes strong root growth.
Ive found a few dead buds on it, and 3 live ones. It has pink flowers, and one of them is opening as we speak.
Btw, I dont know it the style is good for this kind of trees, but I havent done much rather than removing a good amount of dead inner foliage, and trimming the long shoots.
Ill see if I can add some pics later on.

Storm

Storm

Member





A ficus will do fine with exactly that treatment. You've probably killed the Azalea.
Iris

bonsaisr

Member





Cat Sand may or may not be a safe potting medium. Cat Sand (We say Cat Litter.) is different in different parts of the world. The product I use for Cat Litter, not bonsai potting, is called a clumping litter and when it gets we it becomes a hard mass. The litter is made to make it east to remove waste from the litter. Other litter in the USA becomes mush when wet. We always suggest putting a small amount of litter in a container of water for at least 24 hours before planting in it.

Billy M. Rhodes

Member





Yeah. Why do you mean ive killed it Iris? I guess I know the anwer, but Id like a direct tip.
I have all my trees planted in nearly 100% cat litter. (I didnt like using the word litter, cause it sounds to me like what the cat leaves in the box).
My ficus tree is growing good in a small pot with it, and my big Prunus looks like its loving it too. I just have to be extra carefull to water it often enough.
The biggest problem ive met with it is that the further I get down the bag, the more dust there is. So I have to wash it first in the future.
I dont know what azaleas like and dont like. I havent measured any ph values on any of the trees. I know I can use vinegar once a month at a small dosage for it to be more acid like. Since They are Lime hating. And Ive read from bonsai4me:
"REPOTTING Repot as soon as flowering has finished annually or when roots fill pot." And graham potter have had success by repotting several species at summer too. I dont know if it goes with these ones though. And by reading that, I just made the decision to repot it, since it was so overfilled in the pot, that I thought it couldnt provide sufficient drainage to the soil, and were intended for small maintenance keeping in the shop.
And removing the dead branches and twigs, where can the harm be in that?

Storm

Member





You have a very short outdoor growing season up there. I don't think that standard directions for repotting azalea are gong to work for you. (Those instructions come from Japan and are mostly because they wanted their azaleas to bloom every year, not because azaleas LIKE to be repotted then.)

You should repot your azalea in early spring like any other temperate zone tree. One usually doesn't remove more than a wedge of soil from around azalea roots anyway; it is a bit dangerous to bare root an azalea because of all of the very fine, fibrous roots they put out.

Your fig probably will be fine, but keep it as warm as possible. The best time to repot a fig is in the warmer months. Generally, hough, we don't repot and defoliate at the same time. But they are very tough plants. What kind of fig is it?
_________________
Jim Lewis - lewisjk@windstream.net - Western NC - People, when Columbus discovered this country, it was plumb full of nuts and berries. And I'm right here to tell you the berries are just about all gone. Uncle Dave Macon, old-time country musician

JimLewis

Member





Surprise! Telemark is in the southern part of Norway, near the Skagerrak (the strait between Norway & Denmark). Thanks to the Gulf Stream, it is in USDA Zones 7 & 8. Its climate, from what I could gather, is similar to our state of Virginia, except the summer humidity is very low. I couldn't find out the length of the actual frost-free growing season, but it doesn't seem too short.
Storm, your azalea will probably not put roots out into the cat litter. Leave it where it is for now, but you will probably have to keep it in part shade. Next spring, cut one or two wedges all the way into the root ball, and pot it in an appropriate soil mix.
One commercial bonsai mix contains coarse river sand (you can use aquarium gravel), fine pine bark mulch (if you know someone with a shredder-chipper, have him grind up some bark for you, then sift it), and Turface (the equivalent of your cat litter).
Here are some articles on azalea care:
http://www.bonsai-bci.com/species/satsuki-azalea.html
http://www.bonsai4me.com/AdvTech/ATCareCalendarforSatsukiAzalea.htm
http://www.bonsai4me.com/SpeciesGuide/Rhododendron.html
Iris

bonsaisr

Member





Thanks all.
Update of the tree. The ficus is showing good health. Its been backbudding very well, and shows maybe 15 new leaves opening slowly. All over the branches. The other ficus I repotted and defoliated has been growing like crazy a few weeks now. Its actually been growing better in a small pot, than in the big pot, so I seem to get the point of it now.
The azalea is growing too. Shows signs of new shoots on every branch. Leaves coming from further down on the trunk too. It lost some leaves which went brown the first week, but it seems to have stopped. One of the flowers has opened alot and one more is very slowly coming too.
Ill try and post a few pics now. I know its not really proper bonsai's, but they were cheap, and I love the species. And ive been struggling to get them around here.

Storm

Member





I know it has a bad inversed taper..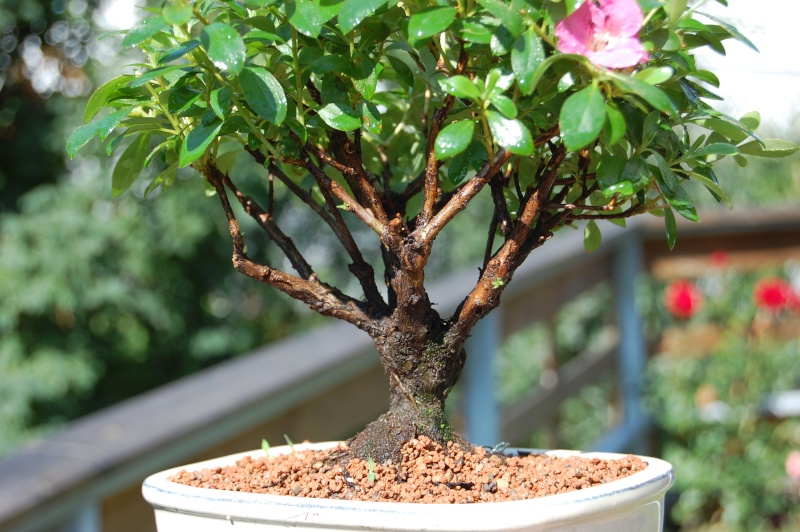 The flower
Leaves emerging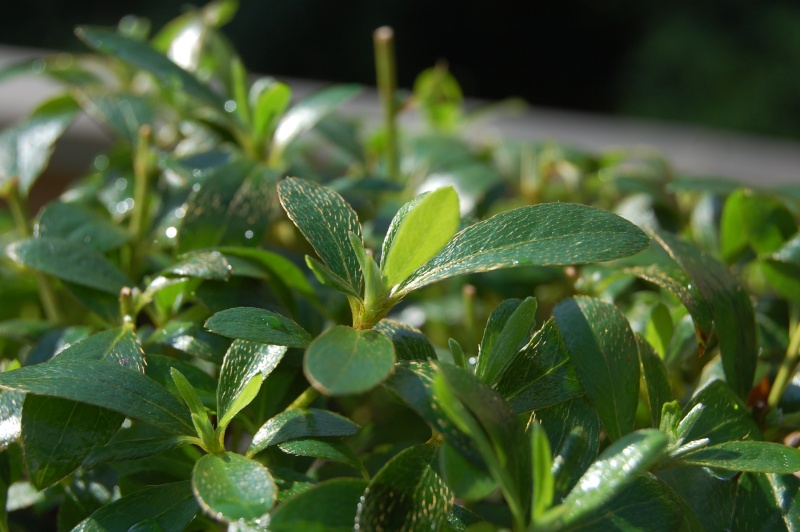 I saw that none of the pictures were good enough, for an overall. Ill take some more later today. I pot in a cream-yellow square pot, with rounded edges and feet. I guess its not a preferable style for an azalea but it was the best I got out of the shape when I bought it.
The ficus isnt any point of showing, but its healthy though.

Storm

Member






---
Permissions in this forum:
You
cannot
reply to topics in this forum