sharing some pictures of a change in progress. new front for kishu shimpaku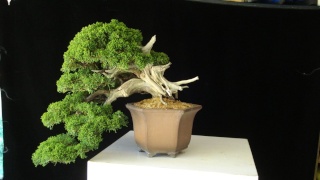 original front before first styling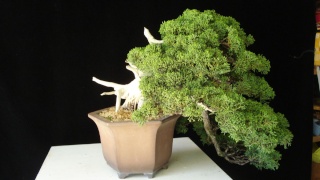 rear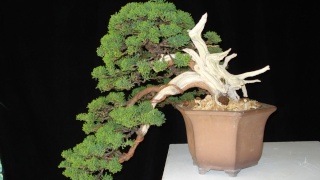 front after first styling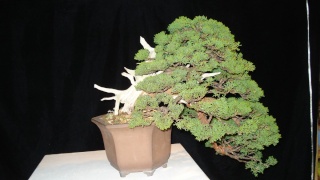 rear after first style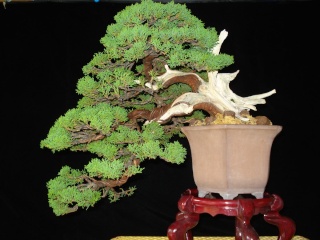 current front before work. this is actually a great front. the live veins and natural deadwood are clearly visible from this side, however, there is a bothersome disconnect between the upper structure of the tree and the cascade branch breaking the top to bottom flow. lets see what happens when we make the back the new front.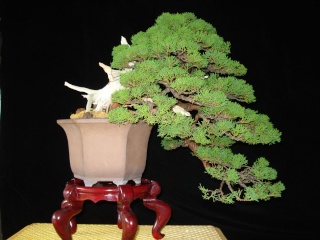 I like this side as the new front. the appearance of the canopy is softly natural and less contrived, however, the apex needs to be brought to this side as does the bottom branch. guy wires are employed to slowly coax the apex and lowest branch into proper position. this will take awhile, but that's OK. the trunk and major branches are hidden by foliage. careful branch removal to show enough, but not too much, is necessary.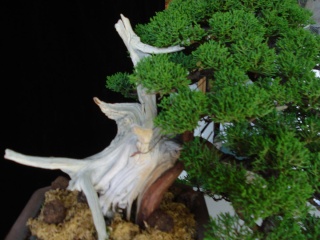 the base of the tree is powerful and wide from this side, anchoring the tree strongly to the soil as a balance to the cascade.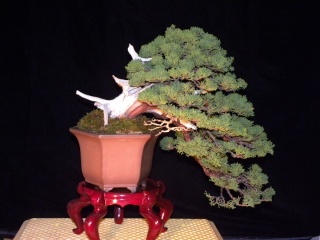 the branch nearest the base of the trunk is jinned opening desirable sightlines. couple more pictures then we're done for now. [url=http://www.servimg.com/image_preview.php? i=445&u=15061647]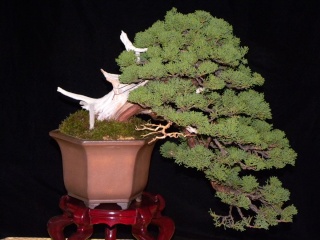 [/url] another.
again. [url=http://www.servimg.com/image_preview.php? last one i=447&u=15061647]
[/url] last one
Great tree! I think you'd have a killer semi cascade from either front. Removing the cascade branch and thinning the canopy would from my perspective make a positive difference.

Neil
Didn't I see this tree in "Classic Bonsai of Japan"?

Beautiful!!!
Salut, Todd

Todd Ellis

Member





Although I still prefer the original front side (it is more open and dynamic from this side, but it is just a matter of taste) , I understand your explanations why have you changed your mind. Anyway, I think that this tree is equally good from both sides and congratulations to you for this great masterpiece

I like the cascading branch and I´d definitely keep it as it is, it makes tree more complex and original.

Lukas Sirotny

Member





thanks for the comments guys. neil, I'm actively considering removing or jinning the lowest branch to create han kengai. however, not until I get the right pot and the tree is ready for repotting. Todd - now that's a compliment I will keep. my humble tree/work is amatuerish compared to the trees in the classic book. Lukas. I agree with you. for now the cascade branch stays. I like the design, especially with the new front. but .... who knows what will happen down the road?
A beautiful tree and great to have the option of two fronts. Personally I would prefer to see the bottom branch removed for a semi cascade.

beauty Sam.
but, i like the original front, more compleete presentation with alll the trunk and branches shown. more dinamic specialy with thiner folliage.
anyway... is a beautyfull 'cascade'..


rudi

Rudi juliant

Member





thanks for the opinion will. I appreciate you input. rudi my friend - your bonsai skills are very high. I respect your opinion. thank you for offering a comment.

respectfully, sam
Hello,

I like the first front to.
The tree has more movement, lifeveins with more movement playing with deadwood.
The tree and branches have more movement.
And the styling fitst the first front.


Greetings,
Yannick
What a BEAUTIFUL juniper! And you know it's a good one when it is so beautiful from either side.

I'm with the other guys here. As much as I like the new front, I'm not sure that it was an improvement or just something different. By that I mean the fifth picture, the "current front before work" is just so good and balanced for my eye (I don't see a "bothersome disconnect") that it would be hard for me to want to change. With the first front the lower cascade branch looks better to me because it is such a strong feature that your eye follows from beginning to end. Maybe it's just the pictures, but for the new front it is just sort of "there" and the new design would be better without it. Of course leaving it keeps you options open, and when it's gone, well, it's gone!

Thanks so sharing, and enduring all of our opinions!

Russell

Russell Coker

Member





thanks for the inputs, Y and russell. I appreciate your thoughts.

sam

---
Permissions in this forum:
You
cannot
reply to topics in this forum