After spending the beginning of the weekend working, I was able to get up to camp for Sunday evening and all day Monday. Sunday night was a rocking good time, filled with food, drinks, and festivities. Come Monday morning, I beat my girlfreind out of bed, and jumped on the 4-wheeler to work off my well-earned 4th of July hangover. I went to check my larch spot, and see how the trees i chopped were developing. I decided to grab a small one.
Not thinking too clearly yet, I had walked (stumbled) through the rough terrain and waist-high weeds in my flip-flops and shorts. By now, the temperature is quickly rising to near record highs and sweat (booze) is freely flowing from all of my pores. Now, I realize I'm a good couple hundred yards from my sweet ride. Of course, using my ultimate wisdom, I hadn't thought any of this through and had absoloutley nothing with me to wrap the roots. So, I begin to hustle my way back, while cursing myself audibly for the majority of the way.
Finally having arrived back at the ATV, acting fast, I quickly throw my bloody leg over the seat and toss the tree into the cargo basket. ZOOM! In a flash we are off, whizzing down the old dirt trail kicking up a storm of dust in our wake. I return to camp, still semi-disoriented from the prior evenings events, trying to figure out the next plan of attack. I take the small larch and swiftly make my way down the path to the rushing stream. After wetting the roots thoroughly, I brought it back to my work area, which just happens to be the closest picnic table. After clipping back some big obtrusive roots, i returned the tree to a protected spot in the stream for another rinse. At this point, I've got no soil medium, so back on the 4-wheeler and off the the gravel pit I go. Quickly, I sift out the particles I need with the two pond baskets I brought in tow. 10 minutes later, now drenched in perspiration, I make my way back to camp. Acting fast, I pot the tree up using the newly aquired granite and leave the basket resting in the stream.
By this time, it is already 90 degrees and only 11 am, and the tree isn't the only thing that could use a bath. So, off to the lake I was. Upon returning from my refreshing mountain lake journey, (aren't pool noodles great) I thought I'd give a demo for my girlfriend. Man, I was just full of great ideas that morning. Luckily, she was suffering from the same mystery ailment that had struck me so hard, just a couple hours before.
Seeing that she was immobilized in her camp chair and facing my direction, I used the opportunity to perform the much anticipated "4th of July 2010 Bonsai Demo Extraordinaire." I begin clipping and cutting furiously as she looks at me in horror. "Why do you keep cutting that poor thing, it was cuter before you got your evil hands on it!" she exclaims. Luckily, I have a strong will, and shrug off the jeers from the gallery. With wire flying and the sweat dripping from the brow, the show was in full swing. Within an hour, the work was done and the crowd dispersed. A bonsai was born.
Dave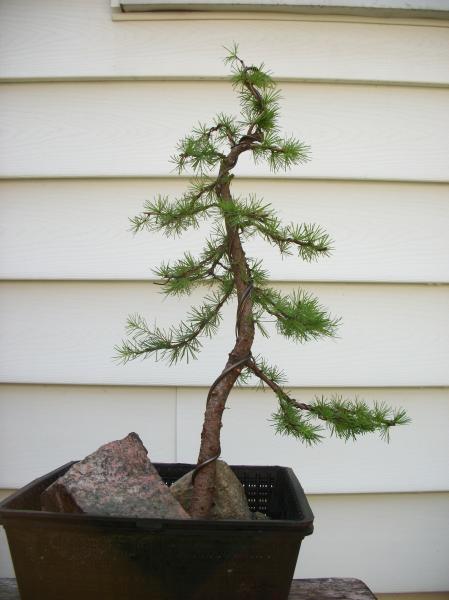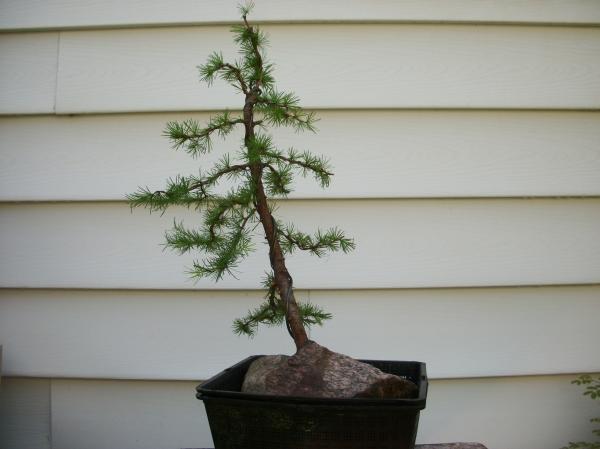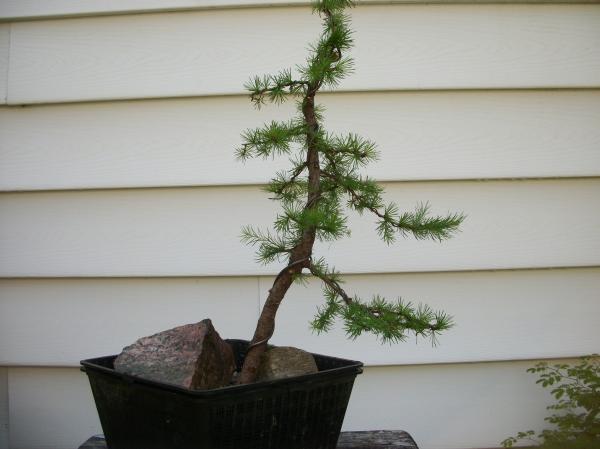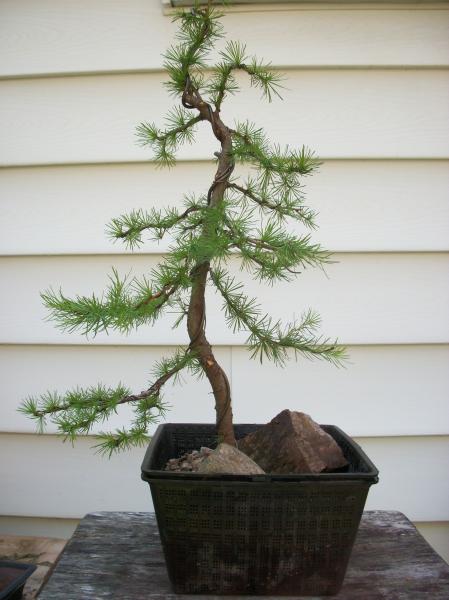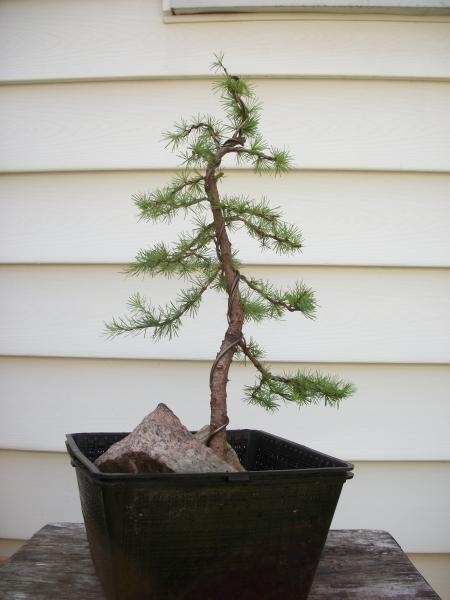 Last edited by DaveA on Thu Jul 08, 2010 5:52 am; edited 2 times in total (Reason for editing : picture problems)
Great story Dave, sounds like you had a wonderful time! Can I ask why your digging trees at this time of year?
A good story it is.. I would like to know how this tree goes please..i have been struggleing with one for 2 months now and it is makeing me crazy!!!!! don,t know how you do it....thanks john
Glad you guys enjoyed the story. I've been known to tell some from time to time. Once, I caught this fish... but that is a whole other story.

Will, since getting into bonsai, I've done the bulk of my collecting right around Easter. During the "off" season, I'll do a bit of experimenting while I scout for larger material. I get up to camp for about three or four trips that are non-bonsai related. I usually, but not always, end up testing the limits of one poor tree. The real score this trip, was finding a new stand of larch with plenty of material to collect.

Dave

---
Permissions in this forum:
You
cannot
reply to topics in this forum