Hi all, i'v seen a couple of trees i'd like to Bonsai. i'v had a little search on the net but with no joy. any how here is a link to an external album (sorry but iv had trouble uploading with the forums uploader)

Thanks

Mr Majik








Mr Majik

Member





AH, a link might help...

http://www.facebook.com/album.php?aid=226100&id=638166881&l=1460bf5d1c

Voila, ç'est fait :°)

Mr Majik

Mr Majik

Member





Tree 2 looks like a Russian olive, Elaeagnus angustifolia. I haven't seen any used as Bonsai, but I have seen two related species as Bonsai; Elaeagnus pungens and Elaeagnus multiflora, (Thorny olive and Silverberry).

William Feldman

Member





Great, looks like that could be a winner. i started propagation last week (dispite not having a clue what it was) and with the exception of loosin a leaf or two they're doing fine so far.

I was a little worried about Bonsai'ing it to start with as the leafs are rather long and the internodes spatious but the colour and "weep" are beautiful. give me 5 years and hopfully i'll post the startings of a nice Bonsai.

If it is a Russial Olive, do you think letting it fruit might put it in danger? i've heard that some fruiting trees shouldent be alowed to frui as Bonsai.

Thanks

Mr Majik

Member





I think it should be okay. The Russian olive's fruit is small, and I don't think it would take too much energy from the tree. The fruit is not terribly attractive, though.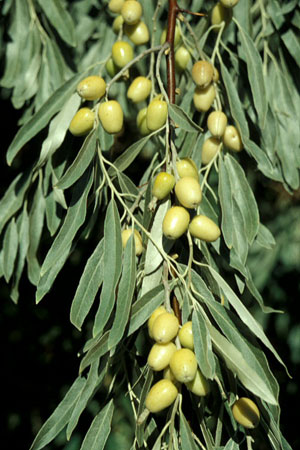 William Feldman

Member





Hello Mr Majik. The first is a Birch, second Willow leaf Pear and think the third is Cherry or Cherry Laurel. Not sure of the third though

William Feldman

Member





they do both look very much alike. thanks for the input both of you.

Mr Majik

Mr Majik

Member





---
Permissions in this forum:
You
cannot
reply to topics in this forum