Meet Connor . . . a rescue from the local Humane Society, and a very "needy" dog. He came to us with his own little Gingerbread Man stuffed toy, and he will NOT be parted from it. He weighs about 7 pounds, is about 3 years old, and was severely mistreated by some earlier owner.
He's a doll. He and Bebe, our not-quite-as-small terrier, still have a rather tentative relationship, but they don't fight (but he won't lend her is Gingerbread Man!)
Photographs of black dogs are always a problem -- and flash only makes it worse (eyes).
We think he's mostly terrier with, perhaps, a bit of dachshund mixed in.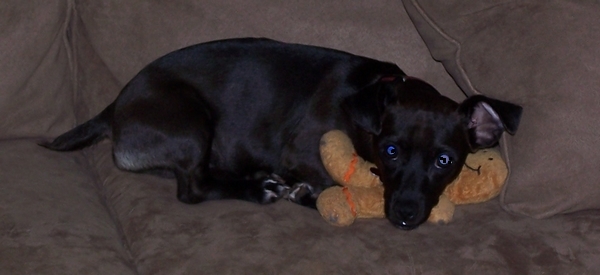 _________________
Jim Lewis - lewisjk@windstream.net - Western NC - People, when Columbus discovered this country, it was plumb full of nuts and berries. And I'm right here to tell you the berries are just about all gone. Uncle Dave Macon, old-time country musician

JimLewis

Member





He looks like a sweet heart. Congrats from Illinois and our two rescues, Missy & Paco!
Missy was one of 135 dogs removed from one house back in 2008. She was 2 weeks old when she was removed.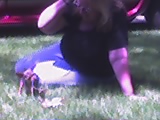 She was so small, when my wife went to check her out, that she could escape her foster parent's back yard
through the holes in a chain link fence! She's a wopping 6 pounds now.
Paco we got 6 months later from another rescue.
Enjoy the new addition!

Jay Gaydosh

Member





Howzit Guys,
Great looking dogs.
I'm sure that these dogs are in good homes. I to am a dog lover. We had a shitzu that past away a few years ago and still miss that little guy.

All the best to y'al.
A Hui Hou,
-Tim


Hawaiian77

Member





Tim,
My last dog was a Great Dane/Rotweiller cross. He was approximately 170 pounds at the time of his passing. He would have snacked on his two replacements and immediately looked for the rest of the meal!

I do love a good dawg, suh!
Jay

Jay Gaydosh

Member





Mahalo Jay, you make me laugh.



But you know, I miss having a "BIG" dog. "Ace" my shitzu was a small dog and "Miss Kitty" would always yell at me to be careful not to play so hard with him.

Man, I sure miss a big dog. A least you can play rough with them.

A Hui Hou,
-Tim


Hawaiian77

Member






landerloos

Member






---
Permissions in this forum:
You
cannot
reply to topics in this forum