Hawaiian77

Member





I'd pot it now. Clean the soil off the bottom of the rootball (don't bare root it, though, because asalea have too many fibrous roots for that. Pot it into a shallow pot/box that is maybe twice the diameter of that pot.

There don't appear to be many buds, so what blooming it's doing now won't waken it, but I'd still cut off the flowers and any remaining buds. Keep it out of the trade winds for a while after repotting, and part sun will be best for it down in the ropics -- where azalea don't do too well. You're OK if you live at elevation. Sea level may be a problem.
_________________
Jim Lewis - lewisjk@windstream.net - Western NC - People, when Columbus discovered this country, it was plumb full of nuts and berries. And I'm right here to tell you the berries are just about all gone. Uncle Dave Macon, old-time country musician

JimLewis

Member





Mahalo Jim for the advice.
A Hui Hou,
-Tim


Hawaiian77

Member





Tim,
Was this azalea on Ebay? I believe I may have considered purchasing this one myself. From your posts you seem to be on the same learning path that I am following for my bonsai adventure. I have another azalea that I purchased this spring which was in wa 1 gallon pot and severely root bound. As soon as the flowers began to fade I removed them and their buds and repotted. Although the tree is looking sgraggly and has a very long way to go it has produced new growth and is backbudding some. I reduced the root mass by nearly 70% and then fed. I have also used the spaghnum moss covering for the soil as described in another post about azaleas. I admire you enthusiasm for this hobby. Good luck with this and all of your trees.

Todd

DreadyKGB

Member





A "BiG" Mahalo Todd,
Yes it was. This is the first time I ever order from them. They sent it out on Monday and by Thursday it came in. They also did a good job on packing. Also, I want to share another website with you that is also good and have a nice selection of azaleas.
http://www.bonsaietc.com/index.htm
http://essenceofthetree.com/
This one I got from bonsaietc.com it's a "Niigara Kirin". They to are great at packing and shipping.
A Hui Hou,
-Tim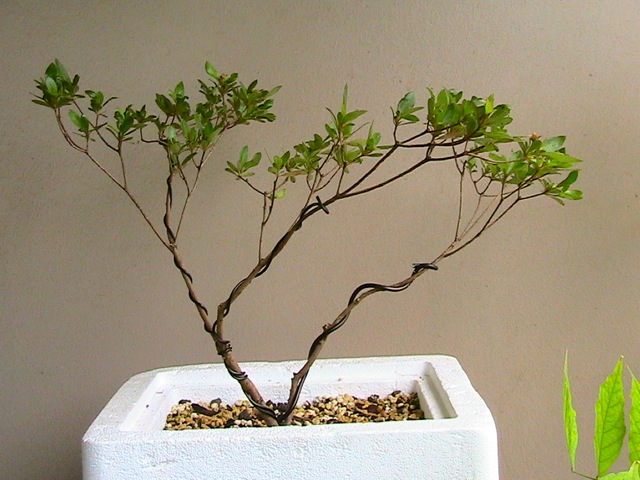 Hawaiian77

Member





Tim,

The correct name for this one is "kazan", it's sometimes called "kaku-ba chinzan", and incorrectly called "rukizan".

Russell

Russell Coker

Member





Much Mahalo for the correction Russell.
When I was this on ebay it was spelled that way.
A Hui Hou,
-Tim


Hawaiian77

Member






---
Permissions in this forum:
You
cannot
reply to topics in this forum