This is a recently collected Ponderosa. It's potted in pure pumice, I water it daily (and the foliage once a week--a questionable practice, I know), and I have it in a place where it gets sun from about 7am-1pm. The roots were disturbed about a month ago when it blew over during some crazy Philadelphia wind. I had fertilized it with BioGold early spring and last week provided it with a 10-10-10 liquid fertilizer. It sits next to 2 broad-leaf bonsai and a shimpaku that are all doing great. For the past 3 weeks, the needles on the Ponderosa have been dying. The wiring was very slight to ensure it's secure and keep 2 branches away from the other plants. Is this dear tree still salvageable? Any Suggestions would be of tremendous help. Thank you. (I don't know how far apart the two photos are)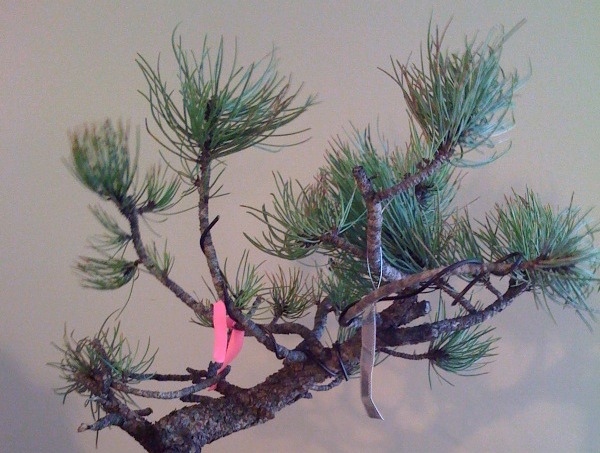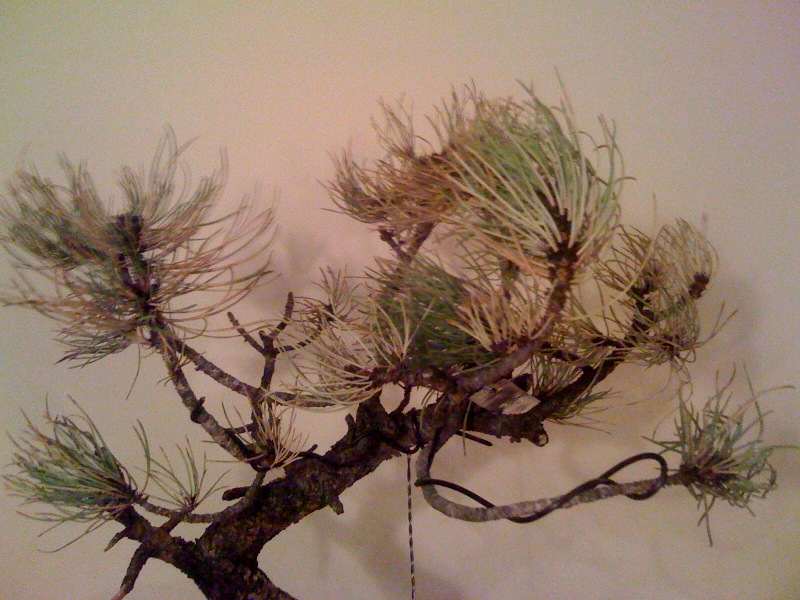 Hello Mbolos. It looks like your pine is dying to me. A couple of tips when collecting any tree. Always tie or wire trees into a box or pot. There should be no movement in the nebari and roots. Never wire a tree or feed it after collection. When you see strong healthy shoots(usually second or third year) that is the time to feed and wire. Better luck next time.
Also Ponderosa pines dont like to be treated nicely. It sounds like maybe too much water. I ignore
mine most of the time and they do great. Water very little.
A Ponderosa Pine planted in pure Pumice is almost impossible to overwater; even watering the needles - will not cause the problem. What has happened - is that when the tree blew over and the roots were disturbed - they most likely were broken. That is - the white tips that are visible as a Ponderosa moves into the active growing period - probably broke or snapped. You may still be able to save the tree - but some branches are probably gone for good - make sure the tree is wired tightly in the container and water ever 2 to 3 days - don't fertilize at all and wait to see if any of the needles stay a deep green color - if they all start to brown - then you can bet the tree is lost. Good luck. Tom.

---
Permissions in this forum:
You
cannot
reply to topics in this forum