Hi all
Here is a fir tree which I picked up from a garden centre in June 2008 (one on the left, the other one I picked up is just a garden tree now).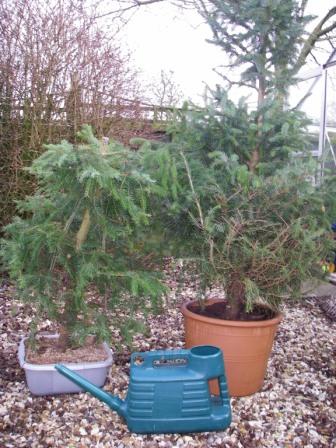 [/url]
It's been growing strongly, so much so I decided to repot at the end of Feb. It barely had any fibrous roots when it started; diatomeceous earth and patience does wonders! So how intact the rootball is.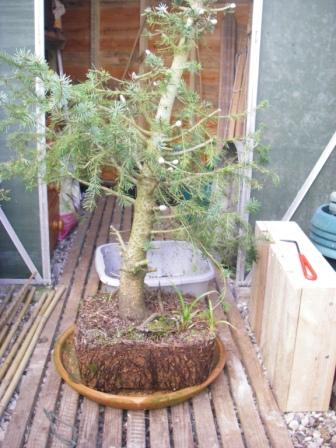 [/url]
It seems pretty happy in it's new growbox. I removed the bottom half of the rootball, and teased out any encircling roots. The aim at the moment is to get the rootball shallower, I will work on removing the remainder of the old soil and improving root ramification in a couple of years. For now I have just been pinching back the shoots. In late autumn I remove overly strong buds, and thin out any really thick areas of foliege to ensure the lower branches get enough light. It's shooting from the trunk now so I'm pleased. Receives Wilko's garden fertiliser (7-7-7) and blood/fish/bone (5-5-6.5), third strength every 2 weeks. When the needles harden off I'll subsitute the 7-7-7 for some miracle-gro (for N) half strength every 2 weeks. I also give a full strength dose of ericeous liquid fert (can't remember ratios) once a month from June-Sep.
Also shown is a photo of the 'nebari', which consists of three strong roots. See the root on the right sticking up then going back into the soil? I plan to approach graft that one onto the back of the trunk to increase the root spread a little bit. that won't be for a few years yet. Also planning to tilt the tree to the right a bit more, reduce the height slightly and jin the top third. Again, will wait a few years, want to sort out the roots first. I put some smaller photos from different angles as well for your viewing pleasure.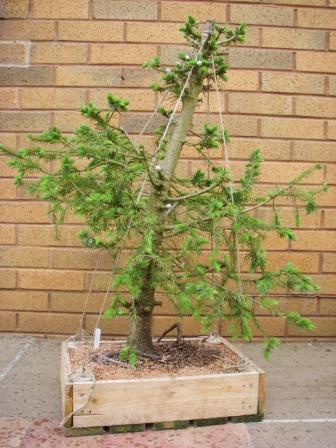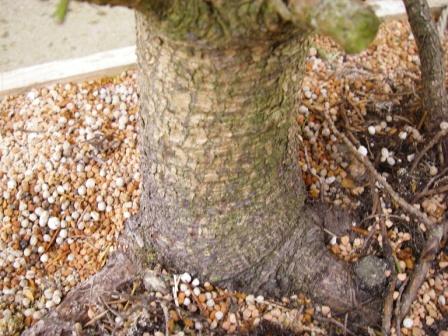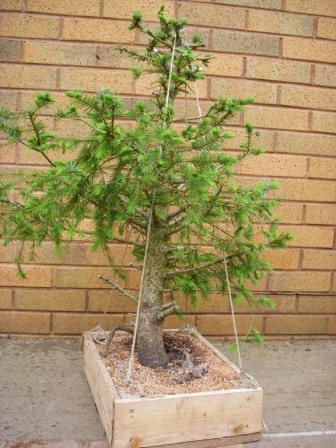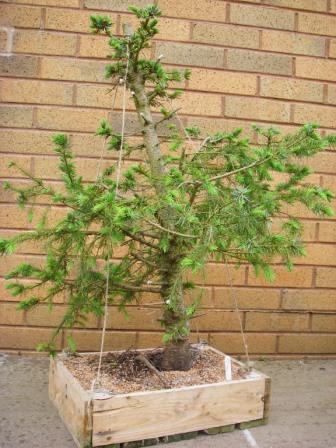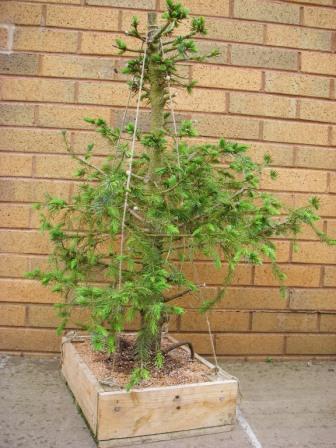 It's about 65cm high and 7-8 cm thick at the base. Any suggestions please; especially if you might know what species it is!
Thanks
Richard
I notched the branches earlier this year and bent them down. I also removed non-essential branches at that time and cut back part of the top to invigorate the lower branches.
Did some shari work on the top today, stripped some of the fibres before they got too dry to work. I'll continue the shari work in a couple of seasons. Hope you like it, the camera has sort of washed out the details. I didn't pinch it this year either, want to let it grow freely now for a few seasons to heal the notches.
Not finished yet by any means, just looking for suggestions from anyone who might know firs as I develop it.
Cheers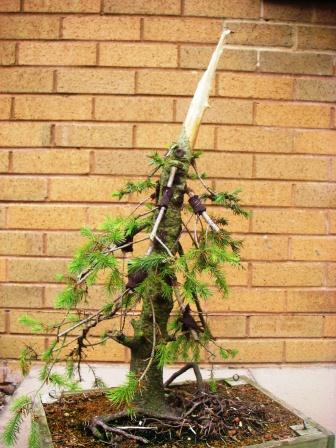 ---
Permissions in this forum:
You
cannot
reply to topics in this forum