I need suggestions here and an ID confirmation.
I think this is
Chamaecyparis pisifera
'auora'. It is a rescue from a planter tub, where it was almost dead and dried out beside an entryway, I've spent 2 years reviving it. Clump style is not my favorite style, but I see no other option. It may end up out in the landscape unless someone here sees some redeeming value in the plant. It stands about 15 inches tall from the pot rim. I know I need to separate the right-hand-front group of trunks so they are defined better.
The pics show the tree and a bit of foliage. C. pisifera apparently has foliage more like this (juvenile???) than the flat scaly type of the other Chaemocyparis species.
Any and all suggestions are welcome.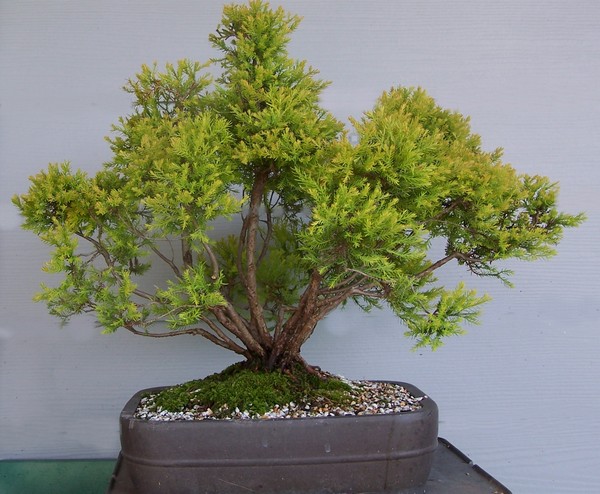 [
url=http://www.servimg.com/image_preview.php?i=321&u=13427896]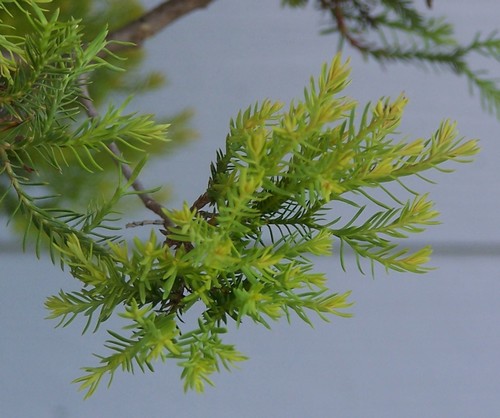 [/url]
_________________
Jim Lewis - lewisjk@windstream.net - Western NC - People, when Columbus discovered this country, it was plumb full of nuts and berries. And I'm right here to tell you the berries are just about all gone. Uncle Dave Macon, old-time country musician

JimLewis

Member





This is a very nice tree Jim, if you are up for wiring, there is always windswept.
Are you sure that what you have is Sawara cypress? It doesn't match the pictures on the Internet.
Iris

bonsaisr

Member





No. I'm NOT sure, Iris. I said I THINK that's what it is. It was in a "decorative" pot beside the steps of a cabin we bought in the mountains and almost dead when I brought it home. Its foliage looks a lot like that shown on the Wikipedia page. I was using Dirr's "Woody Landscape Plants" as a reference. It turns a very ugly yellow brown in winter, like Dirr says, too.

But I'm wide open to being corrected.
_________________
Jim Lewis - lewisjk@windstream.net - Western NC - People, when Columbus discovered this country, it was plumb full of nuts and berries. And I'm right here to tell you the berries are just about all gone. Uncle Dave Macon, old-time country musician

JimLewis

Member






---
Permissions in this forum:
You
cannot
reply to topics in this forum