dug this up from elderly neighbour's garden last april. On advice from the board boffins I lifted it again and put it into the training box I knocked together from a chest of drawers about a year ago. It was a bit sorry looking and only one trunk has any life left in it, which is coming on quite nicely. Any tips for further development of new growth? I chopped the top back a bit after taking the picture, but any other ideas would be nice. (the mesh is to stop the cats from using it as a litter tray, peeled back for weeding purposes)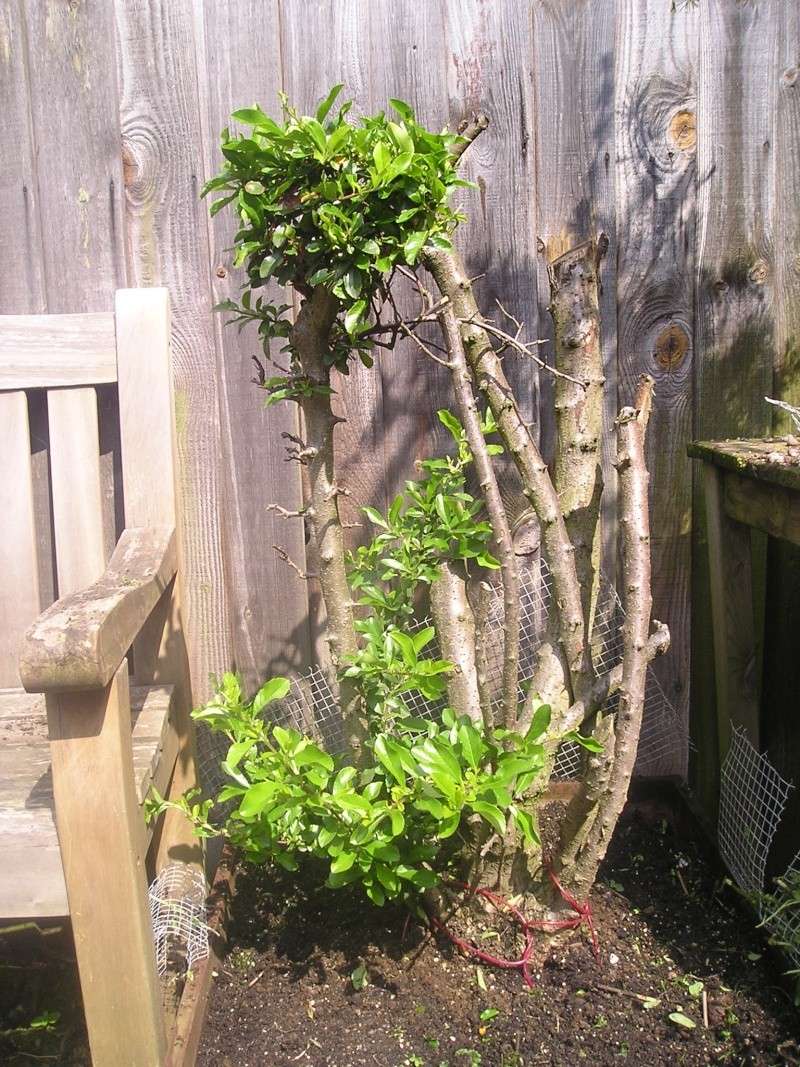 bobby little

Member





Ah is this the Hawthorn that was in fact a Blackthorn? It looks to me as if it's doing well, despite the outburst of sharp intakes of breath which were heard throughout the land at the time.

I would be tempted to invoke the words of the masters and "Let it Be" for a bit longer. That's what I'm doing this year with my three (four if an air layer takes) newly acquired blackies. What I'm hoping for is to be spoilt for choice regarding useable branches next year and beyond. Looks as if your dude is going the same way. The only thing I might consdier with yours is to reduce considerably the "dead" trunks. I don't really know enough about blackies to say if I'd take them away completely as I have in my head that they might just sprout in the future. Jerry, Chris, Kev, Will are yer lads for best answers on this one. I'll be keeping an eye out too, to see what they say.

Cue the boys from the Blackthorn.



btw. when you're finished with the training box can I have it - I need a chest of drawers.
_________________
"Espouse elucidation"
_____________________________________
my website

fiona

Member





I thangyew. I am indeed just leaving it to itself as far as what it puts out, other than trimming the top so as to get it to perform down below (fnar fnar) but wonderd if there's anything else I can do other than feeding it as per my other trees?

I'm not inclined to attack the other trunks yet because it's only been in the box a year and I don't want to disturb the roots to much. Do you think it might sprout elsewhere? I had planned to cut them back but had a vague hope that I might get some action from down near the bottom - ther's some growth coming up from below the live trunk, but was hoping it might do something further along.

bobby little

Member





Would love to see how this is progressing Bobby but I'm at work until 12.30. will have a little look then.
One hour to go before night shift come on.

you finishing or starting? Night shift is a piss pot.

bobby little

Member





No, not on piss pot tonight, just got home. How secure is the tree in the chest of drawers? If it's fairly stable I wouldn't waste any time and energy on the tall trunks. Get yourself the sharpe saw (recomended in past posts) and saw ALL those branches off. Leave stubbs about 2/ 3" . Iadvise you take pictures at soil level in future as well. The reason for the reduction is the straightness and lack of taper in said branches. Difficult to tell without a close up but could be a Pyracantha.
Last edited by will baddeley on Thu Jun 03, 2010 2:10 am; edited 2 times in total
He's bloody disappeared again.


bobby little

Member






---
Permissions in this forum:
You
cannot
reply to topics in this forum