At our small spring show this last weekend, someone walked in with two large cardboard cartons filled with bonsai magazines and gave them to the club.
What a trove!
Vol. 1, No. 1 (and on) issue of "
Bonsai: Journal of the American Bonsai Society
" from 1967 through about 1984.
Just about all of the early issues from Bonsai Clubs International -- "
Bonsai: Magazine of Bonsai and Japanese Gardens, Saikei and Suiseki
." The oldest (which I don't have in front of me) look as if they were produced by early desktop publishing PC programs (remember those!) and were simply stapled together with rough cardboard covers. One that I brought home had an entire years' calendar (1973) in it -- each month illustrated by a black and white photo of a nice bonsai or saikei. (see below) There also were many early issues of the magazine when it became merely "
BONSAI Clubs International
" (the earliest I brought home to look over was Oct. 1981).
Anyway, there will be lots of interesting (and for some of us, nostalgic) reading for the Blue Ridge bonsai Society membership in years to come because there must have been 300 magazines in those boxes. Many of course, were the later, glossy magazines many of us USAians are more familiar with, but at least half were the old black and white, roughly printed and 100% amateur produced magazines.
Two pics of the 1973 Calendar: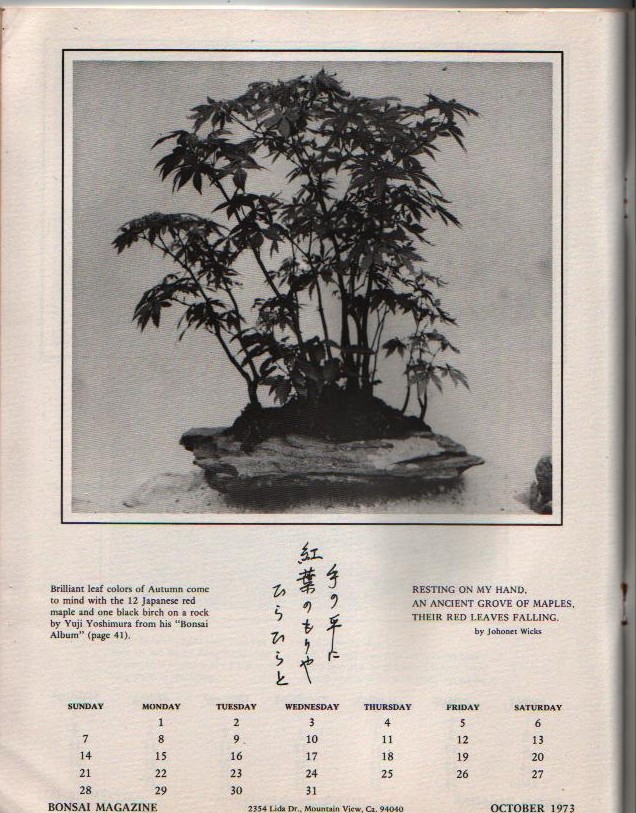 _________________
Jim Lewis - lewisjk@windstream.net - Western NC - People, when Columbus discovered this country, it was plumb full of nuts and berries. And I'm right here to tell you the berries are just about all gone. Uncle Dave Macon, old-time country musician

JimLewis

Member






---
Permissions in this forum:
You
cannot
reply to topics in this forum