I have trained this species of Pitchecolobium dulce for three years and I need the any idea to correct this tree.
I attach two pictures for these trees, in 1st picture, what must I do with the branch? As pointed by red arrow. Will it be ok if I make it as the apex?
In 2nd, the trunk base, the bud started to grow. Must I keep this bud?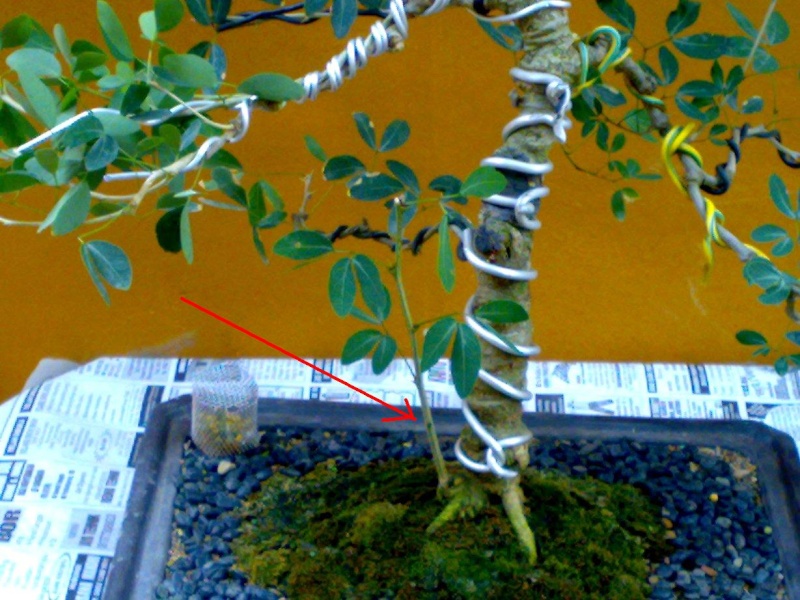 Thanks.

Mawardi Nur

Member





Mawardi,
I think this tree has some nice potential. Although I am not familiar with the species I think that both of those branches should go. Also the tree seem to move away from the eye, leaning backwards in the pot. Post a picture of the backside maybe. Or you could bring what I have labeled as the apex forward.I think the green arrowed branch provides more balance as the apex. Just some suggestions. But again it looks like a very nice start.
Todd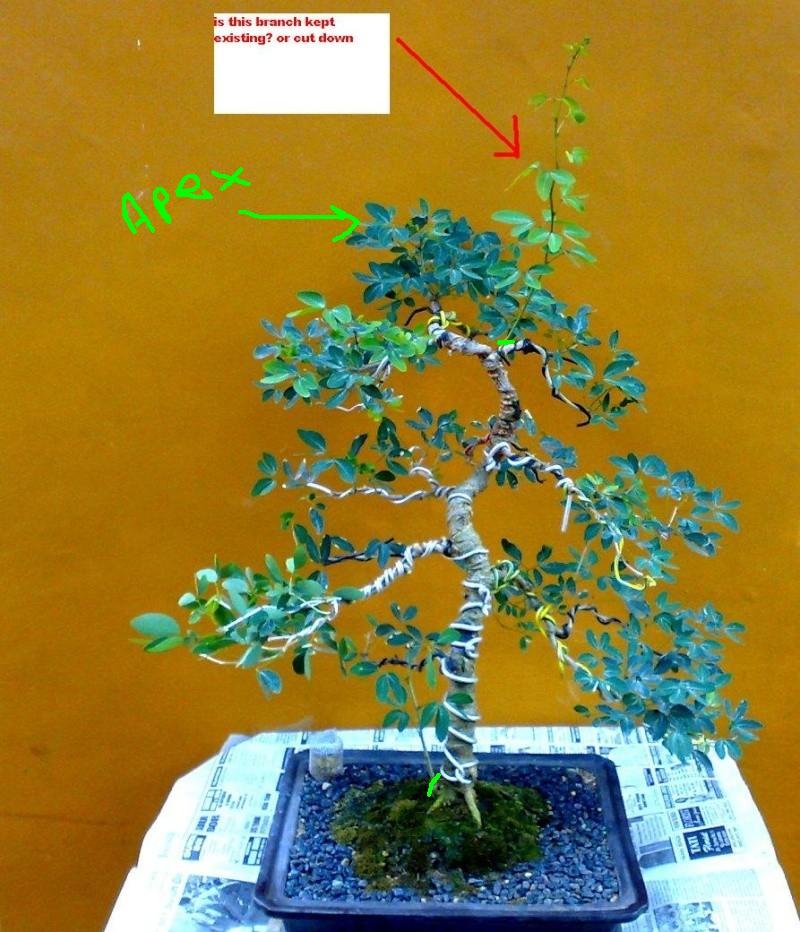 DreadyKGB

Member





I agree. Neither branch contributes anything to the tree.

I'd also like to see one or two of those branches wired toward the back. There appears to be very little depth to the tree. Of course, it is hard to tell in a photo.
_________________
Jim Lewis - lewisjk@windstream.net - Western NC - People, when Columbus discovered this country, it was plumb full of nuts and berries. And I'm right here to tell you the berries are just about all gone. Uncle Dave Macon, old-time country musician

JimLewis

Member






Mawardi Nur

Member





Hi there!
Nice tree! I have about 10 of those i started from seed last year. Didn't know their scientific name though. Now i know...thanks!
something i wanted to add...how big is this tree? The reason i ask is because it produces fruit and you may have to consider the size of the fruit in the final size of the tree. A slim short trunk wouldn't look good with over sized fruit. Just my two cents.

Pola

Member





Hi pola,
Could you show me the picture for your tree? this tree will have fruit if if the age is grown old. In my places, I seldom see this tree have fruit while in young. We usually find a long the street. The fruit is small and form like tamarindus indica.
I am wating your tree picture

Mawardi Nur

Member





Sorry Mawardi,i have no camera at the moment

. I planted them about 7 months ago. Still have alot of growing to do. They're about a foot and a half at the moment.

Pola

Member





Unless you are growing a new Apex I,d chop it off!
the one on the Nebari could be left to help fatten
up the trunk or grow a mother daughter if not, off !!!

hope this helps!
Alex e

alex e

Member






---
Permissions in this forum:
You
cannot
reply to topics in this forum