I just acquired this olive tree (Black Olive?) and this is what I have following a lot of cleanup. Tree is about 14" tall and 10" wide. Picked it up from a junk pile for $24.00 but I like it very much. It needed a lot of cleaning and pruning. It did thank me for bringing it home and feeding it and looks pretty darn happy so far. I really like this tree.
1. Anyone know what species this is as nursery assistants not entirely sure.
2. Any suggestions or comments on current shape and ideas for it's future growth?
I've posted several pics from different angles for suggestions/comments.
Thanks ya'll!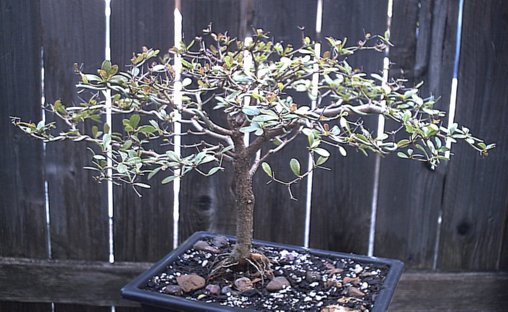 <br>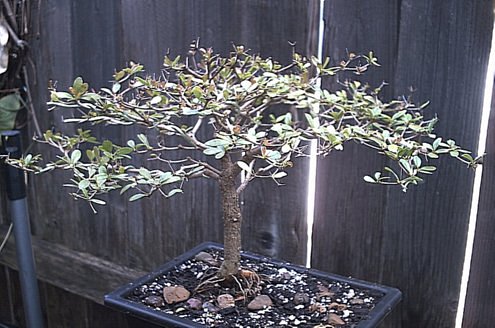 Since taking this picture, I've also covered the roots as it seems the Olives don't do well with exposed roots
Last edited by KimchiMonger on Sun May 09, 2010 4:19 pm; edited 1 time in total

KimchiMonger

Member





I think this is 'Little Ollie', a dwarf variety of European Olive. Very slow growers these, you usually see them sheared into spheres and pyramids at garden centers. I bought one a couple of years ago and have been working it back into a tree shape. Be careful when pruning as hard pruned branches tend to die back to the trunk. Take them back in stages of two or three cuts. New shoots can be pinched regularly to shape. They like to get fairly dry between watering in winter and evenly moist in the growing season. They do well indoors in bright sun and in summer move it outside to a partial shade site, direct sun in the morning and shade or dappled sun during the heat of day. Fruits are small and rare, especially if you're trimming regularly. Flowers form on second year wood. Allow new shoots to grow most of the summer, then clip them back to a few sets of leaves. Next year flower buds will sprout from the branch and small olives may form. I'm not allowing mine to flower to keep the growth happening. Mine was the shape of a lollipop when I got her, a straight thin trunk with a round crown on top. So far it's been reluctant to back bud anywhere below the existing branches. It's recovered enough from the original treatment that this year I'll try some pin pricking and hammering on the lower trunk to get it to thicken up some. Root development is as slow as the top and its best to work slowly in stages allowing ample time for recovery between work on the roots. Also, be careful exposing the root crown. Suddenly exposed roots have a tendency to die back so it's best to keep the roots covered and expose them a little bit at a time. I'm two years in a grow-pot and not considering bonsai for a couple more years. I'm growing some long branches that I like to try an approach graft, bending the branch down and grafting it onto the trunk lower down, to help thicken the trunk. All the Little Ollie's I've seen were made like this, straight trunk with some geometric shape on top. Cute little novelty tree, but a pain to convert to bonsai. I know one place that sells them all natural, but I'm doing my learning on this one before I get another. I knew from the get go that it would take alot of re-working to get there with this one and knowing nothing about olives, it was the kind of challenge I enjoy. If you would like to check it out that site is forestfarm.com. Oh, you're going to like that place if you're into exotic trees. Sorry folks, they don't ship overseas so it's US and CAN only. Hope that helps you some. For a tree in recovery, I'd pot it into a grow pot and cover those roots so they fatten up some. A slow, slow tree, as most dwarfs are.

RKatzin

Member





Doesn't look like a true Olive to me. Little Ollie has a much more linear growth habit. My Little Ollies are far from slow, 2" cuttings that I rooted grew to 2 feet in one year.

Is this one Bucida spinosa?

_________________
"It is not the strongest of the species that survives, nor the most intelligent. It is the one that is the most adaptable to change." - Charles Darwin.

Kev Bailey

Admin





Looks like you correctly identified it as a Black Olive, Bucida spinosa. The variety that you have is hard to tell from the photo. The large leaf size means it could be a "Shady Lady." This is a tropical tree and doesn't like freezing weather.

Rob Kempinski

Member





This is not Olea europaea. It is probably dwarf black olive, Bucida spinosa.
The correct name for "Little Ollie" is Olea europaea 'Montra.' You can find it on Monrovia Nursery's website, as it is their introduction. It is usually sold without a label as it is patented, like 'TooLittle.'
I don't know what R. Katzin has, but "Little Ollie" does not bloom. It is sold as a landscape tree for small yards in California, where people don't want a tree dropping fruit on the patio.
Iris

bonsaisr

Member





I called the nursery and finally got a hold of the owner who immediately said it was
Bucida spinosa
Family: Combretaceae
Spiny Black Olive, Ming Tree
I can attest to the spiny nature of the tree while pruning. I know I'll be keeping my eye open for this variety in the future. Unfortunately, he said he doesn't get them often at all.
A member of another discussion forum was right on the money with the referenced photo links. Here's the pre-bonsai example as I found it, and a finished masterpiece at ucarillo's site:
First photo from
http://toptropicals.com
Second photo from
http://www.bonsai-wbff.org
<br>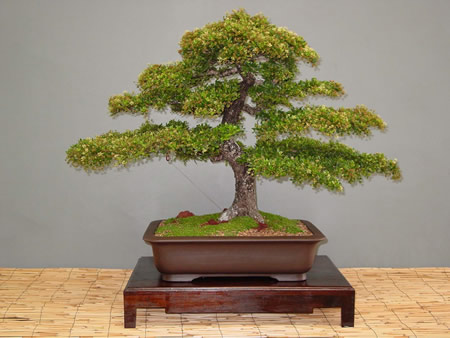 KimchiMonger

Member





Hi gang, the tree I have is from the Monrovia nursery and had their tag on it labled, 'Little Ollie'. I've not seen any flowers, I assumed because I pinch it regularly, but the tag said it does flower, but small black fruits are rare.The tag also stated it is a very slow growing tree and it's certainly proved to be, of course, in two years I've removed and regrown an entire new top, and new shoots do grow fast, but slow down when the wood hardens.

RKatzin

Member





After perusing cyber isles for that perfect garden pot stand or potter's table, I realized I didn't see what I wanted. Just couldn't find one that interested me as my little Elm, Black Olive, and Dwarf Yaupon Holly stood by waiting for me to make up my mind.
While walking the dog I noticed a total of three tree stumps all laying around within a block of each other in open fields. I drove the truck out to each one, loaded them up, and brought them home to make this little bonsai corner for them. They seem pretty pleased with the whole thing and I rather like it. I literally found them in the pictured sizes with no cutting necessary. Could that been any easier?!?
Just a thought and suggestion for those of you who also can't find the right outdoor stand.
I'll have to move the entire setup right into the garden and ground as I was just reminded elsewhere about harboring termites ya know.

KimchiMonger

Member





Well the logs are being moved but I'm keeping the same setup. The trees are also being switched with the top tree going to the bottom stump, mid sized tree in the middle, and the small one atop.

KimchiMonger

Member






---
Permissions in this forum:
You
cannot
reply to topics in this forum