Hi Everyone. My name is Craig and I live in south eastern Australia in a cool/temperate climate, at an altitude of around 800m. I have been growing bonsai for around 25 years and have a fairly eclectic collection some northern hemisphere trees and some of our natives.
My question is regarding an arbutus which I dug from a garden I work in locally. Arbutus is a weed tree here so I am able to dig them without any problems ( digging indigenous natives is frowned on in this country ). I have been trying unsuccessfully to post a pic of this tree all I get is the letters url in my post box.
Does any one have any experience with this species ? The tree is budding everywhere, I want to know if the wood on these trees is hard enough to successfully carve and if the scars will roll over easily.
With thanks from Craig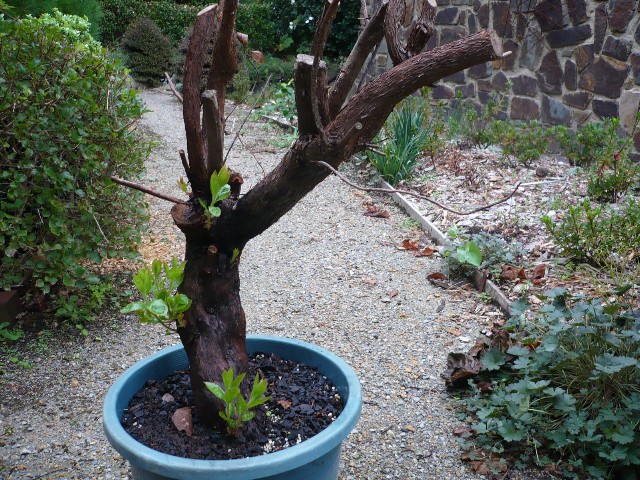 I have been trying unsuccessfully to post a pic of this tree all I get is the letters url in my post box.
Have you seen the tutorial in the Test section?
_________________
Jim Lewis - lewisjk@windstream.net - Western NC - People, when Columbus discovered this country, it was plumb full of nuts and berries. And I'm right here to tell you the berries are just about all gone. Uncle Dave Macon, old-time country musician

JimLewis

Member





Hi Craig, here in SW Oregon, Arbutus menzieii is an indigenous species, commonly called Madrone. I have never been able to dig one of these successfully and I've only ever seen one in a pot. It was started from seed 12yrs ago at a USFS seed farm and is now 8' tall. I've not seen any bonsai using this tree, but i'd love to and I continue my research. I have a few flats set in the forest to catch some natural drop seeds and get them to sprout in my flats. Unlike many other trees, the bark takes very long to heal and scars will remain for many years and roll over on broken or cut branches is very slow and rarely forms a complete scar, leaving a patch of bare wood in the center, which rots out eventually leaving a hole. I have two Arbutus unedo that are used in local landscaping. These were dug to extend a deck and landed in my yard. They were roughly dug with a spade shovel and the branches rudely cropped. Going into the second season with them and the cut branches show no signs of healing or rolling over. They continue to issue new growth lower on the trees. The wood is very hard and carvable. The sap wood is white and the heart wood is red and you can get real artistic revealing layers. I've seen chess and checker boards made by glue lamming heart and sap woods. Makes great cutting boards, too. The A. menzieii is the most favored fuel wood in the woods around here. It burns very hot and clean, when dry, and always leaves a substantial bed of hot coals long after the fires gone. The dead wood does not last long if it's in contact with the ground, but will last for many years if it's suspended in the air. Well, that's about all I know of these trees. Arbutus are list in most bonsai books as usable trees, so we're not completely in left field here.

RKatzin

Member





Hi Jim, I followed the instructions to the letter. Once I had loaded the pic the box gave me three options for selection and none of them seemed to copy correctly. Sorry to be a pest my computer skills are pretty minimal.
Hi RKatzin, thanks taking the time to give me some great information. The tree I dug I am pretty certain is unedo as thats the one that has naturalized here. I really ripped it out of the ground in a bit of a hurry because I was working on someone elses time, it seems to be budding from top to bottom. Once I work out the posting procedure here I will put up a pic and you will see how the trunk has developed that beautiful twist so characteristic to this species.
With thanks from Craig
Hello Craig. Once you get your three options, left click the middle one. Another box will appear, left click allow access. Then left click anywhere in the box where your post is, then right click and paste.
_________________
"Espouse elucidation"
_____________________________________
my website

fiona

Member





I've always had the allow access box, on my pc and laptop. I upload my pics from desktop.Sorry if I'm confusing matters but thats what I thought we all did......I'll get my coat.
P1010345.JPG
Thanks for all your help. i hope this works
Craig
Your pic now on your original post, Craig.
Will, I just worked out what you were talking about. You must be using the "Copy" button to copy the middle box whereas I always just highlight it with my cursor and use Ctrl + C then Ctrl + V. Using my method, I don't get that "Allow Access" second box, but I did when I tried your method as an experiment. You can take your coat back off now - we were both right in our own sweet lil way.
Ya learn something every day.

_________________
"Espouse elucidation"
_____________________________________
my website

fiona

Member





Thanks so much Fiona. I will endeavor to post a pic later today and see how it goes. Yesterday I was looking at a thread on your larch tree what a beauty you must be extremely proud of that one.
Craig

---
Permissions in this forum:
You
cannot
reply to topics in this forum