This is a potentilla stump I rescued from a neighbours garden last year, before his new driveway flattened it. It was collected in May 2009, having been chopped back (by neighbour, with chainsaw!

). By October, it had sent out new shoots from the old wood: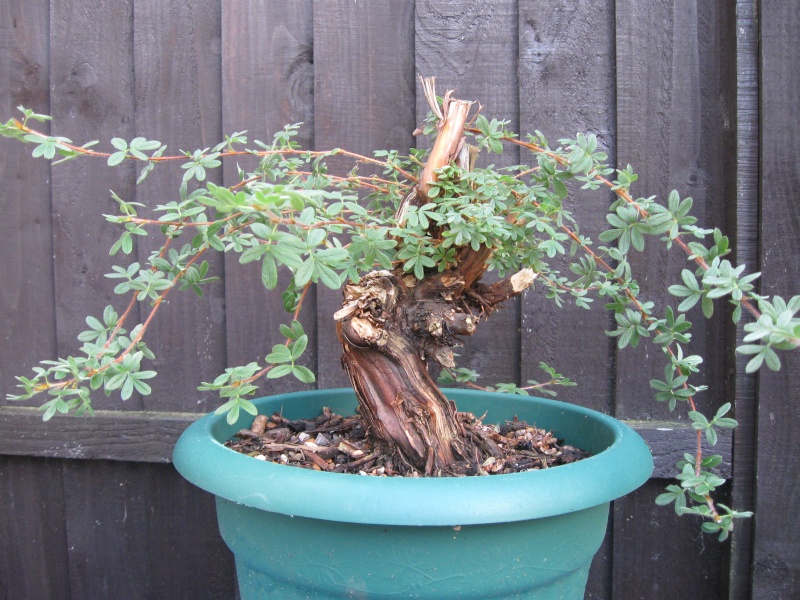 I shortened some of these long wispy shoots after leaf drop and before putting it away for the winter.
Having been kept in an unheated greenhouse during an unusually cold winter (down to -18 C), it pleasingly burst back into life in the spring

. Here it is in March this year: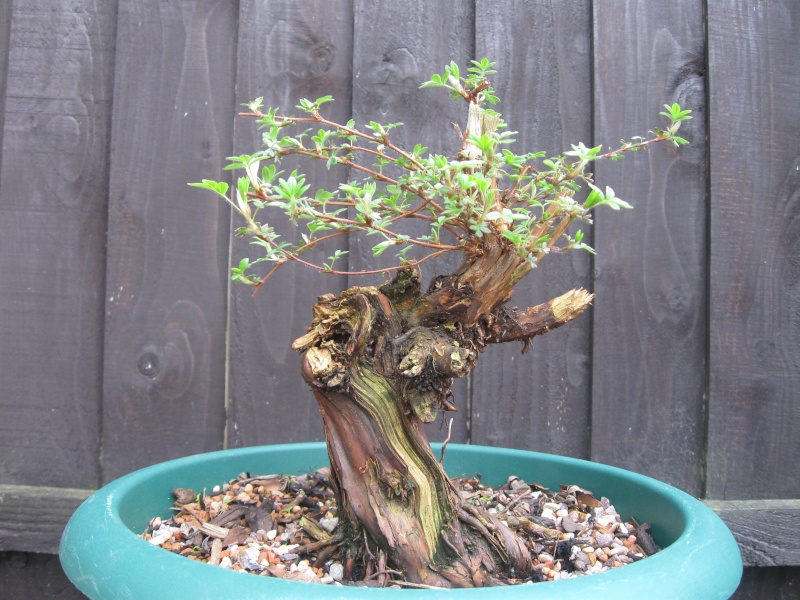 Now, the tree seems to be in rude health and is growing like crazy. I'm not complaining, but the problem I have is that all this new foliage is weighing down the still thin branches, almost to breaking point

! Especially after watering/rain. Picture from today: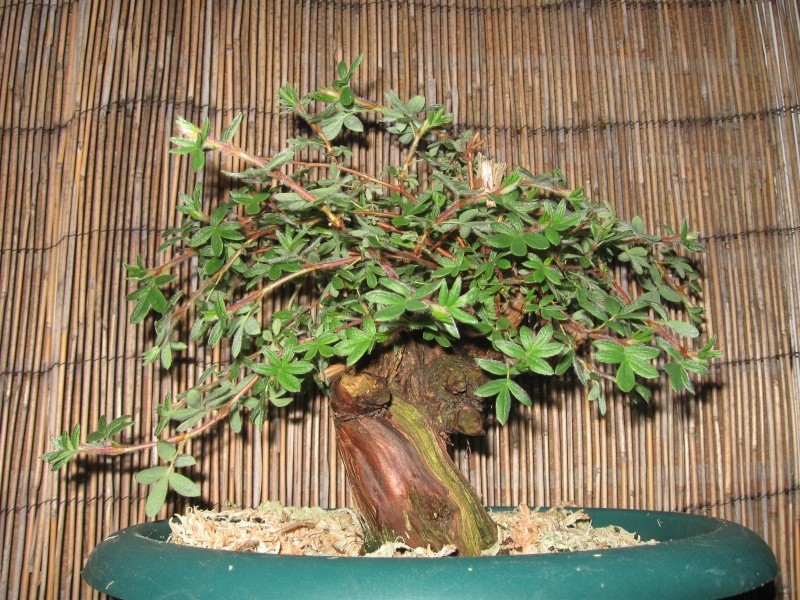 Obviously I'd like these some of these branches to thicken up in time and form the primary branches of the bonsai. I have considered 3 options but would value your opinions on what to do:
1. Let it grow on unchecked, hoping that future thickening/wooding up will solve the problem later?
2. Attempt to (loosely) wire the thin branches for support whilst allowing free growth to thicken the branches?
3. Prune back some of the long growth, thus alleviating the weight problem and encouraging shoots further back on the branches – but would this also allow the main branches to thicken?
Any advice/guidance would be much appreciated as I'd rather do it right first time rather than have to start building branches all over again. I know the tree has only been out of the ground a year, but I'm not styling it now to try to get a quick result. It's just that the tree is growing vigorously and I want to use that to my advantage and lay good foundations for future years.

If you have any other ideas, I'm all ears!
Thanks!
Matt

matt addie

Member





Hello Matt. Lovely Potentilla. What I would do is cut it back now, wire it and let it grow for the summer. You might even be able to repeat this twice a year if you feed well. You might want to ask them Wirral Wolverines as they all seem to have one.
Hi Will,
Thanks for the reply and the comments on the pontentilla - I couldn't believe my luck when I came across it, a few minutes later and it would have been in a skip!
Of all my considered options, pruning back was my favoured option as any more growth is in danger of ruining whatever branches are there already ... but I wasn't sure if it was the right thing to do. However, if growth continues at this rate (I haven't even fed it yet this year!), I'm sure any pruned growth will quickly be replaced!
Cheers
Matt

matt addie

Member





Yes it's amazing, the kind of material in peoples gardens. It's just a case of finding the nerve to go and ask. Well done.
I've had a potentilla for nearly 13 yrs and have been happy with the way it has developed but my experience shows them to be different than most plants and more challenging in ways. I started with a larger nursery grown specimen also and very slowly reduced it's height over quite a few years. But the problem is that wood only stays alive along a very well defined vein that is feeding live foliage. There is virtually zero scar tissue build up over cuts - the unused part of the branch or trunk simply dies. So what I now have left is a nice looking hollow trunk look with multiple twisted live veins coming out of the ground. There is dead wood that I have treated with hardener, but it won't last forever.

I would guess that you will see the same thing and that most of your trunk will die off in short order with the amount of foliage you have remaining.

As for building sizeable short ramified branches, it seems the best solution is to cut back frequently and keep it well pinched. If you let it grow to thicken and then cut, you will get die back. That's what I am thinking now anyway. If anyone has better advice I would like to hear it as well!
Hi, could anyone advise me cultivation and maintenance of Poentilla as bonsai i.e watering & pruning.

Thank for any help given

GROWFORIT

Member





Grow For It - what are you starting with? As a garden plants many of the varieties of Potentilla have a tendency to multi-stemmed shrubbiness. If you are starting with a plant with several thin trunks, you have to make a decision whether you want to continue down that route and grow it as a clump or you have to select one strong stem and remove the rest.

I dont know where you are in the UK but up here in west central Scotland, I keep mine outdoors all year round - in the lee of the house over winter, and in full sunshine from spring onwards. I have found they need constant watering - especially the ones in shohin pots of course - and I feed them a diet of Miracle Gro and Maxicrop week about.

Matt - I am currently growing six potentilla - two already styled shohin and four that I am bringing on from either garden centre or bonsai nursery stock. The ones I am growing on I cut back over the last few years to the number of main branches I wanted, wired them as Will suggests and I let them grow to the length I wanted. As you say, they grow like crazy so life just now is about keeping them trimmed back and thinning out the many side shoots that appear - other than the ones I want on the main branches that is.

I am amazed how quickly they grow.
_________________
"Espouse elucidation"
_____________________________________
my website

fiona

Member






---
Permissions in this forum:
You
cannot
reply to topics in this forum