I have this larch in a style that i particularly like, you know "dancing snake", or sort of literati if you prefer.
I wonder if reducing the top wouldn't make it better.
As it is today :
With a reduced top :
What do you think ?...

AlainK

Member





I think I'd take it down even farther.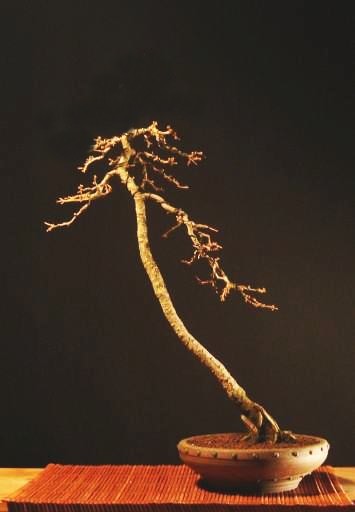 _________________
Jim Lewis - lewisjk@windstream.net - Western NC - People, when Columbus discovered this country, it was plumb full of nuts and berries. And I'm right here to tell you the berries are just about all gone. Uncle Dave Macon, old-time country musician

JimLewis

Member





I say yes, the long lower right limb and everything above it are close to the same length right now. To cut it down would give a nice variation in proportion.

Jim Doiron

Member





Personally I wouldn't do anything to this tree at the moment and wait until it has (leafed out/ budded, whatever). It has a nice balance to it and I would welcome the opportunity to see it in foliage.

Rick Moquin

Member





I like your virtual Alain. As it is, at least in the photo, the back and forth zigzagging of the upper part of the trunk has just a hint of monotony that the modification eliminates.
Thank you all for your input.
Jim, I thought of that too, but the top looks too rounded to my taste, and there isn't a branch that I could use to form a new top.
"...a nice variation in proportion" : good observation, Artdoiron, quite true.
"...the back and forth zigzagging of the upper part of the trunk has just a hint of monotony that the modification eliminates" : you've got a point there, Velodog2.
Rick, this is a photo that was taken last May (I changed the front since):

AlainK

Member





Hi Alain,
I would consider removing the long lower right hand branch and leaving the top alone. You could also on Jims virtual remove all the branchs on the left leaving you with a nice powerful windswept literati. D'oh somebody beat me to it! Great minds think alike!
Regards,
Geof

Geof

Member





Nice tree. I agree with removing the long branch as suggested by jgeanangel and Geof.

I think I would also try to introduce a bit more movement in the bottom 2/3 of the tree, nothing drastic, just enough to be interesting without looking unnatural. What's the caliper of the trunk? From the needles I'd guess 1/2 to 3/4 inch.
Cliff,
You're right, it's a bit more than 1.5 cm.
I understand your point of view, but I like the rather quiet movement of that one, I may keep it a bit straight as it is: I'm working on the next generation, about 30 four-year-old plants, half of them in the ground, most of them already wired.
So many bonsai in only one tree

Thanks again for the interest you took in this larch, and for your comments: even if i don't follow everyone's advice, it helped me see it differently. That's learning.


AlainK

Member





---
Permissions in this forum:
You
cannot
reply to topics in this forum