Two days ago I brougt home the ficus from another area (my previuos work), I have been growing this ficus during two years. I trained this ficus two years. Anyone please help me to identify what ficus is this? and any idea style for this ficus? As the trunk is too tall and the root I plant on the rock which still cover with soil.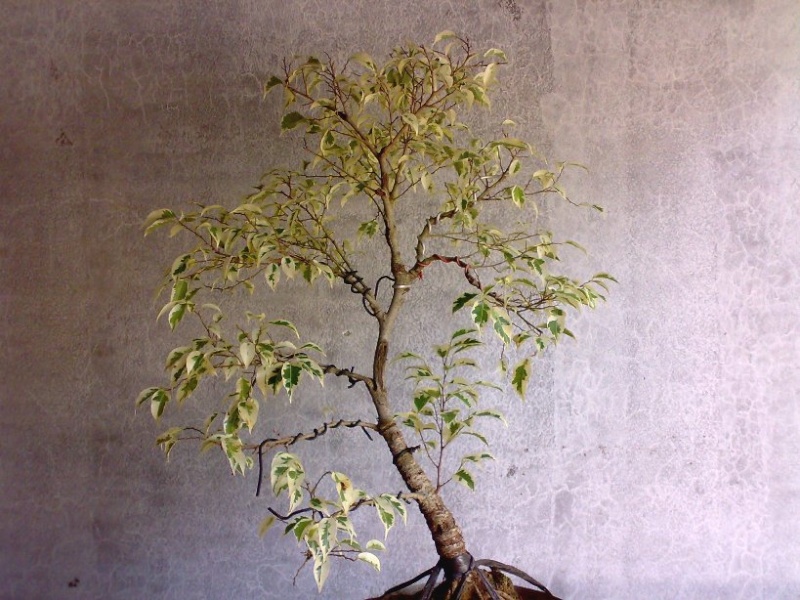 Mawardi Nur

Member





I've got clump of three of these.... Ficus Benjamina Variegata

DangerousBry

Member





Hi there,

Thanks for your reply, Could you show me the pictures? Where do you live?

Mawardi Nur

Member






DangerousBry

Member





Thanks guy....but yours is not to much white. I've got another like that. tommorow I will send you..

Mawardi Nur

Member






Mawardi Nur

Member





I need some suggestion for my ficus variegate as I have edited with Photoshop program, for
The 1st picture, is original picture with little lean toward the right side
The 2nd, is the tree is more bended toward right side
The 3rd, the left lower branch is cut down
The 4th, two left branches are cut down
Amongst the below pictures, which is the balance tree and suitable for the style?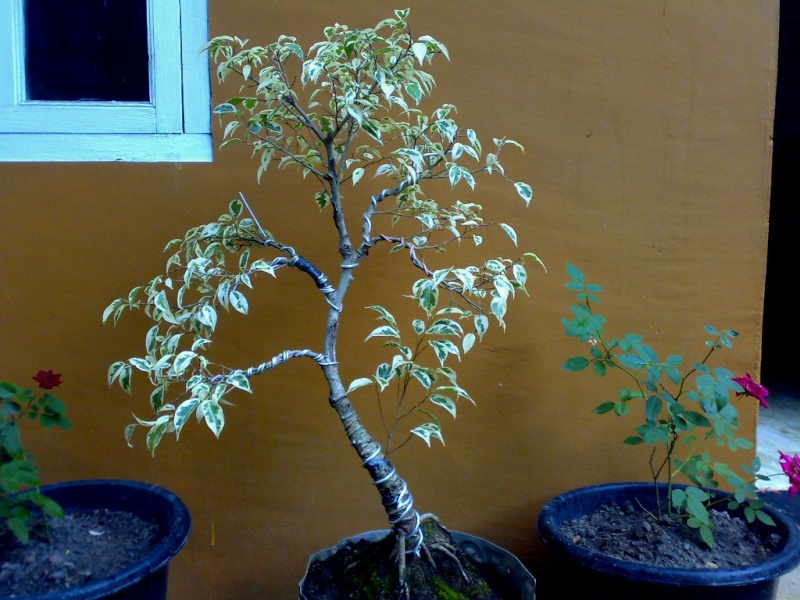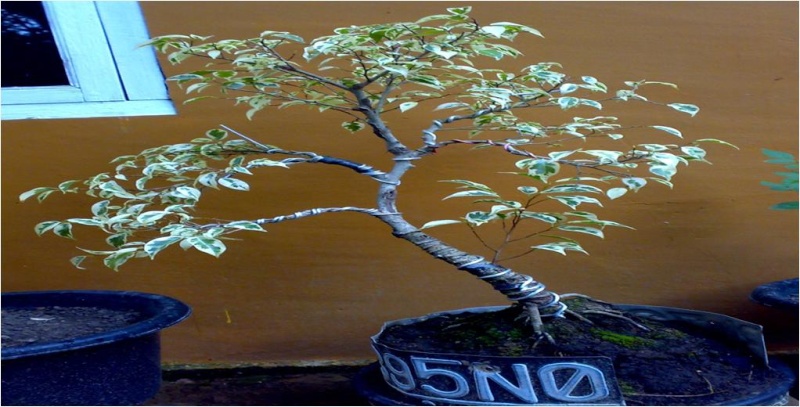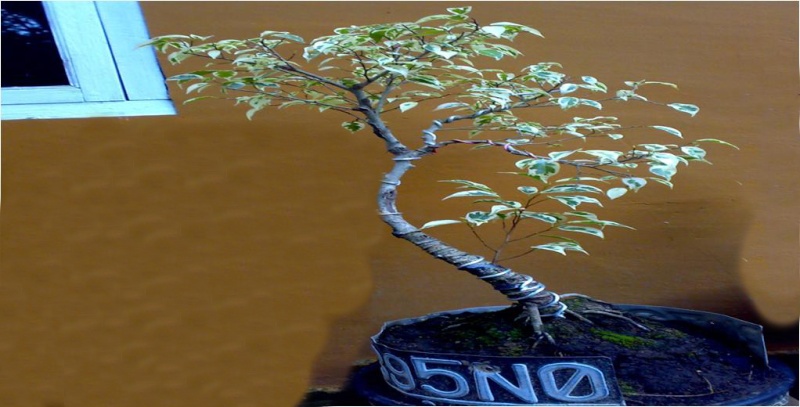 Mawardi Nur

Member





I have the same identical variety of Ficus benjamina. However, it is a houseplant. Although it is easy to grow, most experienced bonsai people in this country look down on F. benjamina, because we have a number of Ficus species available that are better bonsai material. But there is nothing really wrong with it. The leaf size reduces easily with repeated pinching. I would also say, there is nothing really wrong with using a variegated tree for bonsai, but nowadays it is not fashionable.
You may well get something nice out of this tree. Right now, I would cut back and thin out the upper branches to help the lower ones. With F. benjamina, you have to do this regularly for years. Also, your trunk looks flimsy. I would suggest you take it out of the pot & grow it in the ground for a year or two to thicken the trunk. Also, give it more sun. It will sunburn if you put it out too quickly, so put it in more sun gradually. You need to encourage tighter growth & smaller leaves.
That bottom branch needs to be wired so it is more horizontal, like the others. Then, encourage it to grow as much as possible, while keeping all the branches above it shorter. Right now, your bottom branch is the thinnest, when it should be the thickest.
One more suggestion. Your tree has two apexes (tops). You need to cut one off.
Iris
Last edited by bonsaisr on Wed May 19, 2010 2:18 am; edited 2 times in total (Reason for editing : Add another comment.)

bonsaisr

Member






---
Permissions in this forum:
You
cannot
reply to topics in this forum