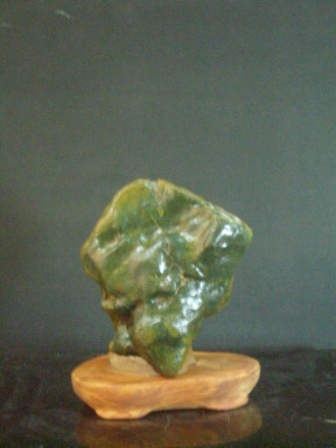 God created human and...Albert Einstein.
I am so seldom drawn to portrait stones, which are often very realistic & supported by deftly carved shoulders and neck. This one is different. Albert Einstein isn't immediately seen, & the seating does not give away that you are looking for a portrait.

When finally recognizing Mr. Einstein, I was astonished. This is the most engaging portrait stone that I have seen... and vastly superior to my expectation. It is a terrific presentation with that seating!

With your comment regarding "God created human & Einstein...," do you see a larger significance? The stone very roughly suggests a mushroom cloud form when paired with the title "Portrait Albert Einstein." Perhaps, it warns of the threat of human annihilation.

Even good science can have unanticipated consequence, and I hope Albert doesn't carry too much of that burden in our fragile world.

_________________
... visit the U.S. National Bonsai & Penjing Museum, Washington DC USA-- http://www.bonsai-nbf.com

Chris Cochrane

Member





Last edited by pham ngoc tuan on Mon Apr 26, 2010 2:06 pm; edited 1 time in total
Hi Chris...So let's pray for everyone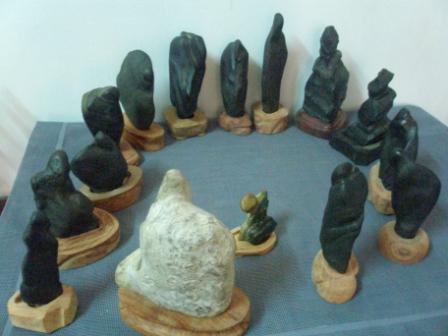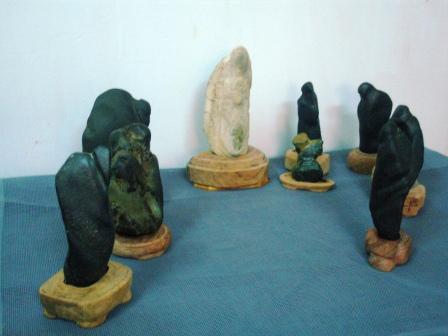 Last edited by pham ngoc tuan on Wed Apr 28, 2010 4:13 am; edited 1 time in total
The sincere bow is a very effective posture. Individually, your stones display great humility which is very engaging. The fellow in the middle appears a little too overpowered, however, in that arrangement.

_________________
... visit the U.S. National Bonsai & Penjing Museum, Washington DC USA-- http://www.bonsai-nbf.com

Chris Cochrane

Member





---
Permissions in this forum:
You
cannot
reply to topics in this forum