Here you go Chris, I thought others might relate to this photo too (if they have cats), and the tanka that I added a painting to, won First Place (I think it was last year) in the Tanka Society of America's competition.

love ya . . . an'ya

[img]http://i69.servimg.com/u/f69/15/09/85/42/suisek27.jpg[/img]

[img]http://i69.servimg.com/u/f69/15/09/85/42/haigao15.jpg[/img]

Well shoot, can't get the photos to upload right! Apologies to everyone!
Last edited by Chris Cochrane on Thu Apr 22, 2010 7:03 pm; edited 11 times in total (Reason for editing : Added image tags, but I couldn't get it to load, either. I see your images on the server. Help?)
An antidote for cats... deer, rabbits, squirrels, birds, butterflies... and strangers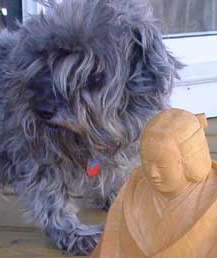 RE' viewing stones in suiban, beware of the cat thinking, "What's in my litter box?"

_________________
... visit the U.S. National Bonsai & Penjing Museum, Washington DC USA-- http://www.bonsai-nbf.com

Chris Cochrane

Member





Hi Chris, trying again to upload this, an'ya

[url=http://www.servimg.com/image_preview.php?i=35&u=15098542][img]http://i69.servimg.com/u/f69/15/09/85/42/suisek28.jpg[/img][/url]
An'ya. It looks like you are doing it correctly. There may be a fault with the image server. I'll look into it.

_________________
"It is not the strongest of the species that survives, nor the most intelligent. It is the one that is the most adaptable to change." - Charles Darwin.

Kev Bailey

Admin





Kev, thank you so much. It felt like I was doing everything correctly and it worked the first couple of times. I shrunk the images yesterday to see if that was the problem but it still didn't work. I would truly appreciate any help you can lend, love ya, an'ya
---
Permissions in this forum:
You
cannot
reply to topics in this forum