I got my first forest yesterday from brussels,not adervertizing,,...it is a hornbeam 7 tree one and the trunks look pretty good thank goodness.. the branches and foliage is what i need help with.. someone tell me if i wire them or trim back because they are a jumbled mess and i want this thing to look really good. am a excited old man even if it is a small one .trees are supose to be 7 years old..thank you for all your help..john w. va. thanks
Can we have a picture if possible. I think it might help.

Joe Hatfield

Member





Hi! M.John
Are the trees in leaf yet?
And yes picture would do wonders,....

If you just purchase'd wait and watch,...the forest will tell what to do.
And yes sorry,.....this could take it to next year,...

Watch it grow and let it tell you what to do...
It wasn't Brussels as in Europe was it, suggestion then is water it an even perhaps mouth to .....

grtz. from Holland, where i was building buildings....


littleart-fx

Member





Thank you both foryour response.. tree came from brussels bonsai in mississippi u.s.a. thanks john
Hi John, My Hornbeam are just cracking some buds, so unless yours was kept in a green house I'm guessing in W.Va. it's still setting buds. Late winter, early spring is the best time to trim them up. The disjointed growth habit makes them easy to train with directional prunning, but will soon become a jumbled mess if left to grow out. Very little if any wiring is needed in the twigs. Bigger stems can be wired, but be careful, they bend so far and then just snap. Once the leaves are on you won't be able to see much of the twigage and stems so nows when the irons hot. There needs to be a little seperation between limbs and stems to allow airflow within the inner tree. Most of the shoots extending from the branches can be cut back to two or three leaf buds. Many can be removed completely. Looking at the whole canopy, look for x's formed by two twigs crossing. Follow the two back to see where they originate, usually one from this tree and one from that, and either remove them there, or by cutting the twig at a bud that is pointing in the direction you want the branch to turn you can direct the new growth. It's essential for air and light to penetrate to the inner forest to maintain optimal health. New shoots are coming aplenty and these can be pinched off at two or three leaves as they grow or left to grow for a season and repeat the process again next spring. It's good to let them grow out once in awhile just to add some vim and vigor to the trees. Love to see a pic. If you show me yours, I'll show you mine

Rick

RKatzin

Member





Thank you R kATZIN these trees are in leaves already because this nursery has temp. controled green houses,lots of them its a big nursery.. thank you for the info. I can not show pictures no camera also have never asked anyone to try it for me but please post your forest for me to get the idea of what to do here this is a first not that it is that great but would like to do the best i can...thanks john
I have a forest also. There are three basic rules that you can use right now.
1. The lower parts of the trees, say one third, should not have any branches pointing in toward the other trees, only pointing out. The upper parts can have a few branches pointing in all directions. Of course you already know the rule about bar branches?
2. The thicker the tree, the higher up the first branch should be.
3. The top branches are the shortest & the bottom branches are the longest.
Iris

bonsaisr

Member





I don't have a good pic in full summer garb. This pic is 4/20/09. We had an early freeze last fall that caught a few trees off guard and it looks like the top third of the tallest is dying back. Anxiously awaiting this years foliage to see where to go with it this year. I'll post a pic in a week or two. There are three varieties of Hornbeam, Japanese and two varieties of Korean, seven trees in all.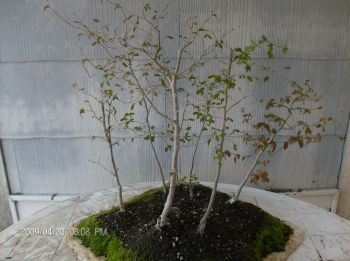 RKatzin

Member





Moyogi,
If your forest looks like the picture in Brussel's catalog, next spring I would repot it over toward one end of the pot, rather than in the middle. Also, consider eventually putting it in a shallower pot, more of a tray, which is the appropriate setting for a group planting.
It is strictly a matter of taste, but you might think about making it more interesting with a gravel path going into the woods, a couple of rocks, or an accent plant, like a clump of miniature mondo grass.
Despite what it says in the catalog, I have done very little wiring, since the branches need to be kept fairly short. I just clip them to point in the right direction. Will post a picture when it is leafed out more.
Iris

bonsaisr

Member





Thank you,,,,,,,,,,,,Rkatzin and Bonsaisr i like the picture of your forest..yes it looks like the pic. on the internet from brussels. thanks for the info. i will keep looking at it and deside what to do not much this year i would think.. thanks john

---
Permissions in this forum:
You
cannot
reply to topics in this forum